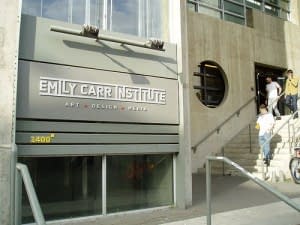 Five! Five courses! Makes the Michigan State University look pathetic in comparison. Five courses in comics books and graohic novels at the Emily Carr University of Art and Design. Five!
Okay, a couple of them are the same, repeated at different times of the year. But even so The Graphic Memoir, The Contemporary Comic and Contemporary Comics II (with a digital focus) and the kind of course that well, did you have one when you were at college/university? No you didn't. Kids today eh? They don't know they're etc etc.
The courses cover telling your own life stories in comics, how comics works, the storytelling devices they use and how you can master the form to express yourseld, both conceptually and in terms of craft.
Course instructors practice what they preach. Lawrence works on Drippytown Comics and Stories, Robin Thompson creates and publishes Champions of Hell, Zombie Jesus, Knuckles Malone, Lil'Natas, Outnumbered and Captain Space Man, while Miriam Libicki created the comic narratives Jobnik! and Jewish Memoir Goes Pow! Zap! Oy!
Mark Millar gave a lecture at the Napier University this weekend, you know. It's just not fair…
Enjoyed this article? Share it!