Let's just start all over again, shall we? I'm not sure that yesterday's column was the best possible launch for me and mine. Think of it as a painful birth. Actually, think of it as the painful birth the Joker was talking about in Arkham Asylum. Now then… on to some lies, gossip, rumours and news.
Stephen L'Heurex has told Mania we can expect Sin City 2 to go before cameras in the second half of 2010, and then we'll get a movie of Hard Boiled after that. They say that Miller is currently hard at work on the Hard Boiled script. One of the problems in scheduling Sin City 2 so far has been, apparently, that its "a very demanding shoot to be on a sound stage all day long". Is there perhaps that somebody, maybe Frank, is finding directing rather too gruelling?
Clive Barker is going to be at Meltdown comics in LA this Friday night (or is Thursday night? Yes, it's Thursday – who's going to tell Brand X they got it wrong?) to talk about Seduth, his new 3D comic. The news isn't particularly film related, but Barker is and so, I guess is LA. Apparently a special nerd of high acclaim is going to moderate the event. Betcha it's Grant Morrison.
There's been another Thor casting call, so if you always wanted to play sweet small town girl Isabel Alvarez, aged 50-70, finding everything you've ever wanted or needed in an all-American restaurant, then here's your chance. Go on – send your Mum up. You know everybody thinks she's kinda hot anyway.
Apparently Paul Cornell doesn't ever have actors or actresses in mind when writing characters. That's what it says in his recent SFX interview, should you bother to read it and not just some dumb blog that links to it(before whipping yourself for an hour and telling Paul you're sorry and you've heard such nice things about his Dr. Who stuff you wish you could just curl up and shrivel away).
Ahem. Sorry.
30 Weeks of Night 30 Days of Night: Dark Days is currently filming in Vancouver with a slightly rejigged cast. Angel from Home and Away is out, Nikki from Lost is in. There were a lot of haters on the first film, a lot of people who are hardly looking forward to the sequel at all, but one thing this follow up is doing right that the first film got so wrong is that it's going direct to DVD.
Rob Zombie's Superbeasto thing was something of a wash out as an animated film, so I'm wondering will it succeed as a comic. My gut says yes. Different audience expectations, right?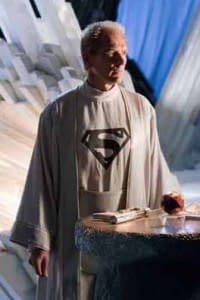 Want to see what Jor-El looks like these days? Comics Continuum have some pictures of Julian Sands in what looks like a kind of klan robe. Can't really be Jor-El, can it? Shurely shome kind of mishtaken identity? Or don't they care at all for standard Supes continuity over there in TV land? (Note: or maybe they do, and I'm all wrong because, frankly, all I know about Superman comes from Richards Donner and Lester and that Singer boy). Interestingly, this episode of Smallville is by the director of the Supergirl movie. Well I did never.
I'll see you tomorrow, if you don't see me first.
Enjoyed this article? Share it!