At the Diamond Retailer Breakfast being held today in Seattle, before this year's ECCC begins, Bleeding Cool's Ian Melton was on hand to report back the news to retailers and readers not able to attend.
The meeting began with breakfast, of course, and Diamond Comic Distributors' Chris Powell took to the stand.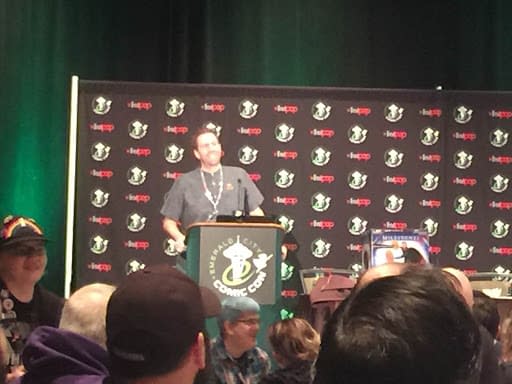 He began with some familiar statistics. For 2017, Comics sales were down 10 percent, Graphic Novels down 9 percent, Merchandise down 9.5 percent — although customer count only came down 1 percent.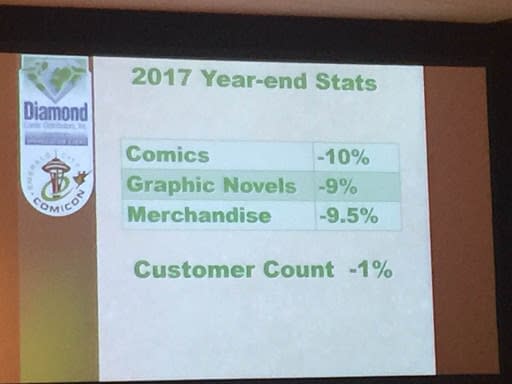 Chris noted that some stores are closing, but that new stores are opening and some are expanding. "Hopefully you see the light at the end of the tunnel like we do."
And, tackling a common retailer complaint, that shortages and damages are down to the lowest numbers since Powell took over. New equipment and new procedures are helping.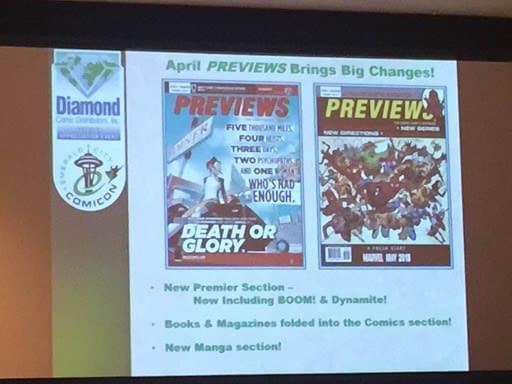 Chris looked through changes coming, with DC Comics moving out of the front of Previews and Boom! and Dynamite coming in. They are moving books and magazines into the comics section, but manga will go back into its own section. And merchandise will take the flipside and back cover to the Previews catalogue.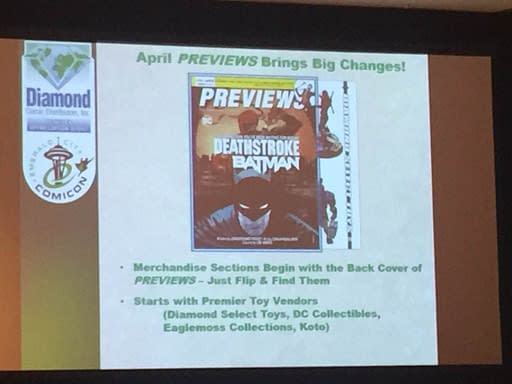 April's Diamond Previews catalogue (out at the end of March) is going through more changes. Starting with a Manga month, Diamond is going to add more editorial and big backlist specials in April.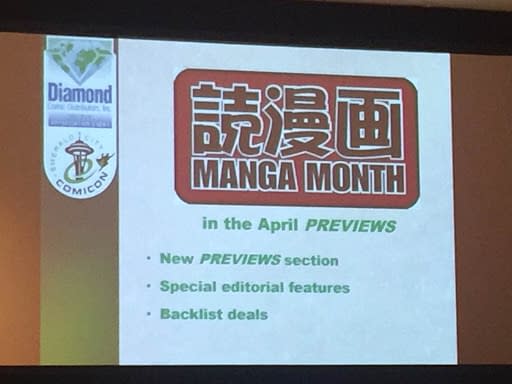 And Previews will go digital in May, and customers can get a digital code with each physical copy, to help with portable access. Previews will exist as its own standalone app.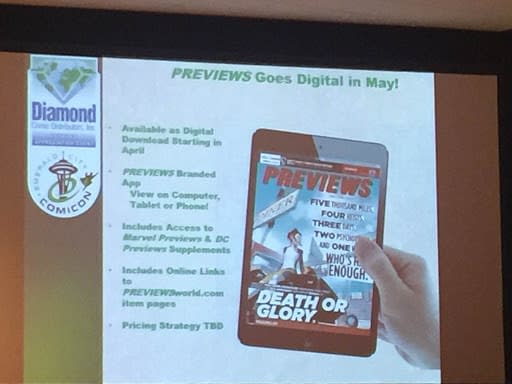 And ToyChest.com is being added back into previewsworld.com.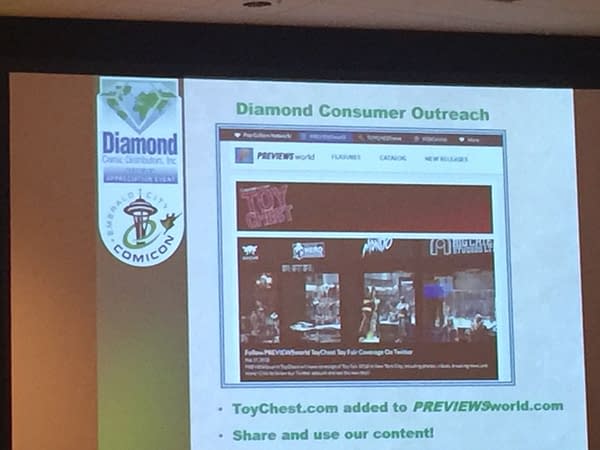 Diamond has been working on its Previews World Pullbox system for eight months and has accelerated development. Covers images will be updated when Diamond has new information, including the Previews World Pullbox, which will allow customers to manage their orders with comic book stores.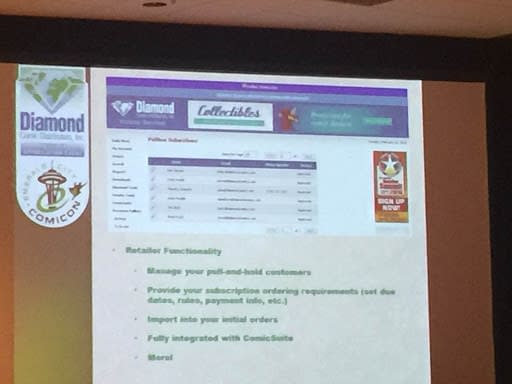 It will have a customer management portion for retailers, letting them see their customers. It will link to Twitter so that creators can tweet upcoming products and then link straight to order availability.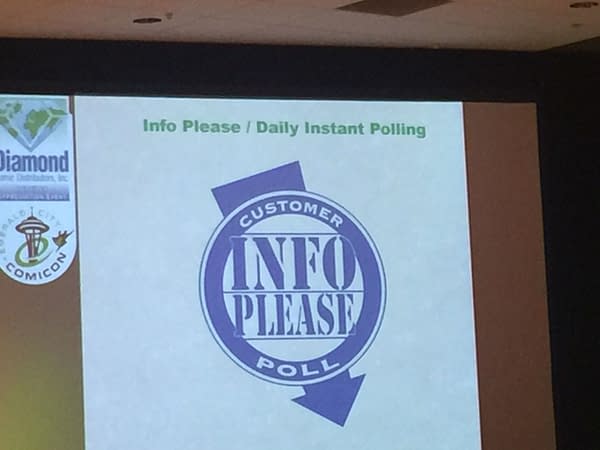 The main issue is dealing with the backlist information that Diamond still has. The links will update whether Diamond has an item it in stock, but if they don't, it will say to check with your retailer.
For retailers, Pullbox will integrate with their current Comic Suite ordering software and will add order form filtering functionality to the online initial order editor — though this is still being tested.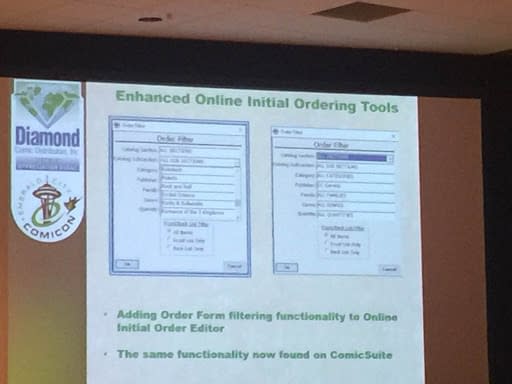 It will also contain Diamond's new-to-order items, known as Code 600 items, usually new printings of comics and toys that have a final call due the following week.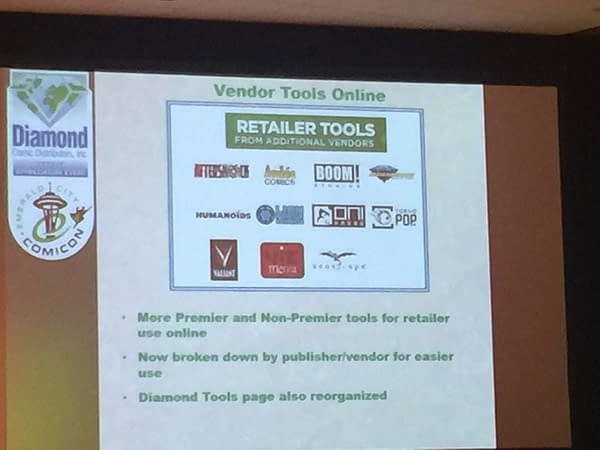 They point out that Vendor Tools, information supplied by publishers to retailers through Diamond's website, is not getting used as much. Diamond highlighted to retailers that preview pages and trailers are available there, that they have recently been reorganized and their new updates came from retailer suggestions. The long-awaited ACH online payments are being made available to retailers — it is still in testing, but retailers can add it now. And it's free to retailers.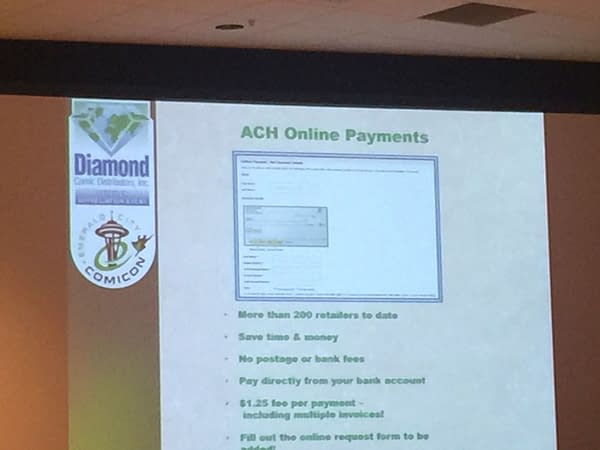 There will be 2300 stores participating in this year's Free Comic Book Day, and numbers are still being added.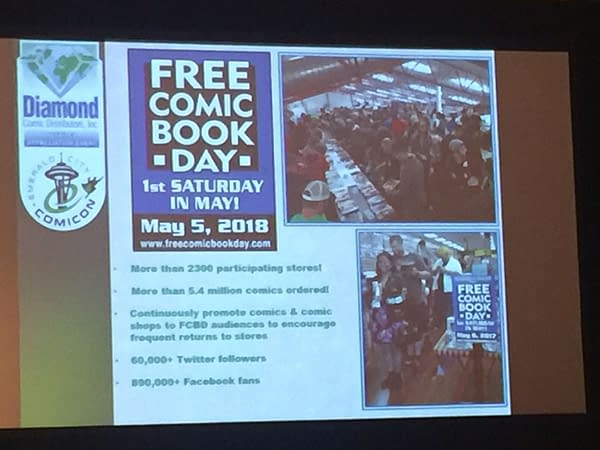 Diamond is keen to promote ideas such as Bounce Back Coupons or Buy a Comic Book Day coupons to improve return after Free Comic Book Day is over.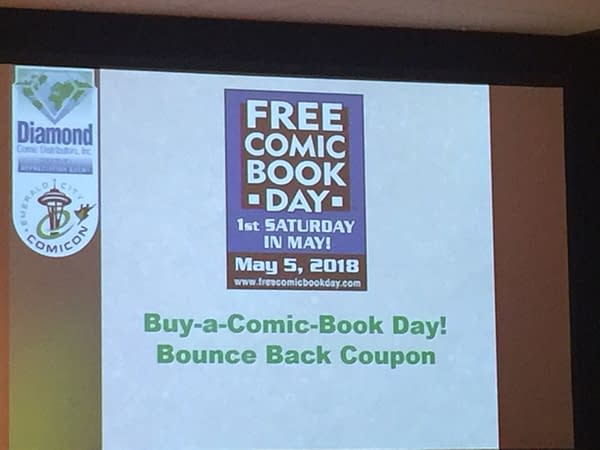 Diamond's initial run of a hundred spinner racks are almost sold out, so Diamond has already reordered.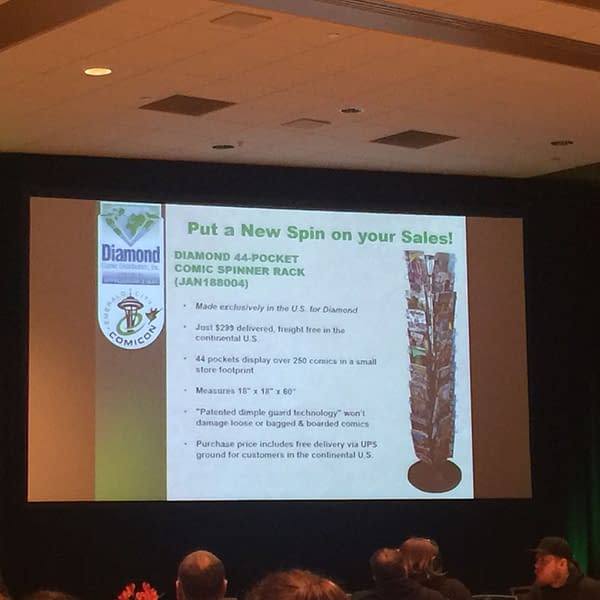 Expect more Pullbox announcements coming at the Diamond Retailer Summit and they have confirmed that NYCC and SDCC will also have Diamond breakfasts and lunches.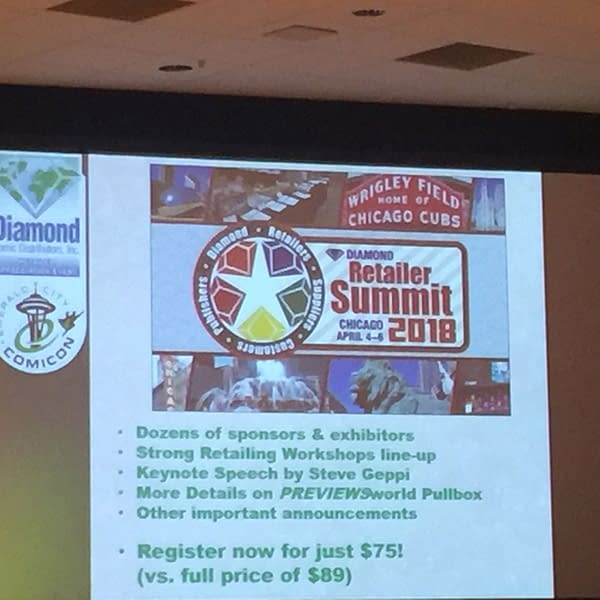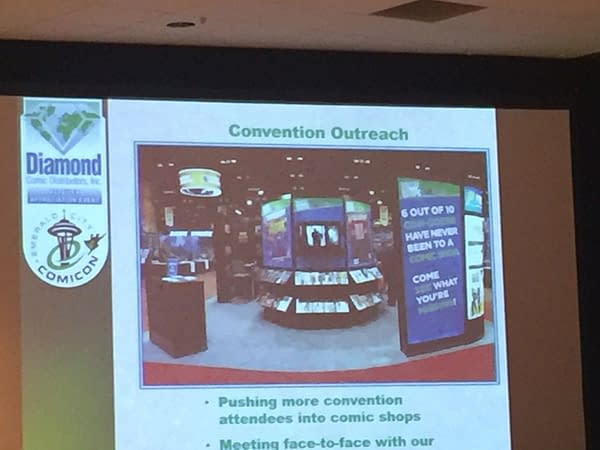 Enjoyed this article? Share it!