I'll Be Gone in the Dark: One Woman's Obsessive Search for the Golden State Killer
[rwp-review-recap id="0"]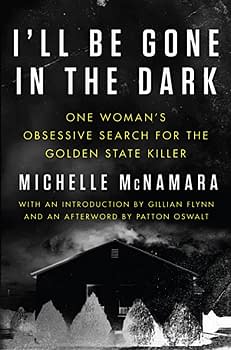 I'll be Gone in the Dark by Michelle McNamara is a haunting look at a long-unsolved string of rapes and murders perpetrated by the Original Night Stalker that terrified California residents in the '70s and '80s. I sit, wrapped in blankets, listening to a soothing, clear, NPR-style voice telling horrible stories — stories that are made more horrible by their truth. The voice from the audible app prevents them from feeling lurid. These things happened, it says, and then gives us the hope that the monster will finally be named, caught, and brought to justice. That was surely McNamara's hope — what drove her into the darkness of this case again and again before her death.
Naming gives us power. It makes the unknown become known; transforms the mysterious into the banal. It is the difference between an amorphous monster and a mortal man. And it brings us closer to bringing the Original Nightstalker/East Area Rapist/Golden State Killer to some proximation of justice.
Name by name, McNamara brings us knowledge. She tells us of the victims and those who have led the hunt for the Golden State Killer, following time and the progress of technology as connections are made and a prolific criminal against mankind is slowly revealed. This is not a love song to horror. This is the dirge of a monster; a warning bell of his eventual undoing.
At nine hours of listening (with a bonus PDF timeline), or around seven if you've got the physical book on you, it is not a quick read; but certainly not a slog. It is solidly researched and well written, not falling to victim-blaming or lurid descriptions of gore. I would totally recommend this to anyone who enjoys true crime stories, be they podcasts, audiobooks, TV, or cinema, and who wants to know more, while being respectful to the victims.
[rwp-review-ratings id="0"]
[rwp-review-form id="0"]