All Pros, No Cons: A Quick and Easy Guide to They/Them Pronouns
Greg Baldino writes:
As much as comment thread pedants may pound their desks and shout about it, gender-neutral pronouns are here to stay. It's in the dictionaries, it's in the mainstream media, and it's being incorporated into everything from style guides to human resource protocols. More importantly, it's the touchstone that's opening up a greater dialogue of understanding and inclusion for people living beyond the genders of males and female.
Which is good and all, but how exactly are gender-neutral pronouns supposed to work?
And why are they so important to the people who use them?
Shouldn't someone make a convenient and informative graphic novel that could function as a concise, friendly, and engaging introduction to their meaning and usage?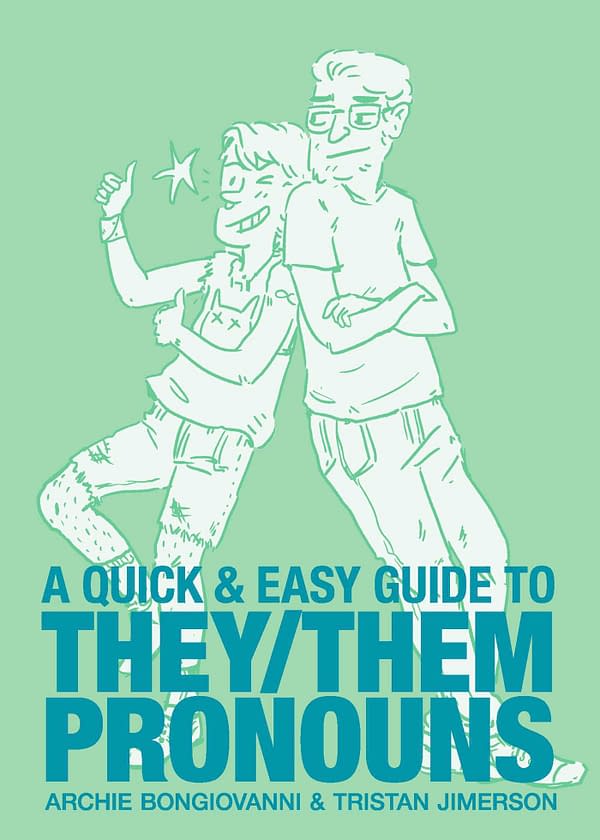 That last one was rhetorical, because someone has! Cartoonist Archie Bongiovanni teamed up with writer and restaurateur Tristan Jimerson to make A Quick and Easy Guide to They/Them Pronouns, published by Oni Press's Limerence Press imprint.
The book is set up sparsely as a dialogue between cartoon Archie and cartoon Tristan, as the pair talk through the basics of how and why to use they/them in place of gendered pronouns like "he/him/his" or "she/her/hers." This is the core of the book's efficiency, as the format allows them to draw upon their own perspectives and experiences, while also engaging in dialogues with each other, both as themselves and role-playing scenarios. Archie is non-binary, meaning they do not identify as either male or female, and Tristan is cisgender, meaning he identifies with the gender assigned to him at birth based on his biological sex (tl:dr, he's not transgender).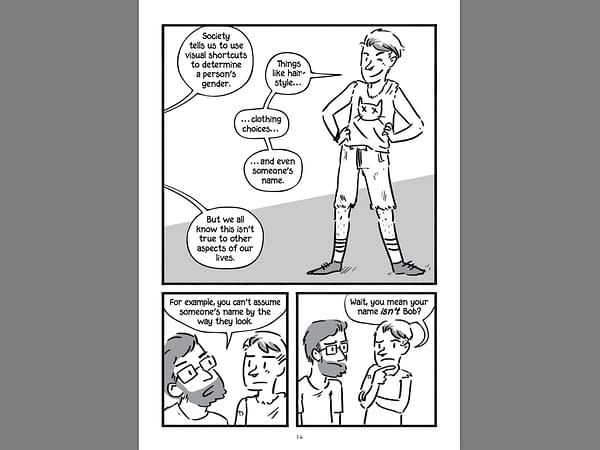 There are a lot of different audiences looking for a book like this, and the two manage to address the most likely ones. Largely addressing people unfamiliar with gender-neutral language, the book does address concerns and questions of readers who may either identify as nonbinary (which can include agender, genderfluid, and genderqueer) or be questioning/exploring their gender identity, but the main audience is people who identify as male or female and aren't familiar with it — but want to learn.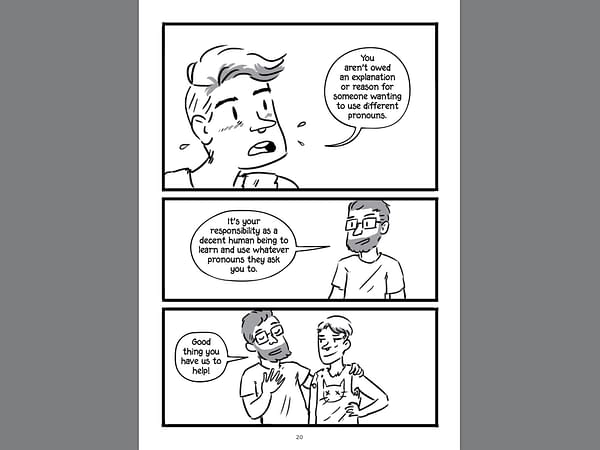 So who wants to learn about gender-neutral pronouns? People who have friends or family who are nonbinary, business managers, teachers, librarians, HR managers, marketing copywriters, hospitality staff, event staff, medical professionals, sex workers — let's just say there's a lot of different people. And Bongiovanni and Jimerson's Quick and Easy Guide not only makes it accessible and understandable, but does so in a way that makes it easy to be able to pass on the lessons and ideas to others, either informally or professionally.
A Quick and Easy Guide to They/Them Pronouns is exactly what it says on the cover, helping to raise awareness and increase understanding. A good buy for anyone wanting to be more inclusive of non-binary identifying people.
Published by Limerence Press, 64 pages, $7.99, available June 2018
Greg Baldino uses he/him and they/their pronouns and that's as quick and easy as he's gonna get. He's located somewhere in the midwest and has had too much coffee and yet not enough either.