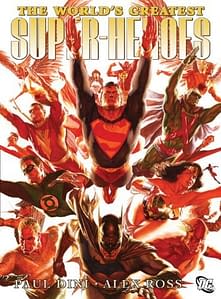 I mean it's no Scott Pilgrim discount.
But this new paperback volume from DC reprinting tghe original long-sold-out hardcover collection of Ross and Dini's Superman: Peace On Earth, Batman: War On Crime, Shazam!": Power Of Hope, Wonder Woman: Spirit Of Truth, JLA: Secret Origins and JLA: Liberty And Justice is getting seriusly discounted in the week before shipping.
Amazon.com has the book at 37% off at $19.79 in the US, Canada gets a reasonable 37% off at $22.36, while Britain gets a measily 30% off at £17.49.
Although weirdly the listing has the phrase a unique storytelling format that combines aspects of both comics and picture books, printed for the first time at DC's standard trim size" – as if that is actually a good thing.
"Comic book now smaller! Harder to read! Roll up, roll up!"
Enjoyed this article? Share it!