How To Help A Comic Book Sell
Three comic books. Three publishers. How can the companies in question get them to sell?
Ghosted, the new Image comic by Joshua Williamson, Goran Sudzuka and Miroslav Mrva. As Image have been doing with launches of late, they will make all the copies ordered returnable, if a retailer orders lots. In this case, 110% of their Thief Of Thieves orders, which is high but far lower than other first issues, pegged to sales of The Walking Dead. That, however, may have led to larger returns. But it does give retailers the confidence that if they order high on a new untested Image book, and it doesn't sell, that they won't be stuck with copies lining every long box in the shop.
There's another upcoming launch from DC Comics, Collider, which Dan DiDio was telling retailers at the roadshow yesterday had been severely underordered, they believe. It's quite a simple gimmick here, adding a 1:25 black and white variant cover, which may persuade stores top ropund their numbers up to the nearest twenty-five. Or in many cases, order twenty-five copies. The variants do have an after-market value depending on their scarcity and that can help justify the cost of ordering so many of the standard edition. Kick Ass 3 has also announced a new David Mack variant cover for an already solicited issue, for the same reason.
But Marvel usually take a different tack.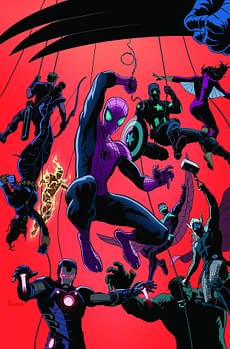 Take Superior Spider-Man Team-Up #1. Marvel are introducing tiered rewards the more a retailer orders based on their standard orders. So if they order 150% of their orders for Superior Spider-Man #8, a top ten Marvel comic, they can get 15% off the price. Basically, you have to order 150% of those numbers, but only pay for 127.5% of the price.
Which can dramatically affect profit margins – but then you also have to be able to sell the comics.
Retailers generally favour the returnability promotion, as it gives them lots of potential reward for very little risk. But it can also be rather expensive for the publisher – returnability means that Diamond hold back payments, under report sales and could result in major losses for the publisher.
But it can also help launch a book in a way that keeps the comic in the charts for subsequent issues…