In One Week, In Two Weeks – Here Comes More Zero Year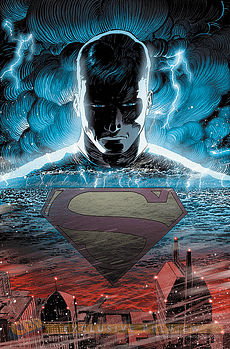 Next week Dark Horse have some Domo Christmas ornaments for you.
As well as Grindhouse and The Star Wars. DC launch the Zero Hour spin-offs with new Forever Evil and Superman Unchained, IDW launch Dark Cybertron, Image launch Alex + Ada and Protectors, Marvel launch Amazing X-Men, Ultimates Last Stand, Longshot Saves The Marvel Universe and Painkiller Jane, and Antarctic launch Ghost Cop.
Big week.
And the week after? X-Men Gold from Marvel, Manifest Destiny and Umbral from Image (and new Walking Dead) and Clown Fatale from Dark Horse…
DARK HORSE COMICS
BALTIMORE INFERNAL TRAIN #3
$3.50
CATALYST COMIX #5 (MR)
$2.99
CLASSIC MARVEL CHARACTERS X-MEN #2 ANGEL
$49.95
DOMO & FRIENDS IN BOBSLED ORNAMENT
$14.99
DOMO ASTRONAUT ORNAMENT
$14.99
DOMO SNOWBOARDING ORNAMENT
$14.99
GRINDHOUSE DOORS OPEN AT MIDNIGHT #2
$3.99
MICHAEL AVON OEMINGS VICTORIES #6 (MR)
$3.99
OCCULTIST #2
$3.50
PLANTS VS ZOMBIES HC LAWNMAGEDDON
$9.99
STAR WARS #3 LUCAS DRAFT
$3.99
DC COMICS
ACTION COMICS #25 (ZERO YEAR)
$3.99
ACTION COMICS #25 VAR ED (ZERO YEAR)
$3.99
ALL-STAR WESTERN TP VOL 03 BLACK DIAMOND PROBABILITY (N52)
$16.99
BATMAN BLACK & WHITE #3
$4.99
BATMAN NIGHT OF THE OWLS TP (N52)
$19.99
BATMAN SUPERMAN #5
$3.99
BATMAN SUPERMAN #5 BLACK & WHITE VAR ED
$3.99
BATMAN SUPERMAN #5 COMBO PACK
$4.99
BATMAN SUPERMAN #5 VAR ED
$3.99
BATWING #25 (ZERO YEAR)
$3.99
DC COMICS ESSENTIALS JUSTICE LEAGUE #1 (N52)
$1.00
DETECTIVE COMICS #25 (ZERO YEAR)
$3.99
DETECTIVE COMICS #25 COMBO PACK (ZERO YEAR)
$4.99
DETECTIVE COMICS #25 VAR ED (ZERO YEAR)
$3.99
DJANGO UNCHAINED HC (MR)
$24.99
EARTH 2 #17
$2.99
EARTH 2 #17 BLACK & WHITE VAR ED
$2.99
EARTH 2 #17 VAR ED
$2.99
FOREVER EVIL #3
$3.99
FOREVER EVIL #3 BLACK & WHITE VAR ED
$3.99
FOREVER EVIL #3 COMBO PACK
$4.99
FOREVER EVIL #3 VILLAIN CVR A VAR ED
$3.99
FOREVER EVIL #3 VILLAIN CVR B VAR ED
$3.99
FOREVER EVIL #3 VILLAIN CVR C VAR ED
$3.99
FRACTION TP NEW ED
$17.99
GREEN ARROW #25 (ZERO YEAR)
$3.99
GREEN ARROW #25 VAR ED (ZERO YEAR)
$3.99
GREEN LANTERN #25
$2.99
GREEN LANTERN #25 COMBO PACK
$3.99
GREEN LANTERN #25 VAR ED
$2.99
HINTERKIND #2 (MR)
$2.99
JUDAS COIN TP
$14.99
JUSTICE LEAGUE OF AMERICA HC VOL 01 (N52)
$24.99
MAD MAGAZINE #524
$5.99
MOVEMENT #6
$2.99
SANDMAN OMNIBUS HC VOL 02 (MR)
$150.00
SCOOBY DOO WHERE ARE YOU #39
$2.99
STORMWATCH #25
$2.99
SUPERMAN UNCHAINED #4
$3.99
SUPERMAN UNCHAINED #4 75TH ANNIV VAR ED 1930S COVER
$3.99
SUPERMAN UNCHAINED #4 75TH ANNIV VAR ED BRONZE AGE
$3.99
SUPERMAN UNCHAINED #4 75TH ANNIV VAR ED GOLDEN AGE
$3.99
SUPERMAN UNCHAINED #4 75TH ANNIV VAR ED MODERN AGE
$3.99
SUPERMAN UNCHAINED #4 75TH ANNIV VAR ED NEW 52 COVER
$3.99
SUPERMAN UNCHAINED #4 75TH ANNIV VAR ED REBORN CVR
$3.99
SUPERMAN UNCHAINED #4 75TH ANNIV VAR ED SILVER AGE
$3.99
SUPERMAN UNCHAINED #4 75TH ANNIV VAR ED VILLAIN CVR
$3.99
SUPERMAN UNCHAINED #4 BLACK & WHITE VAR ED
$3.99
SUPERMAN UNCHAINED #4 COMBO PACK
$4.99
SWAMP THING #25
$2.99
TRILLIUM #4 (MR)
$2.99
TRINITY OF SIN THE PHANTOM STRANGER #13
$2.99
DC COMICS/DC COLLECTIBLES
BATMAN ARKHAM ORIGINS SER 1 BANE AF
$24.95
BATMAN ARKHAM ORIGINS SER 1 BATMAN AF
$24.95
BATMAN ARKHAM ORIGINS SER 1 BLACK MASK AF
$24.95
BATMAN ARKHAM ORIGINS SER 1 JOKER AF
$24.95
IDW PUBLISHING
COMICS ABOUT CARTOONISTS HC LTD SKETCH ED
$40.00
CROW MIDNIGHT LEGENDS TP VOL 05 RESURRECTION
$17.99
DANGER GIRL GI JOE HC RED LABEL ED
$76.00
DOCTOR WHO 3 TP VOL 03 SKY JACKS
$17.99
DOCTOR WHO PRISONERS OF TIME #10
$3.99
GHOSTBUSTERS #9 [DIG/P+]
$3.99
GI JOE COBRA FILES #8 [DIG/P+]
$3.99
GI JOE COMPLETE COLL HC VOL 01 RED LABEL ED
$100.00
JEFF SMITH BONE GREAT COW RACE ARTIST ED HC
$75.00
JUDGE DREDD CLASSICS #5 [DIG/P+]
$3.99
MLP QUEEN CHRYSALIS DLX HC APPLEJACK BLACK LABEL ED (P
$280.00
MLP QUEEN CHRYSALIS DLX HC APPLEJACK RED LABEL ED
$100.00
MLP QUEEN CHRYSALIS DLX HC FLUTTERSHY BLACK LABEL ED (
$280.00
MLP QUEEN CHRYSALIS DLX HC FLUTTERSHY RED LABEL ED
$100.00
MLP QUEEN CHRYSALIS DLX HC PINKIE PIE BLACK LABEL ED (
$280.00
MLP QUEEN CHRYSALIS DLX HC PINKIE PIE RED LABEL ED
$100.00
MLP QUEEN CHRYSALIS DLX HC RAINBOW DASH BLACK LABEL ED
$280.00
MLP QUEEN CHRYSALIS DLX HC RAINBOW DASH RED LABEL ED (
$100.00
MLP QUEEN CHRYSALIS DLX HC RED LABEL SET
$570.00
MY LITTLE PONY PORTFOLIO
$19.99
STAR TREK ONGOING HC VOL 01 RED LABEL ED
$100.00
TMNT ONGOING #21 COMICFOLIO
$28.00
TRANSFORMERS DARK CYBERTRON #1 [DIG/P+]
$3.99
TRANSFORMERS DARK CYBERTRON #1 SUBSCRIPTION VAR
$3.99
TRANSFORMERS MORE THAN MEETS EYE 100 PENNY PRESS #1 [DIG/P+]
$1.00
IMAGE COMICS
68 HALLOWED GROUND ONE SHOT CVR A MENDORS, CHARLES, & FOTOS [DIG]
$3.99
68 HALLOWED GROUND ONE SHOT CVR B WRIGHTSON, JONES & FOTOS (
$3.99
ALEX + ADA #1 [DIG]
$2.99
APHRODITE IX REBIRTH TP VOL 01
$9.99
BLACKACRE TP VOL 02 (MR)
$14.99
CYBER FORCE #7 [DIG]
$2.99
DRUMHELLAR (PREVIOUSLY STRANGEWAYS) #1 CVR A ROSSMO (MR) [DIG]
$3.50
DRUMHELLAR (PREVIOUSLY STRANGEWAYS) #1 CVR B UPCHURCH (MR)
$3.50
EAST OF WEST #7 [DIG]
$3.50
FATALE #18 (MR) [DIG]
$3.50
GHOSTED #5 (MR) [DIG]
$2.99
INVINCIBLE UNIVERSE TP VOL 01
$16.99
MANHATTAN PROJECTS TP VOL 03 [DIG]
$14.99
MORNING GLORIES #34 (MR) [DIG]
$3.50
PROTECTORS INC #1 CVR A PURCELL & ATIYEH (MR) [DIG]
$2.99
PROTECTORS INC #1 CVR B PORTACIO & ATIYEH (MR)
$2.99
REALITY CHECK #3 [DIG]
$2.99
SPAWN #237 [DIG]
$2.99
TEN GRAND #5 (MR) [DIG]
$2.99
IMAGE COMICS/MCFARLANE TOYS
WALKING DEAD HILLTOP T/S WOMENS MED
$19.99
WALKING DEAD HILLTOP WOMENS T/S SM
$19.99
WALKING DEAD KINGDOM T/S MENS XXL
$22.99
WALKING DEAD KINGDOM T/S WOMENS MED
$19.99
WALKING DEAD KINGDOM T/S WOMENS SM
$19.99
WALKING DEAD KINGDOM T/S WOMENS XL
$19.99
WALKING DEAD LUNCHBOX VER 2
$14.99
WALKING DEAD SAVIORS T/S MENS SM
$19.99
WALKING DEAD SAVIORS T/S WOMENS XL
$19.99
MARVEL COMICS
AMAZING X-MEN #1 BLANK VAR
$3.99
AMAZING X-MEN #1 DEADPOOL MOORE VAR
$3.99
AMAZING X-MEN #1 MANARA VAR
$3.99
AMAZING X-MEN #1 MCGUINNESS SKETCH VAR
$3.99
AMAZING X-MEN #1 MCGUINNESS WRAPAROUND
$3.99
AMAZING X-MEN #1 NOWLAN VAR
$3.99
AMAZING X-MEN #1 YOUNG VAR
$3.99
AVENGERS WEST COAST OMNIBUS HC VOL 02 DM MILGROM VAR ED
$75.00
AVENGERS WEST COAST OMNIBUS HC VOL 02 PACHECO CVR
$75.00
CAPTAIN AMERICA #13
$3.99
CAPTAIN MARVEL #17
$3.99
CAPTAIN MARVEL #17 THOR BATTLE CAMPION VAR
$3.99
CATACLYSM ULTIMATES LAST STAND #1
$3.99
CATACLYSM ULTIMATES LAST STAND #1 YU VAR
$3.99
DAREDEVIL BY MILLER AND JANSON OMNIBUS HC NEW PTG
$99.99
DAREDEVIL DARK NIGHTS #6
$2.99
EMERALD CITY OF OZ #4
$3.99
FANTOMEX MAX #2 (MR)
$3.99
HAWKEYE HC VOL 01
$34.99
IRON MAN #18
$3.99
IRON MAN #18 MARVELS AGENTS OF SHIELD VAR
$3.99
IRON MAN #18 METROPOLIS VAR
$3.99
LONGSHOT SAVES MARVEL UNIVERSE #1
$2.99
LONGSHOT SAVES MARVEL UNIVERSE #1 DEADPOOL VAR
$2.99
MARVEL FIRSTS TP VOL 01 1980S
$39.99
MARVEL KNIGHTS SPIDER-MAN #2
$3.99
MARVEL UNIVERSE HULK AGENTS OF SMASH #2
$2.99
MARVELS CA FIRST AVENGER ADAPTATION #1
$2.99
MARVELS THOR DARK WORLD ART OF MOVIE HC SLIPCASE
$49.99
MIGHTY AVENGERS #3 EMINEM VAR INF
$3.99
MIGHTY AVENGERS #3 INF
$3.99
MIGHTY AVENGERS #3 WIMBERLY VAR INF
$3.99
OZ ROAD TO OZ GN TP
$16.99
PAINKILLER JANE PRICE OF FREEDOM #1 (MR)
$3.99
PAINKILLER JANE PRICE OF FREEDOM #1 JOHNSON VAR (MR)
$3.99
SHIELD ORIGINS TP
$7.99
THANOS TP REDEMPTION
$34.99
UNCANNY X-MEN PREM HC VOL 02 BROKEN
$24.99
X-MEN LEGACY #19
$2.99
ALTERNATIVE COMICS
LOOK STRAIGHT AHEAD GN
$19.95
AMIGO COMICS
ROGUES #5 (MR)
$3.99
AMULET BOOKS
DIARY OF A WIMPY KID HC VOL 08
$13.95
ANDREWS MCMEEL
DILBERT TP I SENSE A COLDNESS TO YOUR MENTORING
$12.99
GET FUZZY TP FUZZY BUNCH
$12.99
ANTARCTIC PRESS
GHOST COP #1 [DIG]
$3.99
LAST ZOMBIE #5 THE END
$3.99
STEAMPUNK HALLOWEEN #1 2013 [DIG]
$3.50
ARCANA STUDIO
DEVIL IS DUE IN DREARY TP [DIG/P+]
$12.99
STEAM ENGINES OF OZ #3
$3.99
STEAM ENGINES OF OZ TP VOL 01
$19.95
ARCHIE COMIC PUBLICATIONS
AFTERLIFE WITH ARCHIE #1 2ND PTG
$2.99
ARCHIE DOUBLE DIGEST #245 [DIG/P+]
$3.99
BETTY & VERONICA DOUBLE DIGEST #217 [DIG/P+]
$3.99
ART OF FICTION
ALL CRIME #2 (MR)
$3.95
ASPEN MLT INC
CHARISMAGIC VOL 2 #6 DIRECT MARKET CVR A CUCCA [DIG]
$3.99
CHARISMAGIC VOL 2 #6 DIRECT MARKET CVR B OUM
$3.99
EXECUTIVE ASSISTANT ASSASSINS #16 CVR A GUNDERSON [DIG]
$3.99
EXECUTIVE ASSISTANT ASSASSINS #16 CVR B DEBALFO
$3.99
EXECUTIVE ASSISTANT ASSASSINS #16 CVR C CUCCA
$5.00
TRISH OUT OF WATER #2 ASPEN RESERVED CVR
$3.99
TRISH OUT OF WATER #2 DIRECT MARKET CVR [DIG]
$3.99
AVATAR PRESS INC
ABSOLUTION RUBICON #5 (MR)
$3.99
ABSOLUTION RUBICON #5 ELECTRIC BLUE INCV CVR (MR)
$3.80
ABSOLUTION RUBICON #5 FINAL JUSTICE CVR (MR)
$3.99
ABSOLUTION RUBICON #5 HAPPY KITTY PREMIUM CVR (MR)
$9.99
ABSOLUTION RUBICON #5 WRAP CVR (MR)
$3.99
CALIGULA TP VOL 02 (MR)
$19.99
CROSSED BADLANDS #29 MISS CROSSED CVR SET (MR)
$39.99
GOD IS DEAD #3 (MR)
$3.99
GOD IS DEAD #3 END OF DAYS CVR (MR)
$3.99
GOD IS DEAD #3 ICONIC CVR (MR)
$4.99
GOD IS DEAD #3 PANTHEON RETAILER INCV CVR (MR)
$3.80
UBER #3 HOMAGE CVR (MR)
$5.99
UBER #4 WAR CRIMES CVR (MR)
$5.99
UBER #7 (MR)
$3.99
UBER #7 BLITZKRIEG ORDER INCV CVR (MR)
$3.80
UBER #7 PROPAGANDA POSTER CVR (MR)
$3.99
UBER #7 WRAP CVR (MR)
$3.99
BIG DOG INK
KNIGHTINGAIL SHADOW DIVISIONS #5
$3.99
PENNY FOR YOUR SOUL DEATH #3 (MR)
$3.50
SHAHRAZAD #1
$3.50
BLACK MASK COMICS
BALLISTIC #3 (MR)
$3.50
BOOM! STUDIOS
ADVENTURE TIME #15 C2E2 EXC VAR
$9.99
BRAVEST WARRIORS #7 C2E2 EXC VAR
$9.99
GARFIELD #19 [DIG]
$3.99
HIT #3 [DIG]
$3.99
REGULAR SHOW #1 C2E2 EXC VAR
$9.99
REGULAR SHOW #5 MAIN CVRS [DIG]
$3.99
REGULAR SHOW SKIPS #1 MAIN CVRS [DIG]
$3.99
ROBOCOP LAST STAND #4 (MR) [DIG]
$3.99
SUICIDE RISK #7 [DIG]
$3.99
CAMPFIRE
JULIUS CAESAR CAMPFIRE ED GN
$12.99
D. E.
ARMY OF DARKNESS VS HACK SLASH #3 CASELLI CVR
$3.99
ARMY OF DARKNESS VS HACK SLASH #3 EXC SUBSCRIPTION VA
$3.99
ARMY OF DARKNESS VS HACK SLASH #3 SEELEY CVR
$3.99
ARMY OF DARKNESS VS HACK SLASH #3 TEMPLESMITH CVR
$3.99
BIONIC MAN VS THE BIONIC WOMAN TP
$19.99
DARK SHADOWS #22
$3.99
GRIMM TP VOL 01
$19.99
LEGENDS OF RED SONJA #1
$3.99
LEGENDS OF RED SONJA #1 THORNE SUBSCRIPTION VAR
$3.99
LORDS OF MARS #4 ROSS CVR (MR)
$3.99
LORDS OF MARS #4 SUBSCRIPTION SALONGA CVR (MR)
$3.99
MARK WAID GREEN HORNET #7
$3.99
MARK WAID GREEN HORNET #7 LAU SUBCRIPTION VARIANT
$3.99
MARK WAID GREEN HORNET TP VOL 01
$19.99
MISS FURY TP VOL 01 ANGER IS AN ENERGY
$19.99
PATHFINDER GOBLINS #4
$3.99
PATHFINDER GOBLINS #4 JEFFRIES SUBSCRIPTION VAR
$3.99
SHADOW NOW #2
$3.99
SHADOW NOW #2 WORLEY SUBSCRIPTION VAR
$3.99
SPIDER TP VOL 02 BUSINESSMAN FROM HELL
$19.99
THE LONE RANGER #19
$3.99
VAMPIRELLA #36 NEVES CVR
$3.99
VAMPIRELLA #36 PARRILLO CVR
$3.99
VAMPIRELLA STRIKES TP
$19.99
DKE INC
MR TOAST COMICS #6 LITTLE LOST GHOST
$3.00
DYNAMIC FORCES
DF WARLORD OF MARS #28 RISQUE RED EXC CVR
$19.99
DF WARLORD OF MARS DEJAH THORIS #30 RISQUE RED CVR
$19.99
FANTAGRAPHICS BOOKS
MARIA M HC
$22.99
USAGI YOJIMBO SC VOL 01 RONIN (NEW PTG)
$16.99
KENZER & COMPANY
KNIGHTS OF THE DINNER TABLE #202
$5.99
KODANSHA COMICS
AIR GEAR GN VOL 29
$10.99
AIR GEAR OMNIBUS GN VOL 02 (MR)
$19.99
ATTACK ON TITAN GN VOL 08
$10.99
FAIRY TAIL GN VOL 31
$10.99
SAILOR MOON TP KODANSHA ED BOX SET #2 VOL 7-12
$65.94
SANKAREA GN VOL 03 UNDYING LOVE
$10.99
MOONSTONE
AIRBOY G8 GN
$9.99
NBM
TREASURY 20TH CENTURY MURDER HC VOL 06 STANFORD WHITE
$15.99
ONI PRESS INC.
SCOTT PILGRIM COLOR HC VOL 04
$24.99
PERFECT SQUARE
POKEMON ADV BLACK & WHITE GN VOL 02
$9.99
POKEMON ADV HEARTGOLD & SOULSILVER GN VOL 02
$9.99
POKEMON ADVENTURES TP VOL 19
$9.99
PS ARTBOOKS
ACG COLL WORKS ADV INTO UNKNOWN HC VOL 05
$47.99
ACG COLL WORKS ADV INTO UNKNOWN SLIPCASE ED VOL 03
$64.99
ROY THOMAS PRESENTS BRIEFER FRANKENSTEIN HC 1945-1946
$49.99
ROY THOMAS PRESENTS VOL 01 PLANET COMICS HC (RES)
$47.99
RENEGADE ARTS ENTERTAINMENT
DEPARTMENT OF MONSTEROLOGY #2
$3.99
SELFMADEHERO
HP LOVECRAFT SHADOW OUT OF TIME GN
$19.95
SHAMBHALA
47 RONIN GN
$14.95
TITAN BOOKS
ASSASSINS CREED ANKH OF ISIS TRILOGY HC
$24.95
CHARLEYS WAR HC VOL 10 THE END
$19.95
TOP SHELF PRODUCTIONS
INCREDIBLE CUTENESS OF BEING TP (MR)
$15.95
TOR BOOKS
JOHNNY HIRO GN VOL 02 SKILLS TO PAY THE BILLS (MR)
$17.99
VALIANT ENTERTAINMENT LLC
QUANTUM & WOODY #5 20 COPY INCV LOPEZ
$3.99
QUANTUM & WOODY #5 50 COPY INCV MCKONE
$3.99
QUANTUM & WOODY #5 PULLBOX GARBETT
$3.99
QUANTUM & WOODY #5 REG ROBINSON
$3.99
QUANTUM & WOODY TP VOL 01 WORLDS WORST
$9.99
SHADOWMAN #12 ORDERALL KOTAKI VAR
$3.99
SHADOWMAN #12 REG JOHNSON
$3.99
VERTICAL INC
TEZUKA ODE TO KIRIHITO SC PART 02
$14.95
WOLFSMUND GN VOL 02
$12.95
VIZ MEDIA LLC
BAKUMAN TP COMP BOX SET
$159.99
D GRAY MAN 3IN1 ED TP VOL 02
$14.99
MIDNIGHT SECRETARY GN VOL 02 (MR)
$9.99
NARUTO TP VOL 63
$9.99
ORESAMA TEACHER GN VOL 15
$9.99
PSYREN GN VOL 13
$9.99
SKIP BEAT 3IN1 ED TP VOL 06
$14.99
STROBE EDGE GN VOL 07
$9.99
SWEET REIN GN VOL 01
$9.99
TEGAMI BACHI GN VOL 15
$9.99
ULTIMO GN VOL 09
$9.99
VAMPIRE KNIGHT TP VOL 17
$9.99
YU-GI-OH 5DS GN VOL 05
$9.99
YEN PRESS
HIGURASHI WHEN THEY CRY GN VOL 23 FESTIVAL ACCOMPANYING ARC
$18.99
MAXIMUM RIDE TP VOL 07
$13.00
PANDORA HEARTS GN VOL 18
$11.99
ZENESCOPE ENTERTAINMENT INC
GFT WONDERLAND TTLG #2 A CVR CHEN (MR)
$3.99
GFT WONDERLAND TTLG #2 B CVR NUNES (MR)
$3.99
GFT WONDERLAND TTLG #2 C CVR KING (MR)
$3.99
ROBYN HOOD TP VOL 02 WANTED
$15.99
SCREWED #6 A CVR KIRKHAM (MR)
$2.99
SCREWED #6 B CVR MILLER (MR)
$2.99
SCREWED #6 C CVR ORACLE (MR)
$2.99
And in two weeks…
DARK HORSE COMICS
ABE SAPIEN #7
$3.50
BIG BANG THEORY STRESS DOLL HOWARD WOLOWITZ
$9.99
BIG BANG THEORY STRESS DOLL LEONARD HOFSTADTER
$9.99
BIG BANG THEORY STRESS DOLL PENNY
$9.99
BIG BANG THEORY STRESS DOLL RAJESH KOOTHRAPPALI
$9.99
BIG BANG THEORY STRESS DOLL SHELDON COOPER
$9.99
BLOODHOUND CROWBAR MEDICINE #2
$3.99
CLOWN FATALE #1
$3.99
GAME OF THRONES CERAMIC STEIN BARATHEON SIGIL
$19.99
GAME OF THRONES CERAMIC STEIN LANNISTER SIGIL
$19.99
GAME OF THRONES WHITE WALKER BUST
$124.99
LONE WOLF & CUB OMNIBUS TP VOL 03
$19.99
MAGNUS ARCHIVES TP VOL 02
$19.99
MANARA EROTICA HC VOL 03 BUTTERSCOTCH (A)
$59.99
RESIDENT ALIEN SUICIDE BLONDE #3
$3.99
SABERTOOTH SWORDSMAN HC
$17.99
SHAOLIN COWBOY #2
$3.99
SHOOT FIRST #2
$3.99
STAR WARS #11 2013 ONGOING
$2.99
TERMINATOR BURNING EARTH TP
$17.99
VIOLENT CASES HC
$19.99
X #7 (MR)
$2.99
DC COMICS
AQUAMAN HC VOL 03 THRONE OF ATLANTIS (N52)
$24.99
AQUAMAN TP VOL 02 THE OTHERS (N52)
$14.99
ASTRO CITY #6
$3.99
BATGIRL #25 (ZERO YEAR)
$3.99
BATMAN #25 (ZERO YEAR)
$4.99
BATMAN #25 BLACK & WHITE VAR ED (ZERO YEAR)
$4.99
BATMAN #25 COMBO PACK (ZERO YEAR)
$5.99
BATMAN #25 VAR ED (ZERO YEAR)
$4.99
BATMAN ARKHAM UNHINGED #20
$3.99
BATMAN LIL GOTHAM #8
$2.99
COFFIN HILL #2 (MR)
$2.99
CONSTANTINE #8
$2.99
DC COMICS ESSENTIALS GREEN LANTERN #1 (N52)
$1.00
FBP FEDERAL BUREAU OF PHYSICS #5 (MR)
$2.99
FOREVER EVIL ARKHAM WAR #2
$2.99
FOREVER EVIL ARKHAM WAR #2 VAR ED
$2.99
GREEN LANTERN CORPS #25 (ZERO YEAR)
$3.99
GREEN LANTERN CORPS #25 VAR ED (ZERO YEAR)
$3.99
INJUSTICE GODS AMONG US ANNUAL #1
$4.99
INJUSTICE GODS AMONG US HC VOL 01
$19.99
JOE KUBERT PRESENTS TP
$19.99
JUSTICE LEAGUE OF AMERICA #9 (EVIL)
$3.99
JUSTICE LEAGUE OF AMERICA #9 BLACK & WHITE VAR ED (EVIL)
$3.99
JUSTICE LEAGUE OF AMERICA #9 COMBO PACK (EVIL)
$4.99
JUSTICE LEAGUE OF AMERICA #9 VAR ED (EVIL)
$3.99
JUSTICE LEAGUE OF AMERICAS VIBE #9
$2.99
KATANA #9
$2.99
MAD PRESENTS SPY VS SPY FIGHT TO THE FINISH TP
$9.99
NIGHTWING #25 (ZERO YEAR)
$3.99
RED LANTERNS TP VOL 03 THE SECOND PROPHECY (N52)
$19.99
SILVER AGE TEEN TITANS ARCHIVES HC VOL 02 (RES)
$75.00
SMALLVILLE SEASON 11 #19
$3.99
SUICIDE SQUAD #25 (EVIL)
$2.99
SUPERBOY #25
$2.99
SUPERMAN WONDER WOMAN #2
$3.99
SUPERMAN WONDER WOMAN #2 BLACK AND WHITE VAR ED
$3.99
SUPERMAN WONDER WOMAN #2 COMBO PACK
$4.99
SUPERMAN WONDER WOMAN #2 VAR ED
$3.99
SWAMP THING TP VOL 03 ROTWORLD THE GREEN KINGDOM (N52)
$16.99
VERTIGO VISIONS FRANK QUITELY HC (MR)
$24.99
WORLDS FINEST #17
$2.99
IDW PUBLISHING
CLASSIC GI JOE TP VOL 01 NEW PTG
$24.99
DANGER GIRL THE CHASE #3 [DIG/P+]
$3.99
DANGER GIRL THE CHASE #3 SUBSCRIPTION VAR
$3.99
DOCTOR WHO PRISONERS OF TIME #11
$3.99
GI JOE #10 [DIG/P+]
$3.99
GI JOE A REAL AMERICAN HERO #196 [DIG/P+]
$3.99
GI JOE A REAL AMERICAN HERO #196 SUBSCRIPTION VAR
$3.99
GI JOE FUTURE NOIR TP NEW ED
$14.99
MARS ATTACKS JUDGE DREDD #3 [DIG/P+]
$3.99
MARS ATTACKS JUDGE DREDD #3 SUBSCRIPTION VAR
$3.99
MY LITTLE PONY ART GALLERY
$3.99
MY LITTLE PONY MICRO SERIES #9 SPIKE [DIG/P+]
$3.99
OTHER DEAD #3 [DIG/P+]
$3.99
OTHER DEAD #3 SUBSCRIPTION VAR
$3.99
POPEYE CLASSICS ONGOING #16 [DIG/P+]
$3.99
STAR TREK KHAN #2 [DIG/P+]
$3.99
STAR TREK KHAN #2 SUBSCRIPTION VAR
$3.99
STAR TREK NO MAN HAS GONE BEFORE HC BLACK LABEL ED
$240.00
STAR TREK ONGOING TP VOL 06 AFTER DARKNESS
$17.99
STAR TREK STARDATE COLL HC VOL 01
$49.99
TMNT COLOR CLASSICS SERIES 2 #1
$3.99
TMNT ONGOING #28
$3.99
TRANSFORMERS MORE THAN MEETS THE EYE TP VOL 05
$19.99
TRANSFORMERS PRIME BEAST HUNTERS #7 [DIG/P+]
$3.99
TRANSFORMERS REGENERATION ONE #96 [DIG/P+]
$3.99
TRANSFORMERS REGENERATION ONE #96 SUBSCRIPTION VAR
$3.99
TRANSFORMERS ROBOTS IN DISGUISE 100 PENNY PRESS #1
$1.00
WRAITH WELCOME TO CHRISTMASLAND #1 [DIG/P+]
$3.99
WRAITH WELCOME TO CHRISTMASLAND #1 SUBSCRIPTION VAR
$3.99
ZOMBIES VS ROBOTS THIS MEANS WAR LTD HC PROSE
$60.00
IMAGE COMICS
BOUNCE #7 (MR) [DIG]
$2.99
CHEW SMORGASBORD ED HC VOL 01 (MR)
$100.00
CHEW SMORGASBORD S&N LTD ED HC VOL 01 (MR)
$150.00
MANHATTAN PROJECTS #16 [DIG]
$3.50
MANIFEST DESTINY #1 [DIG]
$2.99
MANIFEST DESTINY #1 CVR B OTTLEY VAR
$2.99
PETER PANZERFAUST #15 2ND PTG
$3.50
ROCKET GIRL #1 2ND PTG
$3.50
ROCKET GIRL #2 [DIG]
$3.50
SON OF MERLIN TP VOL 01
$19.99
THREE #1 2ND PTG
$2.99
THREE #2 [DIG]
$2.99
UMBRAL #1 (MR) [DIG]
$2.99
WALKING DEAD #116 (MR) [DIG]
$2.99
ZERO #2 2ND PTG (MR)
$2.99
MARVEL COMICS
ALL NEW X-MEN #18
$3.99
ALL NEW X-MEN #18 IMMONEN VAR
$3.99
ALL NEW X-MEN #18 TEDESCO DECADES VAR SET
$19.95
AVENGERS ARENA #17
$2.99
CAPTAIN AMERICA LIVING LEGEND #3
$3.99
CAPTAIN AMERICA LIVING LEGEND #3 BUSCEMA VAR
$3.99
CAPTAIN AMERICA LIVING LEGEND #3 VINTAGE ALLRED VAR
$3.99
CAPTAIN AMERICA LIVING LEGEND BY ALLRED POSTER
$8.99
CATACLYSM ULTIMATE SPIDER-MAN #1
$3.99
CATACLYSM ULTIMATE SPIDER-MAN #1 HARDMAN VAR
$3.99
DEADPOOL #19
$2.99
ESSENTIAL DAREDEVIL TP VOL 06
$19.99
FEARLESS DEFENDERS #11 INF
$3.99
HULK BY JEPH LOEB TP VOL 01 COMPLETE COLLECTION
$34.99
INHUMANITY BY COIPEL POSTER
$8.99
INHUMANITY POSTCARDS (BUNDLE OF 100)
$5.00
MARVEL KNIGHTS X-MEN #1
$3.99
MARVEL KNIGHTS X-MEN #1 RIVERA VAR
$3.99
MARVEL UNIVERSE AVENGERS ASSEMBLE #2 SYU
$2.99
MMW MARVEL TWO IN ONE HC 01 DM VAR ED 200
$69.99
MMW MARVEL TWO IN ONE HC VOL 01
$69.99
MU AVENGERS EARTHS HEROES DIGEST TP VOL 04
$9.99
SAVAGE WOLVERINE #11
$3.99
SPIDER-MAN VS VENOM BY CAMPBELL POSTER
$8.99
SUPERIOR FOES OF SPIDER-MAN NOW #5
$2.99
SUPERIOR FOES OF SPIDER-MAN NOW #5 BARBERIE VAR
$2.99
SUPERIOR SPIDER-MAN #21
$3.99
THOR GOD OF THUNDER #15
$3.99
THOR SUNLIGHT AND SHADOWS TP
$29.99
THOR WARRIORS THREE TP COMPLETE COLLECTION
$34.99
WOLVERINE #11
$3.99
WOLVERINE #11 X-MEN 50TH ANNIVERSARY VAR
$3.99
WOLVERINE ORIGIN II BY KUBERT POSTER
$8.99
WOLVERINE TP SABRETOOTH REBORN
$19.99
X-MEN GOLD #1
$5.99
X-MEN GOLD #1 CASSADAY VAR
$5.99
X-MEN LEGACY TP VOL 03 REVENANTS
$15.99