Posted in: Comics, Recent Updates | Tagged:
---
Kickstopped: Space Goat's $1 Million Evil Dead 2 and Terminator Board Games
I believe that very few people turn to crowdfunding intentionally to con donors. But for all manner of reasons, whatever was being funded can get later and later and then disappears. Lateness is not uncommon — there are so many reasons. Some creators keep people in the loop and give refunds to those who request them. But for other creators, updates stop. People who complain get blocked. And this response – or lack of one – fuels rage and turns someone who may have been a biggest fan into a hater.
Of late I have been gathering details of a number of those cases. And I am trying to find out exactly what happened.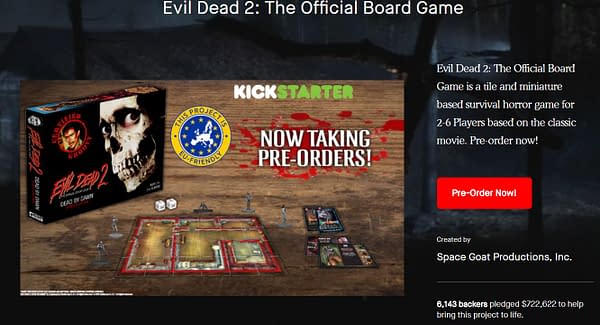 Shon C. Bury of comic book publisher Space Goat Productions raised in excess of $1 million for licensed board games, specifically an Evil Dead 2 and a Terminator board game, and after years of delays, appears that it may all be for nought.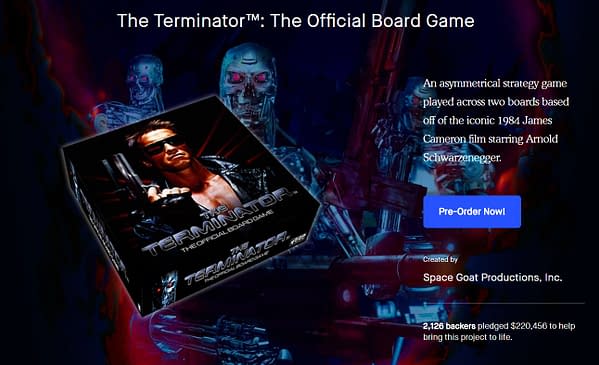 Space Goat had already published a number of Evil Dead 2 and Terminator-based comic books and this seemed a fun collectable extension of that license. The company launched the Kickstarter for the Evil Dead 2 game, with a date of production of November 2016, with over 6000 backers earning over $700,000 in donations.
However, the product didn't emerge, nor did the subsequent Terminator 2 board game, also kickstarted with over 2000 backers and bringing in over $200,000.
It's not uncommon for Kickstarted products to be delayed, but when communication stopped and there was no sign of any items actually being produced, people got worried. There were promises of further communication to come, but little was heard.
Further to that, he asked backers to invest in his company, before going silent again. With Kickstarter comments being ignored, people started using Twitter to complain, leading Space Goat to close their Twitter account. And then their Facebook page's comment section for the same reason.
People demanded refunds without joy — aside from one backer who mentioned they worked in fraud investigation and law enforcement and found themselves refunded, without even asking, which stopped them commenting as a backer on the Kickstarter page.
It is also notable that Space Goat Publications haven't solicited anything through Diamond Comic Distributors since comics planned for February 2018 while other publishers are up to August already.
In February, it was announced that DC Comics writer Keith Champagne would be the new EIC of Space Goat, while Shon C. Bury remained as CEO and Publisher stating:
"With their upcoming slate of board games, comic books, and merchandise based on licenses like Evil Dead 2, The Howling, and The Terminator, it's a tremendous time to join the team; and the stuff that hasn't been announced yet is even more exciting! It's a genuine honor to be involved in bringing this stuff to life."
They also added Michael Murphey, CEO and founder of PlayGrim Games and iVerse Media, as their new Lead Game Designer, overseeing the final production stages of both the Evil Dead 2 and Terminator board games.
And then in May, Space Goat did something unexpected. They asked for more money. After claiming huge success for the board games (neither of which had been produced) they launched an equity crowdfunding appeal on Wefunder to get people to invest in the publisher.
Despite the positive tone, he stated in the comments that if they didn't get the money, half of which would go towards funding the completion of such projects, then Space Goat would in all likelihood shut down.
It was also pointed out that, for the funding of the company, they had declared $85,000 of debt to the SEC, declared the company as worth $5 million, but they did not count the uncompleted Kickstarter projects as debt — instead they considered the raised money to be profit.
And now they have announced that attempt to get additional funding has failed. WeFunder raised just over $3000 from 13 investors, rather than the $250,000 to $1 million they were aiming for.
Dear Backers –

With the apparent failure of the equity crowdfunding campaign, we have taken a step back to regroup and consider a number of options. Some paths forward have been presented to us. We need a few weeks to find the best path forward. As soon as we find that best path forward, you all will be the first to know.

Sincerely, Shon Bury
Bury has declined to give Bleeding Cool any on-the-record comment over the situation, aside from the last backer update, and won't add anything to it.
One backer posted what they had received from a third-party seller of the product, Miniature Market, that:
I'm sorry, but we have just received word that the manufacturer of The Evil Dead 2 Board Game will no longer be releasing the item. I have cancelled your order.
The vendor has now removed the listing.
---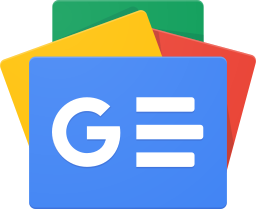 Stay up-to-date and support the site by following Bleeding Cool on Google News today!