Live From The Comic Shop – Penny Dora And The Wishing Box, The Humans, Gotham Academy #2
By Christine Marie Vinciquarra
Ah, nothing like a batch of fresh comics to put a smile on my face. My local comic book store, Conquest Comics in Bayville, NJ, is alive with chatter about all of the new releases this week. On to the comics!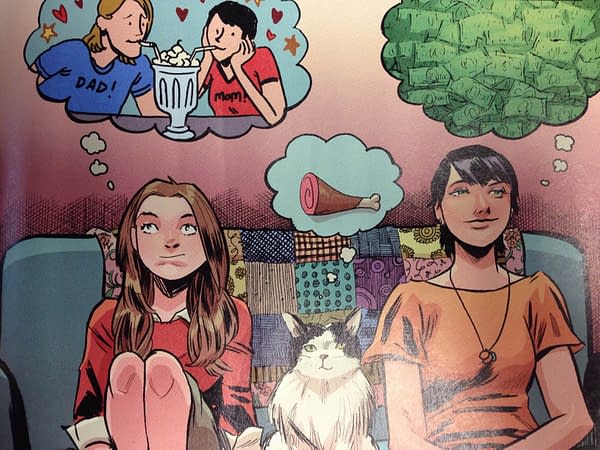 I absolutely loved the idea of Penny Dora And The Wishing Box #1 from Image Comics, written by Michael Stock, with art by Sina Grace when I heard about it. After reading it, I love it even more. It's a very simple story, one that we all probably fantasized about at one time during our childhoods. The idea of having something or someone grant wishes has been done before, but I really enjoyed Penny Dora's reaction to the opportunity. Most of us, if we discovered a box that granted wishes, wouldn't stop. Penny handles the situation in a much more cautious way, and is frightened by her newfound opportunity. Her character is innocent, sweet, and really just a normal kid, which I find charming. She focuses on spending time with her friend Elizabeth and is completely satisfied with playing with her action figures.
Now, I must mention the role that her cat Iggy plays in the story (who is based on writer Michael's actual cat.) There is one particular scene, before the present that contains the box is even opened, where Penny suggests that they all make a wish about what's inside the gift. Sina Grace illustrates a comical scene with thought bubbles about what they are all wishing for. I absolutely loved that the cats' thoughts about a ham bone were included. Now, just because Penny Dora doesn't want to deal with the wishing box, doesn't mean that others won't discover it and use its powers. To find out the endearing ending, pick up Issue One of this fun comic.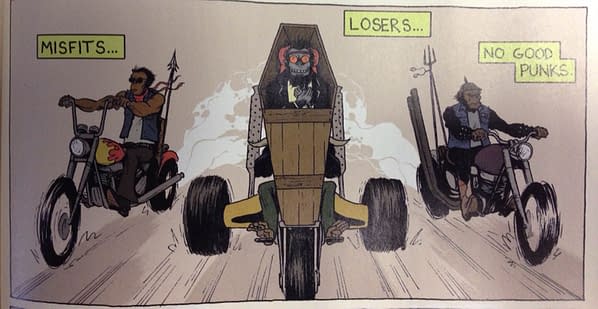 A gang of motorcycle loving apes? Yeah, The Humans #1 from Image Comics, written by Keenan Marshall Keller, with art by Tom Neely definitely caught my attention when I saw it amongst the new comics. I've been a big fan of any kind of work that uses anthropomorphism to tell a story. One of my favorite books of all time is Maus by Art Spiegelman, which deals with depictions of races of humans as different types of animals. While that is an extremely serious tale, The Humans is a much lighter, edgier tale. As I read I found myself wondering if Keller's story would have felt different if the gang was a different type of animal.
Apes, while very human, also have been known to have a "barbaric nature" so this really fits in when you're writing about a group of unruly characters. None the less, you'll immediately feel transported back to the 70s when you gaze at the psychedelic pages. There is something very appealing about a group of characters that have a strong sense of unity and loyalty despite their reputations in society. This issue focuses on the Humans coming together to mourn the loss of one of their members. Most of it is spent explaining the roles the characters have, and how their society operates. The Humans is a gritty tale that definitely has a lot of potential. The ending made me very curious as to where the story will go.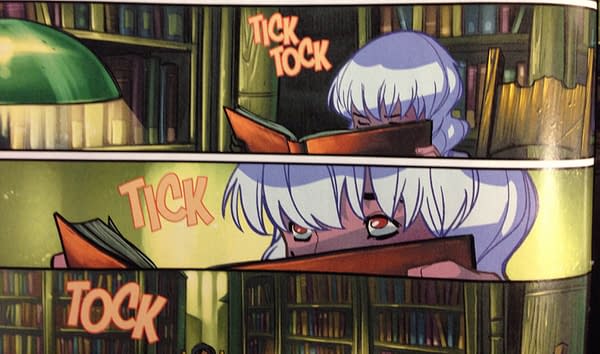 Gotham Academy #2 from DC Comics, written by Becky Cloonan and Brenden Fletcher, with art by Karl Kerschl was definitely my most anticipated release for the week. I have been dying to read another issue ever since I read and reviewed the first one. I honestly feel like this comic is a game changer for DC and gives us a look into a side of Gotham that we haven't seen before. I am still absolutely blown away by Kerschl's art. I love the gloomy yet cartoon like nature of it. The story is progressing nicely, and I continue to enjoy the main character Olive.
In this issue we continue to learn about her past life, and an altercation with a classmate raises some questions about her mother's past as well. I love how Cloonan and Fletcher show Olive's emotions. I honestly feel so connected to her character and feel the struggle she is experiencing with losing some of her memories and dealing with present situations. Maps is an excellent counterpart to Olive's complicated personality. I felt another slight nod to the Harry Potter series as I read, when Pomeline and Olive find The Diary Of Millie Jane with maps and notes in it. It reminded me of Harry Potter and the Half Blood Prince. Once again, my opinion of Gotham Academy having similarities to Harry Potter is a major compliment. I don't want to spoil the ending to this suspenseful issue, but I highly recommend that you pick up a copy today. I truly can't gush about this comic enough.
Well, it has been an exciting Wednesday here at the comic shop filled with positive reviews! To finish off my Live report, I'll share shop co-owner Pete's pick of the week! He chose Superman Unchained #9 from DC Comics, written by Scott Snyder, with art by Jim Lee because it's the finale to Snyder/Lee story ARC.
I'll be back next week with more reviews, so stay tuned!
Conquest Comics is located in Bayville, NJ. You can find out more about their awesome shop @ conquestcomics.com or follow them on Instagram @ConquestComics.
Christine Marie Vinciquarra is a writer and bibliomaniac with a love for all things creative. Some of her favorite things include: Batgirl, Star Wars, Harry Potter, Saga, Game of Thrones (the books and the show), Johnny Depp, and all things Disney. She spends her weekends feeding her competitive side while she plays tabletop and/or video games with her husband and friends. She is currently working on a series of young adult fantasy novels. You can find her on Twitter and Instagram @AWritersWay or on her blog writerchristinemarie.wordpress.com.