Mac's Books
A monthly review spotlighting the best titles the UK indie press has to offer.
By Olly MacNamee.
Space Captain No.2 (Never Ever Press)
Blood Red Moon No.1 (Geeky Comics)
Bomb Scares (Time Bomb Comics)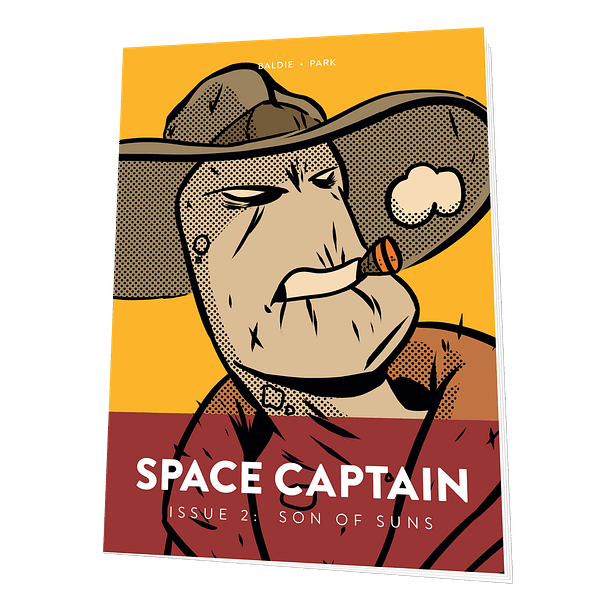 Space Captain No.2 (Never Ever Press)
Writers: Michael Park and Chris Baldie
Artist: Chris Baldie
Having survived, in a state of suspended animation, whatever disaster that saw the rest of his crew wiped out over a thousand years previously, our eponymous mustachioed hero, Space Captain, is on a quest to find his way back home and into the loving arms of his wife. An impossible task, it would seem, but one that he is not giving up on as this second issue sees Space Captain and his companion, and savior, The Prospector, crash land on the desert planet Solcran out of luck and out of time.
Like the first issue, Space Captain is a fun kinda space opera romp through the universe, taking in all sorts of cozy, familiar influences along the way to make this an entertaining read, while still forcing our hero into situations of peril beyond his control. This second issue smells of old time westerns as well as evoking the Clay Men of Flash Gordon's Trip To Mars at the same time. This series wears its influences as badges of pride and thereby create a comic that one can easily slip into like a pair of well-worn slippers. Writers Michael Park and Chris Baldie (who does double duty as the series' artist too) seem to be having a blast playing in the sci-fi sandbox, even going as far as giving most of their characters not with names, but labels. These are archetypes, the hero, the donor, the mentor, etc. with a savvy eye on universe building as the series progresses.
This is an ages old story in many ways (but then again, aren't they all?), a story of a man-out-of-time, optimism, never-saying-never and test, allies and enemies, all wrapped around a very basic but bold cover which drew my attention to it at a recent comic con. In this issue, the Space Captain's main concern: get off this dust ball and back on course for Earth, but first they have to find the enigmatic Marsta, somewhere on this planet. All the while, like some goblin-like version of Yul Bryner in Westworld, Space Captain and his companion are being relentlessly tracked down by an alien scout who is out to nab the universe's last human being for his masters.
The artwork by Baldie, which is wonderful cross between Uderzo (Asterix) and Paul Pope, compliments the script, which I would easily share with readers of any age. The peril is mild at best, and the level of language is suitable for all. For the younger reader, this is an entertaining, imaginative, epic, while older readers will glow with a warm fuzzy feeling when reading and remembering other such space faring adventures from their own childhood. If you want to get your hands on either of the two issues available, head on over to the Never Ever Press website here. Blood Red Moon No.1 (Geeky Comics)
Writer: Victor Wright
Artist: Carlos Villas
After a successful Kickstarter campaign earlier this year comes the debut issue of Blood Red Moon, a tale of werewolves and one Viking king's quest for an unstoppable werewolf army.
Capturing our narrator, and werewolf, their aims are quickly revealed: 'They wanted a weapon' and in imprisoning their very own wolf man, these Norsemen believe they have the means to achieving this end goal. Taming a werewolf army? What could possibly go wrong?
Transporting the werewolf legends back onto a more savage era in European history offers up an interesting take on the usual stories, and the conceit of King Herthjof in believing he can create a tamed force of furry fighters can only lead to horrors we are encouraged to read future issues to witness. But, like any first issue this introduces us to the lead characters, the reluctant werewolf, Tomas, the arrogant king and his daughter, whom he is more than happy to offer up to our protagonist as payment. Our lupine friend is treated handsomely but kept at a safe distance from the Viking villagers, especially during the full moon.
The digitally painted artwork by Carlos Villas is rich, realistic but can be too reliant on photographic reference on some of the Vikings' faces closer to the end of this first issue, which I can only put down to time constraints, as this is not a problem in the majority of the comic. The colours are appropriately dark and moody, muddy and bloody all wrapped up in a Ryan Brown (2000AD) cover. A rather sumptuous package all in all and can be found on the Geeky Comics website store.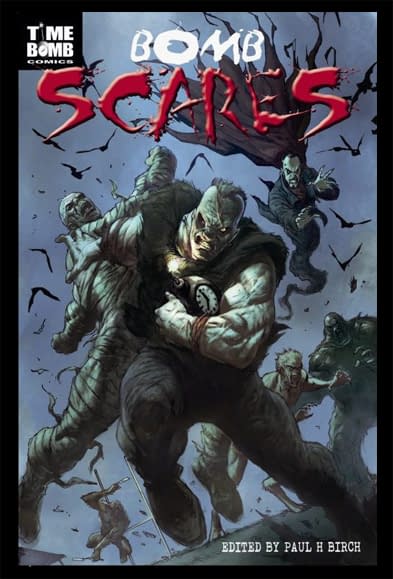 Bomb Scares (Time Bomb Comics)
Writers: Various
Artists: Various
And finally then, staying with horror, we have Time Bomb Comics' Bomb Scares, a comic we have featured previously on Bleeding Cool while still a Kickstarter campaign and as a follow up interview with Steve Tanner. So successful was this campaign that additional stories and pages were added to come in at a hefty 96 pages in total. Now, on general release, you can grab your own copy from the Tome Bomb website here.
As to the quality of material on offer, we have writers and artists both old and new to this game, with strips from comic book heavyweights such as Mike Perkins (Carnage, Rowans Ruin) and Richard Elson (2000ad) and Dave Kendall (2000ad) and new voices, new talents such as Time Bomb's own Steve Tanner and Christine Logan, both of whom provide separate stories for this black and white anthology.
While many of the stories are contemporary tales of psychological terror, such as The Eyes Have It, in which a paranoid citizen takes drastic measures to stop people from staring at him, there are also stories of old school gory horror too, often with the sensible inclusion of black humour so particular to us Brits. One example of this can be found in Bomb Scares opening tale, Care For Some, in which a young man, Peter, bring home his girlfriend to meet with his parents over dinner only for them to reveal their true selves behind the veneer of civility and etiquette.
To say that there are a variety of styles is clear to be seen by anyone picking up a copy for themselves, or for friends. Alongside truly spine chilling stories like Flesh of My Flesh sits the comedy stylings of Lew Stringer (The Beano) who brings the tradition of UK children's comics and comic artwork and mashes it up with the conventions of horror to produce a set of devilishly delightful strips that are both reverential and rollickingly revolting. This ain't for littluns, make no mistakes about that.
So, for fans of black humour and bloody horror, this could very well be what you are looking for and rounds off a busy month of Mac's Books in review. Phew.
You can read part one of November's reviews here and part two here
.
As ever, if you've got a new indie comic that needs reviewing, by all emans get in touch.
That's my last recommendations for this month.
Be seeing you.
Olly MacNamee teaches English and Media, for his sins, in a school somewhere in Birmingham. Some days, even he doesn't know where it is. Follow him on twitter @ollymacnamee or read about his exploits at olly.macnamee@blogspot.co.uk. Or don't. You can also read his articles fairly frequently at www.bleedingcool.com too.
Enjoyed this article? Share it!