Margaret Atwood Enters The World Of Comics And Kickstarter For The Secret Loves Of Geek Girls
Diana McCallum writes for Bleeding Cool: [Cover art by: Gisele Lagace, Editor: Hope Nicholson, Kickstarter Close Date: July 24, 2015]
Ladies, let's talk about sex, love and romance. That's the goal of The Secret Loves of Geek Girls, an all-female comic and text anthology from Bedside Press hitting shelves in December (if the Kickstarter gods provide a bountiful harvest of funding, that is).
The Secret Loves of Geek Girls will feature over forty female artists, writers, creators and fans telling their stories about love, sex and dating in nerd culture, written for geek girls that want information and stories from both sides of the table: from the fans who love video games, comic books, and sci-fi, to those that work behind the scenes, such as creators, and industry insiders.
The book includes non-fiction stories by creators such as A-Force's Marguerite Bennett, a new illustrated story about kink by Kath Leth and all new cartoons by Margaret Atwood! Yes, that Margaret Atwood (there's really only one).
Atwood will be contributing self-drawn cartoons detailing her personal experiences as a young woman, created specifically for The Secret Loves of Geek Girls. Ms. Atwood is even offering a personalized four-panel comic strip as a high level Kickstarter incentive to one lucky funder out there who will also receive the original art.
And if you're thinking that comics aren't really Atwood's genre, let me warn you right now not to test this woman's geek cred as she's got literal decades of nerdiness over most of us.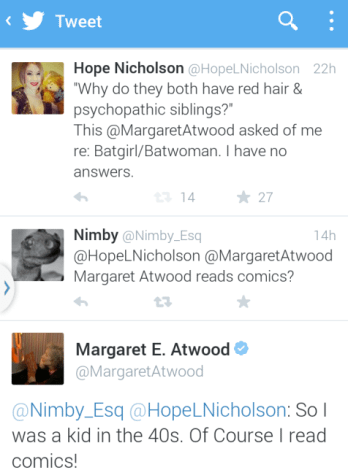 [Exhibit A]
To make things even better, The Secret Loves of Geek Girls will be edited and published by Hope Nicholson who is an old hat at successfully funding comic-related Kickstarter campaigns. Nicholson was responsible for the reprinting of lost Golden-Age comics Nelvana of the Northern Lights and Brok Windsor (available now through IDW Publishing and Bedside Press respectively). Secret Loves will be her first foray into non-fiction but she says the project is a long time in the making. Originally pitched as a television series called The Secret Lives of Nerd Girls, the project was eventually shelved, but a typo on the original series artwork labelling it "Secret Loves" helped inspire the book that would eventually follow.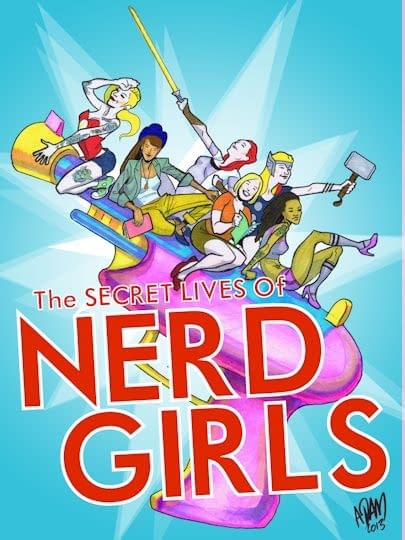 [Original Series Art by Adam Gorham]
But this book didn't just spawn from a typo, it spawned from a desire to let all women know their experiences are not singular. Geek culture is more mainstream than ever and though the internet is stacked with nerdy dating advice and books aimed towards men, Nicholson noticed that very few seemed to be geared towards the vast amount of women in nerd culture.
Whenever I get together with my female friends who are into comics, games, etc. we always chat at least briefly about interesting romantic encounters we've had in our lives … invariably someone exclaims "I never knew that this happened to other women too!" There's such a lack of public knowledge about dating and love for geek girls that each one of us thinks that we're going through this alone!
Nicholson didn't just have the idea for the book though, she had passion for the project, the experience and connections necessary to put it together, and awareness that this was a book a lot of nerdy women would be interested in.
"This book is for the women," Nicholson said, when asked about the goal of the book in terms of audience and impact. "This really isn't about men, especially since many of the contributors are not heterosexual, it's about [women] talking to each other. It's about us telling our stories and letting the reader take out of it what they need. … I think that just by talking about it, those reading will feel reassured, inspired, hopeful, and not alone."
And when she says that this book is for all women, that's exactly what she means, as the contributors span a wide range of women from different cultural backgrounds, sexual orientations, occupations, and ages. She also made of point of not only approaching well known names and industry professionals for content, she also accepted submissions from fans and lesser-known creators.
This book is a mix of contributors who are at the very top of their career (Margaret Atwood!) to contributors who have never before been published (I have a teenager involved that I follow on twitter because her cartoons are cute), and a mix of industry professionals and really enthusiastic fans. I want it to be a project that everyone benefits from.
The book promises to explore both the fun and serious aspects of nerd love, such as dating in a time of social media, anxieties and hyper analysis, dealing with break-ups, a look at fictional couples that will never work out, and even an illustrated story about Bioware crushes. But really the book's own Kickstarter campaign describes it best:
The Secret Loves of Geek Girls collects successes as well as embarrassments, examines the fandoms that we ship, and reassures us that no matter what we're going through or have gone through, we are never alone.
If that sounds like something that would interest you or someone you know, then you can help make it happen at The Secret Loves of Geek Girls Kickstarter page. The campaign just launched and ends on July 24th, with amazing incentives like original artwork from Jen Bartel (cover artist, Jem and the Holograms) or if you hurry you could even get a four panel comic from Margaret Atwood herself. But most importantly, you'll learn a little something about The Secret Loves of Geek Girls.
The Secret Loves of Geek Girls includes:
Art by Renee Nault and Jen Bartel
New comics by: Margaret Atwood, Meaghan Carter, Megan Kearney, ALB, Jen Vaughn, Meags Fitzgerald, Gillan G., Diana Nock, Roberta Gregory, Laura Neubert, Sarah Winifred Searle, Natalie Smith, and Jenn Woodall.
Reprinted comics by: Gisele Lagace and Danielle Corsetto.
Illustrated stories by: Kate Leth, Janet Hetherington, and Sam Maggs/Selena Goulding.
Text stories by Brandy Lynn, Stephanie Cooke, Diana McCallum, Jen Aprahamian, Katie West, Adrienne Kress, Soha Kareem, Loretta Jean, J.M. Frey, Trina Robbins, Twiggy Tallant, Rachel Deering, Hope Nicholson, Crystal Skillman, Marguerite Bennett, Soraya Roberts, Emma Woolley, Gita Jackson, Renee Nejo, Natalie Zina Walschots, Megan Lavey-Heaton, Alicia Contestabile, and Tini Howard.
Diana McCallum is an internet comedian and the co-creator of Texts From Superheroes. Check out the thoughts that make it past her Twitter send button right over here.