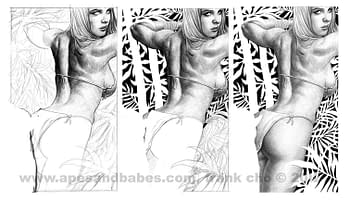 Perhaps the uncensored version could also appear in an upcoming volume of The Art of Frank Cho: Now of course, Wolverine has been added. As well as a few fronds? A little checking found me the original, uncensored version.
Most-Read Comic Stories Today:
The Censored Frank Cho. Again. 
Here's the cover to Savage Wolverine #1 from Frank Cho. Isn't it pretty? We got an early glimpse of it back in August.
From the solicitations of Red Hood And The Outlaws #17, part of Death Of The Family
DC's New Vibe Title To Be Called Justice League Of America's Vibe 
It does feel a bit unwieldy. And Katana #1 doesn't feel the need to be Justice League Of America's Katana. But I suppose it puts a better selling title's name before the – frankly – less sellable Vibe #1. Though a Geoff Johns' co-writing credit can't hurt either. And he does look a little grim doesn't he…
Most-Read TV/Film Stories Today:
Read The Script For Prometheus From Before Damon Lindelof Got Involved 
Jon Spaihts was the original writer on what became Prometheus and it was his script that got the project moving forward with any real momentum. Over the weekend, a draft of Spaihts' Alien: Engineers turned up online and certainly seemed to be genuine.
This Liam Neeson/Taken Job Ad Deserves A Huge Audience
I don't know how many people have looked in the window of Celebrations on Turl Street in Oxford lately but however many it is, this job ad deserves a bigger audience. So I took a picture for you.
Neil Gaiman's Cybermen Storm These New Doctor Who Set Pictures 
As reported last week, Neil Gaiman is taking a turn with some classic Who villains in his upcoming episode, The Last Cyberman.  The title keeps it singular, but you'd be right to expect the Cybermen will be getting just as plural as ever.
Most-Discussed In The Forum Today:
DC Cancels Its Longest Running Series, Hellblazer, And Replaces It With New 52 Title, Constantine
It's the end of the world as we know it.
Review: All New X-Men 1 by Brian Bendis and Stuart Immonen
Forgot to mention this. I had the chance to read All New X-Men #1 at NYCC. Sorry, should have said.
DC\'s New Vibe Title To Be Called Justice League Of America's Vibe
What indeed. The Justice League titles jump from ten to thirteen, with Justice League Of America, Katana and Justice League Of America's Vibe, but with no confirmed cancellation news yet… with Constantine #1, that's four books that have to be made room for. DC will roll out their solicitations through the day, so place your bets ladies and gentlemen, place your bets…
Enjoyed this article? Share it!