Retrofit Comics And Big Planet Are Ready For 2014 With Twelve New Comics
Retrofit Comics, with Box Brown at the helm, originally Kickstarted their first year line-up of indie comics creators with trademark high production values and part of the goal for Retrofit was always to invade comic shops and make mini comics with well-designed card covers part of the weekly comic experience for readers. Entering their second year, Retrofit joined a small but growing contingent of indie press publishers teaming up with local comic shops to help with printing costs and distribution at their increasing slate of friendly retailers throughout the country by partnering with Big Planet Comics, native to Washington DC.
Always a hot booth destination at indie comic shows like Small Press Expo and MoCCA Fest, Retrofit Comics/Big Planet Comics have drawn up their new year on the tried and true model of Retrofit's inception–producing one new indie work per month, but have also announced a digital library for back issues and a monthly subscription service for 2014.
Several of the releases this year will be timed with indie shows, according to the team-up, including the LA Zinefest where Wicked Chicken Queen, by Sam Alden, and Number 1, by Box Brown will first appear. Other shows that will see Retrofit/Big Planet debuts include MOCCA, TCAF, SPX, and CAB.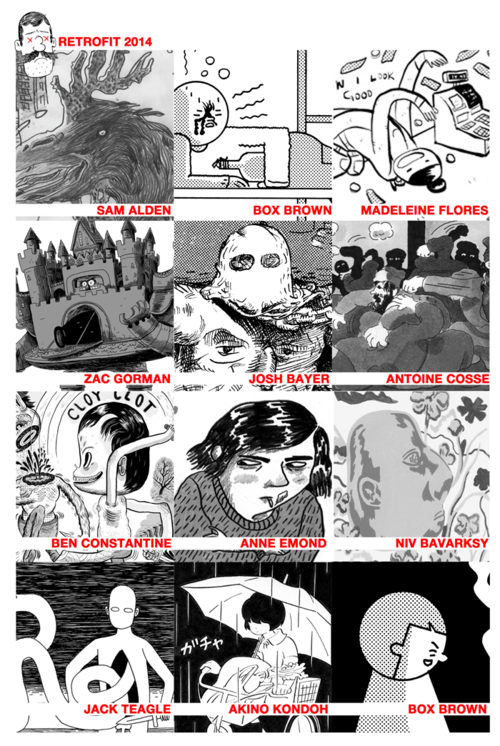 Though titles haven't been announced yet for the other works this year, the confirmed creators and some of their recent work are:
Zac Gorman (Magical Game Time)
Madéleine Flores (Help Us Great Warrior)
Josh Bayer (Raw Power)
Antoine Cossé (J.1137)
Ben Constantine (Plump Oyster)
Anne Emond (Comiques)
Niv Bavarsky (Flesh Sequence)
Jack Teagle (Jeff Job Hunter)
Box Brown (Vol. 1 and 2 of Number 1)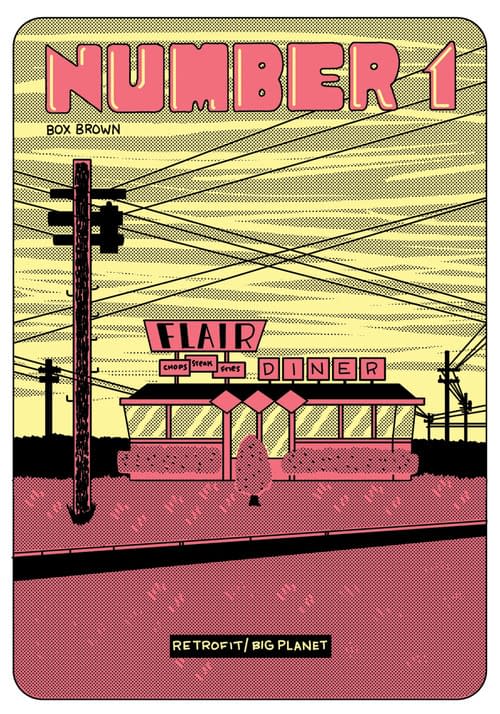 Readers of Retrofit Comics will also remember, however, that the press has always been committed to bringing over innovative new manga from Japan, as in the award-nominated Secret Prison series. With Big Planet, Retrofit will continue that mission in 2014 with translated work by cartoonist and animator Akino Kondoh, a fixture of alternative manga.
Due specifically to the team up between Retrofit Comics and Big Planet Comics, subscriptions are now possible to make sure the year's comics are allocated in advance, including 6 month or full year options mailed to readers as they are released. But going digital is also a bold new innovation for those who prefer electronic format. Subscriptions can be ordered here.
The whole digital implementation for Retrofit/Big Planet has included the back catalog, a move which is going to be a massive development for readers since major titles have often sold out and become scarce though still very much in demand due to the caliber of Retrofit books.
Big Planet Comics co-owner Jared Smith says:
One of the most appealing things was to get a regular release of cool new comics out to the public. Our subscription model really supports us and our fans, and I'm super excited by the lineup we've assembled for 2014.
It looks like a very rosy year for Retrofit/Big Planet and illustrates the kind of partnership between indie creators and comic shops that can help eliminate one of the biggest obstacles in indie comics production–distribution challenges. But what's good for the creators is also good for the readers–getting a hold of Retrofit books has never been easier or more anticipated.