"I will say that Vertigo is an area of great interest to me. It is even less well tapped than other parts of DC, and could potentially offer amazing stories for our future television video game, digital and consumer products businesses" – Diane Nelson
Recently, Time Warner Inc. Chairman & CEO Jeff Bewkes stated that DC Entertainment were going to up their game, referring it seemed to DC's superhero movies.
But nice and quitely, comics in the Vertigo imprint have been doing so much better when it comes to mass-market exploitation. From the DC Universe, in the last five or six years we've had Catwoman, Batman Begins, Superman Returns, The Dark Knight, the Smallville TV series and a few cartoons and Green Lantern on the way.
From Vertigo we've had V For Vendetta, Constantine, Stardust, Human Target with Jonah Hex, The Losers, Midnight Mass, Y The Last Man, The Exterminators, I Die At Midnight and Fables on the way.
Vertigo is going toe to toe with the DCU and has a brighter immediate future ahead of it. And Nelson says she wants to exploit Vertigo further. So here's a few possible properties that TV and movie might like to look at closely at. Mobfire by Gary Ushaw and Warren Pleese. A mini-series that mixed London gangsters and the supernatural world. Crying out to be a Guy Ritchie project after he's finished with Sherlock Holmes nonsense.
My Faith In Frankie by Mike Carey, Sonny Liew and Marc Hempel. A supernatural high concept teenage romantic comedy. Or Twilightlite. This should have beancounters salivating.
The Originals by Dave Gibbons. That's write the co-creator of Watchmen has created a graphic novel for you. About motorcycle gangs. Lots of graffiti and resultage cool imagery. And great coats too.
Pride Of Baghdad by Brian K Vaughan and Niko Henrichon. It even looks like screencaps of an animated movie. The story of a pride of lions escaping from Baghdad zoo during shock and awe assaults. And taking about life and stuff. Bit of a downer for the kids, but damn pretty. Proposition Player by Bill Willingham. Hey people are already doing Fables, what about this supernatural gambling farce from the same guy? Never have the stakes been higher!
Scalped by Jasaon Aaron and R. M. Guéra. Native American reservations, gambling and a hell of a lot of crime. Something for Showtime maybe? Dark undercurrents, the impact of colonial treatment on the aborigine, the revenge arc, the villains with a heartbreaking past…
100 Bullets by Brian Azzarello and Eduardo Risso. A high concept episode-by-episode TV show is just waiting here, that builds the mythology season by season. Like Fringe without odd science or Slushos. A victim of an unpunished crime gets a hundred untraceable bullets and a gun to wreak revenge. But what's really going on?
DMZ by Brian Wood, Riccardo Burchielli and friends. Oh HBO, just take this and run with it. A post-new-US-Civil-War series set in Manhattan. a demilitarised zone, with the best sniper positioning in the world. Transmetropolitan by Warren Ellis and Darick Robertson. Future journalism, political satire and some insanely good visual designs. You want your next Blade Runner? It's right here. Ellis is Hollywood-hot right now and this is his most acclaimed creation.
The Minx by Peter Milligan and Sean Phillips. A comedy of manners as a young demure ladyt starts to exhibit multiple personalities, predicting the arrival of the Monkey God. Just cast Kiera Knightley or something.
We3 by Grant Morrison and Frank Quitely. There is a screenplay all ready, by Grant Morrison. Brendon Connelly of /Film called it the best unproduced screenplay he'd ever read. It's there. Right there. You could start making it tomorrow. It's there. I'm pointing at it now. Yes you Hollywood person. That's right, you. Stop messing around looking at blogs and go buy We3.
The Unwritten – by Mike Carey and Peter Gross. A literary fantasy about a young man living in reality without a clue as to his true nature. You want a new Harry Potter? Right here folks.
Young Liars by David Lapham. See how Scott Pilgrim goes. Then if you want another stylish mix between comics and music, but with crime instead of videogames, here's your next stop.
Rogan Gosh by Pete Milligan and Brendan McCarthy. Okay… maybe this Indian mythology infodumped into Western suburbia isn't the most commercial concept – but what about a Bollywood production?
Air by G Willow Wilson and M K Perker. Lost is finishing this year right? Well that makes room for another airplane-related insanely complex mystical mystery.
Preacher by Garth Ennis and Steve Dillon. HBO dropped the ball with this one, doesn't mean the comic doesn't have a massive future as a protest-busting series. A preacher who has lost his faith but gained the Word Of God, a chick who should have a dick but doesn't, a vampire and the whole of America ahead of them.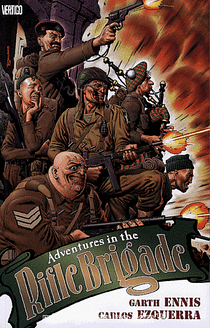 Adventures In The Rifle Brigade by Garth Ennis and Carlos Ezquerra. The smutty bawdy World War II comedy that took apart the traditional World War II story in a much funnier and bizarre way than even Inglourious Basterds. Which just got Oscar nominated. So there.
Army@Love by Rick Veitch and Gary Erskine. Because the war is still going on, and it is still ridiculous. This series punctures the media spinning of war and the glorification that gets forced down our throats in a very celebratory unashamed fashion.
Dead Boy Detectives by Ed Brubaker. Lets leave it there shall we? The pitch is the title. Detectives. Boys. And they're dead.
The Invisibles by Grant Morrison, Steve Yeowell, Chris Weston, Phil Jiminez and friends.. Okay, this is has been rumoured for a big BBC Scotland production – but then that's been true for the last ten years. Let's call it Trainspotting meets The Matrix.
Sandman by Neil Gaiman and so many lovely people. Treat it right and you've got a fifteen year-long winter movie blockbuster franchise just waiting for you. This should be the biggest no-brainer of the lot. And Neil Gaiman is a director now, you know.
Of course there is also the issue that Vertigo let some of these projects go, when they cancelled them. 2020 Visions and Outlaw Nation found other homes. If Warner's film division did get interested it could be a repeat of the Elfquest incident – the dropping of that comic, with the very expensive regaining of it, was one of the many events that led to the creation of DC Entertainment in the first place.
Now there are some wrinkles along the way. Some of these titles are called creator-owned, but don't worry. They're not actually owned by the creator in any real sense as long as you want to hang onto them. And Vertigo contracts have got a lot tighter and a lot less generous in recent years, after executive intervention. And some books you might think were creator owned, like Andy Diggle and Jock's The Losers are not, they were completely work for hire.
But what Vertigo has is hundreds of tried and tested concepts, all in one house. And just because they didn't succeed as a comic, doesn't mean they won't as a movie or TV show. The insular tastes of the comic shop rarely reflect that of the mainstream population.
I'm expecting to see a lot more of these kind of books slipping down the pipe soon…
Enjoyed this article? Share it!