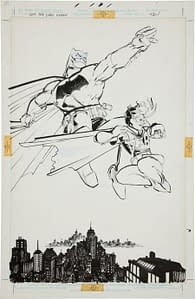 Reboots, returns, and re-dos dominated the conversation today. Interest in the air about that Rise of the Planet of the Apes trailer, and anticipation for that The Dark Knight Returns animated film. And there's always Rob Granito. Here's what people looked at here today:
Most-Read Comic Stories Today:
Who On Earth Is Rob Granito? (UPDATE)
A familiar face at recent comics conventions, Rob Granito recently appeared at Wizard World Toronto. Here is his appearance bio, listing credits including Batman, Teen Titans and working on an upcoming Batman arc. And these are reflected on his website. And he has appeared at a number of shows over the years, such as Jacen 2009, He is appearing at Megacon this weekend and will be appearing at Chiller Theatre at the end of the month, listed as a cover artist for Marvel and DC.
The Illustrious Omnibus Of Superpowers
Welcome to the Illustrious Omnibus Of Superpowers from Pop Chart Lab. Clicky for the biggy. $20 if you preorder by tomorrow. How soon will we see this on a wall in Big Bang Theory do you expect?
After And Before – How Clint Langley Recoloured Sláine: Lord Of Misrule
The passage of time is a cruel beast. And most artists hate their older world. Few have a chance to go over it and make all sorts of changes.
Most Read TV/Film Stories Today:
Movie Version Of Frank Miller's The Dark Knight Returns In The Works
Bleeding Cool have heard from multiple sources (enough with the multiples already) that work is underway on a movie adaptation of Frank Miller and Klaus Janson's classic The Dark Knight Returns. As you might have guessed, however, this is to be an animated adaptation, much like the recent All Star Superman or in-the-works Year One.
Trailer For Rise Of The Planet Of The Apes
It all starts with one, drugged up monkey and before you know it, life will never be the same again.
Trailer: Star Trek The Next Generation: An XXX Parody (SFW)
Years ago I seem to recall Warren Ellis ruminating what Star Trek would have been like with a Captain who hailed from Essex. He gave us Switchblade Honey from AiT/Planet Lar.
Most-Clicked Pics Today: Enjoyed this article? Share it!