AMC is doing its part to help The Walking Dead showrunner Angela Kang keep her promise that the series would be expanding its universe and cast of characters heading into the ninth season, adding Outer Critics Circle and Tony Award-nominated actress Lauren Ridloff.
Nominated in 2018 for her role in Children of a Lesser God, Ridloff will be joining the series for a multi-episode storyline arc as Connie: a seasoned, deaf survivor who uses American Sign Language (ASL) to communicate and is deft at using her senses to read people, situations, and trouble.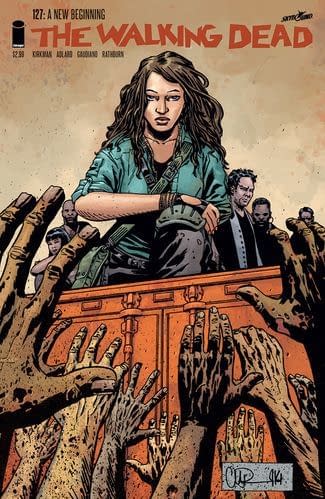 So of course, the first thing that a righteous majority of The Walking Dead fans are probably wondering about is how Ridloff's Connie connects with the comic book series — and what they can glean from it. Interestingly enough, the non-deaf character Connie first appeared in The Walking Dead #127, which involved a time jump after the events of "All-Out War" (hmm… sounds pretty familiar to where the television series is at this point). Led by a character named Magna, Connie was a member of a group of survivors that's brought back to be a part of the Alexandria community.
A former teacher, Ridloff took a job as an ASL tutor for Kenny Leon, who was directing the Broadway stage revival of Children of Lesser God. Ridloff would find herself performing the lead role of Sarah Norman at a table read for the production, filling in because no actress had yet been cast for the part. Impressing those in attendance with her performance, Ridloff landed the role opposite Joshua Jackson (The Affair, Dawson's Creek) and would pick up nominations for her performance (losing on both counts to Glenda Jackson for Three Tall Women). Ridloff is actually the second member of the cast to be nominated for a Tony Award: in 2016, Danai Gurira (Michonne) received a Best Play nomination for writing Eclipse, starring Lupita Nyong'o.
Enjoyed this article? Share it!