Wednesday's Fanning The Flames Of Enmity
Thanks to Eddie Campbell for today's blog title. He recently had a go at James Robinson's recent tweets on Alan Moore's work and attitude and takes apart the whole "Alan Moore stole his Watchmen ending from The Outer Limits" urban legend.
James Robinson is the guy who scripted the League of Extraordinary Gentlemen… the movie through which my wife was so bored she spent the whole two hours planning what underpants she was going to wear the following day
Enmity, enmity, enmity… I hope it means what I think it means.
—
It seems that students at Slippery Rock University in Pennsylviana have gone insane by protesting the following strip, part of a larger page as being racist.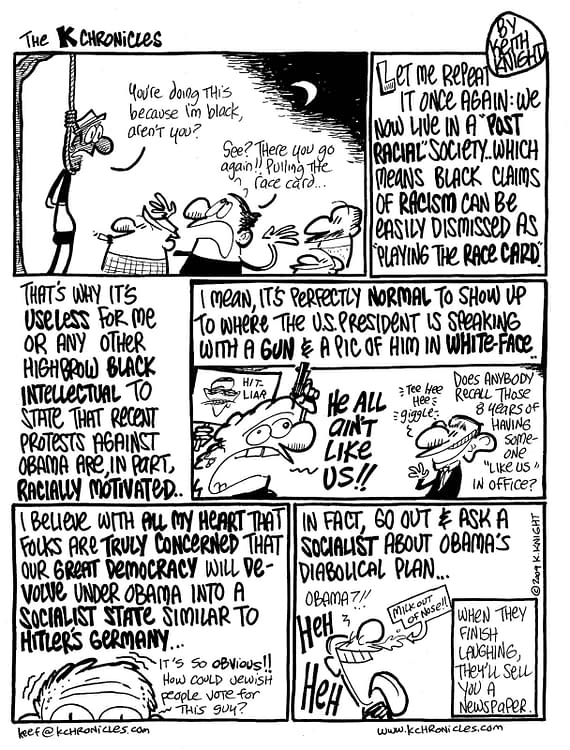 Apparently portraying a black man in a noose, even if it's created by a black cartoonist who is pointing out, satirically, racism in the USA where it exists in media conversation. It's clever, it's funny, it's clearly not racist.
But, according to local station WKBN, Rita Abent, Executive Director of Public Relations at Slippery Rock University said "It certainly ripped at the hearts and souls of many many people on this campus, not just members of our minority groups," and students turned up to college wearing nooses to protest, with one student quoted as saying "They put this in the paper thinking it would be funny. How funny is it when it's real? When you see someone walking around with a noose on their neck, it's not as funny no more."
I don't about you, but given the context, that could be quite funny. Especially if anyone takes offense to people wearing nooses. Anyway, that's beside the point. If I was a parent and had paid for my child to get an education here, in English literature say, I'd be asking for my money back.
A peaceful march of morons will take place on Thursday. Keith Knight responds to this latest controversy here.
—
Erik Larsen on how the internet helps comics;
It doesn't help. I think in many ways it makes matters worse. Writers pander to the fans instead of trying to make thinks accessible to new readers. Books become in-jokes for old fans. That, and it provides a way to download comics for free, which can't help but impact sales in a negative fashion.
On short runs on comic series;
Joe Quesada, for example, never stayed on any book for any great length of time–including ones he created–and has spent most of his career jumping from book to book, jockeying for position and trying to get his name in the news. Joe spent his time promoting Joe. He didn't seem to care what book he was on as long as people paid attention to it. The idea that anybody would deliberately choose to stay on one title for an extended period of time was foreign to him.
—
I am enjoying the current trend of celebrities doing comics by actually writing them themselves without any kind of "script assistant" (Gerard Way), even drawing the whole book themselves (Nick Simmons). Well, now Alan Robert, bassist for Life of Agony and frontman for Spoiler NYC is creating a new comic called Wire Hangers for IDW. And he's doing the lot. Here's the bumf.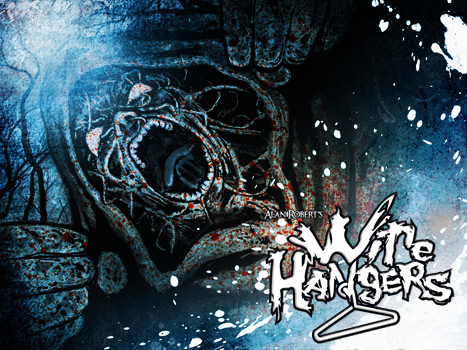 —
Joe Sacco will be signing comics tonight in Gosh Comics, London, from 5pm to 7pm. If I can find the time, I may pop by with my Safe Area Gorazde…
---
---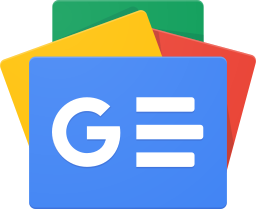 Stay up-to-date and support the site by following Bleeding Cool on Google News today!