First Review: The Green Lantern #1 by Grant Morrison and Liam Sharp – From 2000AD to Preacher?
The Green Lantern has never felt more like 2000AD that in this new series, not even when Alan Moore and Kevin O'Neill were telling its tales.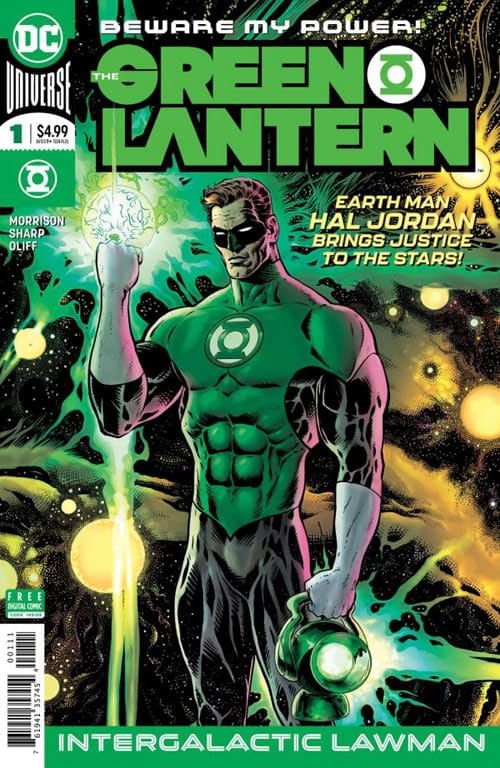 The first issue of The Green Lantern by Grant Morrison and Liam Sharp begins with a call to one Green Lantern, in the middle of a fight, alongside another Green Lantern, a superintelligent virus called Floozle Flem. As we are told 'Floozle Flem doesn't catch you… you catch Floozle Flem.'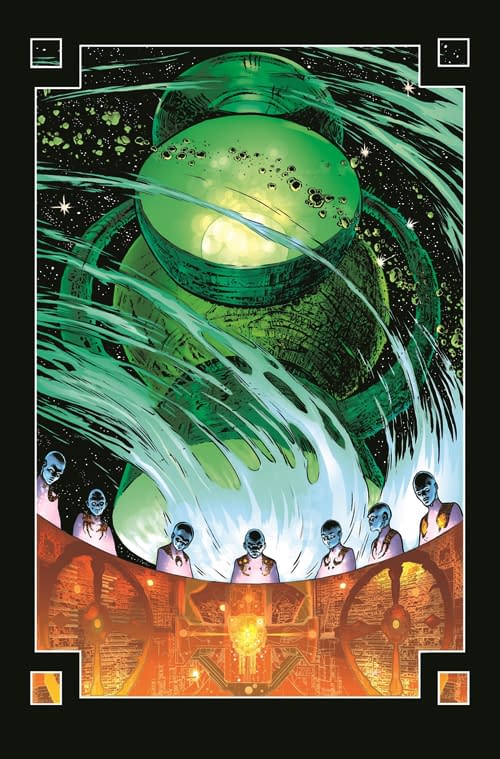 This is just one of a greater spread of Lanterns and lifeforms, that is reminiscent of both Alan Moore and Geoff Johns and the variety of alien lifeforms that could exist and be Green Lanterns – or possible foes, and Liam Sharp relishing in portraying their varied appearances. With a variety of outlooks of the universe, languages, presentations and realities, trying to keep law and order in a criminal universe, there's an element of Top Ten, DR & Quinch and ACE Trucking Co and this may be what makes this feel a lot more 2000ADish, it's the relish of playing up science-fiction concepts for their own benefit. There's a story, sure, but from the get-go this seems a comic that is more concerned with the details than the big picture, squeezing every square centimetre out of each page.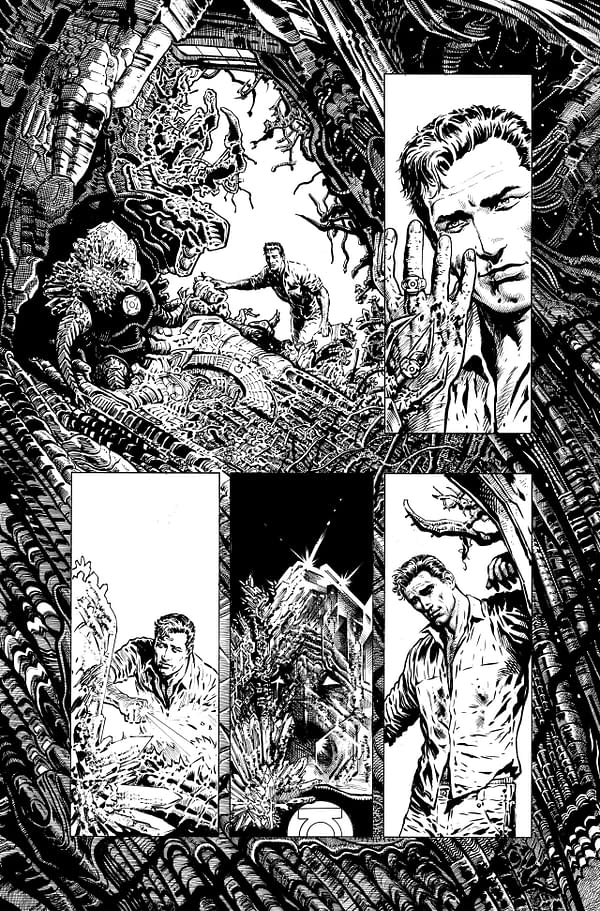 That's before we switch to Earth, and Liam Sharp portrays that as the extreme opposite, simple and sparse, closer to Steve Dillon's work on Preacher. There is Earth and there is Heaven and the two are very separate. Until this comic finds Hal Jordan as the bridge between the two, reminiscent of Jay and Kay in Men In Black, possessed of knowledge about aliens but trying to preserve their humanity – and not using his ring unless he has any other choice – because he has no choice. Which reminds me of Jesse Custer too…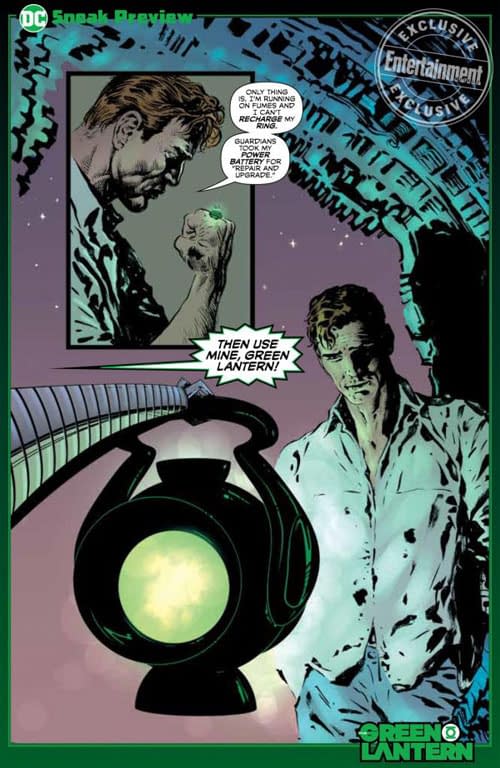 We don't get a retelling of origin, but we get a repeat, a reprise, with similar scenes replaying with different players. And then back into the 2000AD madness, with the whole 'space police' even bringing Dirty Harry into the mix. That's the overall feeling this comic generates – that it is a glorious mess and you, as the reader, have the opportunity to fight your way through it. And there's a reward for doing so…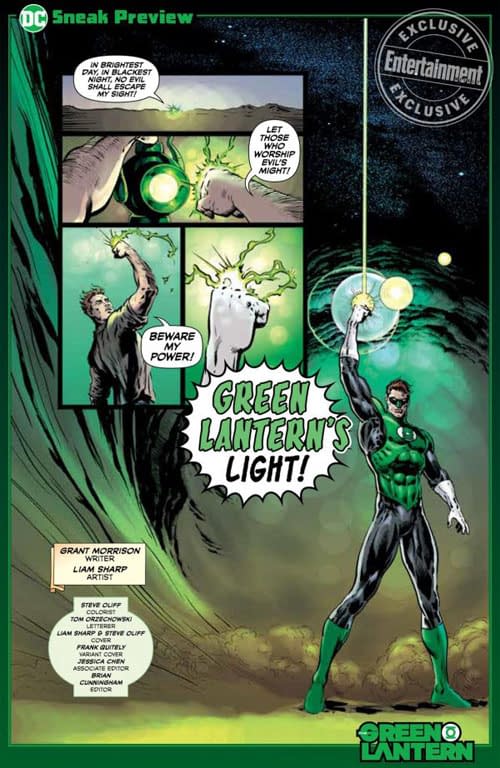 A conspiracy at the heart of everything that must be uncovered. A new set of antagonists – but are they the only one? And a vast expanse over who – or what – can be a Green Lantern that follows in the wake of those who came before.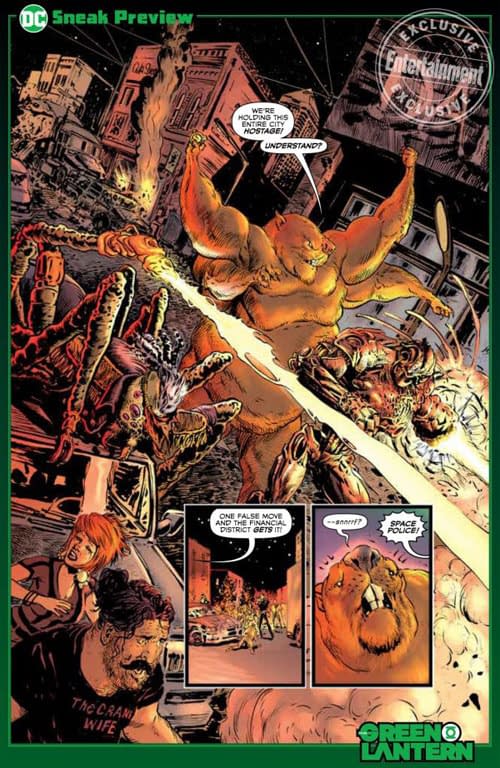 And in the future? A teaming with Green Arrow to come…
Some launch comics are all tease, with promise of much to come but this first issue is so full of detail, both in art and script that it really feels like you get a full meal with this comic. And a tasty one too. Expect a lot of unpacking of this one once it hits comic book stores…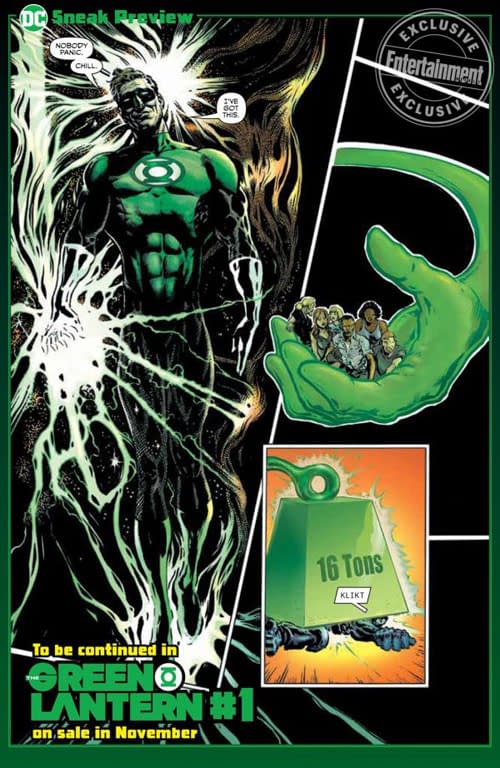 The Green Lantern is published on November 7th.
GREEN LANTERN #1
(W) Grant Morrison (A/CA) Liam Sharp
Superstar writer Grant Morrison (Batman, All-Star Superman) returns to DC alongside red-hot artist Liam Sharp (The Brave AND the Bold, Wonder Woman) to launch a new, ongoing series: THE GREEN LANTERN!
In this debut issue, when Earth's space cop, Hal Jordan, encounters an alien hiding in plain sight, it sets off a chain of events that rocks the Green Lantern Corps-and quite possibly the Multiverse at large-to its very core. There's an inter-galactic conspiracy afoot, as well as a traitor in the GL Corps' ranks, so strap in for more mind-bending adventures in this masterpiece in the making.In Shops: Nov 07, 2018
SRP: $4.99