Rhode Island Comic Con, Its 'Hiccup' And A Very Sad Rocket Raccoon
It's not the worst problem for a Comic Con to have. Overcrowding means that you have a success, a hit, a place people really want to go to and will line up for hours to do so. It happened to New York Comic Con on their first year, with DC Comics co-publisher Dan DiDio left out in the cold, allegedly heard to exclaim "I paid for this" – and he didn't mean his ticket. Equally a Scottish comic con earlier in the year had lines of four hours through the day. The show has to learn that just because they sell tickets through the weekend and expect people to come and go, that they might just all turn up at once. Then, it's all a matter of how you deal with it. At the Rhode Island Comic Con held this weekend, there was overcrowding.
Lots of it.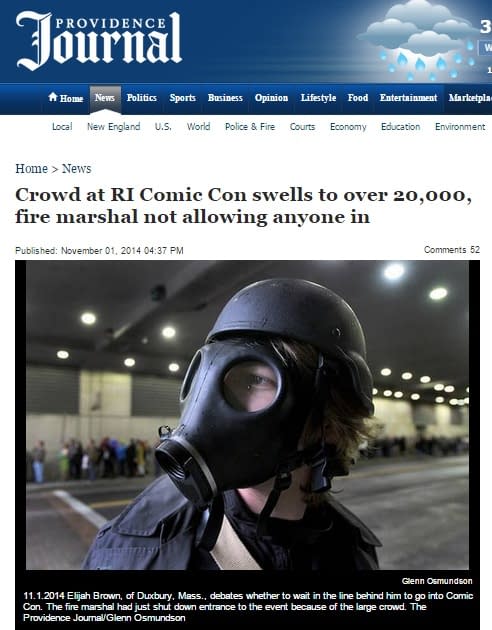 So with crowds inside and out, there were going to be complaints. So how did the show handle things? Firstly, there was a problem with the President Of The United States, clearly trying to get an early look at the show. He is a Spider-Man and Conan fan after all.
Rhode Island Comic ConOctober 31 ·If you are a vendor or artist and will be setting up for the show tomorrow there is a delay due to the President being on site he will be leaving late morning please plan accordingly to avoid traffic backups. This WILL NOT effect anything for the show days
But then there were problems. Big problems. The fire marshal stopped people coming into the show, the lines grew and tickets were still being sold, even as the show said they hadn't oversold tickets.
Not that anyone seemed to believe that.
And a hashtag was born.
Equally, people were being let out of the show and told they could return… but then found themselves unable to. Which led to split and stranded parties and families, who didn't know that going down an escalator would mean the end of the day for them.
Want one to break your hearts?
What does that last one refer to? Well, amid the complaints, the show decided to issue an apology at 5pm.
Rhode Island Comic Con: We apologize for the hiccup this afternoon. We had hit capacity much sooner than expected, but the doors are now open and anyone with a ticket for today or this weekend are being let in without issue.
"Hiccup" didn't go down too well. Especially when hundreds of complaints on the Facebook pae were summarily deleted.
Cynthia Ryfa I agree with a lot of people here. Calling this just a "hiccup" is insulting. Waiting out in the rain for nearly two hours to get into a place that supposedly was not oversold was just terrible. There were tons of little kids, that were out possibly getting sick in the weather waiting in line with parents. Now, speaking for today. I plan to go. But I'm hoping for it to be a bit more organized.

Sarah Butze It's absolutely unprofessional that you've been deleting people's posts!
I was harassed and laughed at by security for asking where to nurse my son and you erase my post instead of replying or even just leaving the post? Yeah, because that won't make me tell even more people about how I was treated let me tell you.

Scott K. Daggett I have been attending this convention every year since day one and I must say that this year was the worst experience yet. I still do not like buying tickets at the Dunk and then waiting in another line to get inside the Convention center. The organizers need to learn from this experience and implement some other attendance entry methods next year. Once I handed my ticket for entry while I was still in the hallway in the Dunk, the staff member failed to give me and my friend a wrist band so, we dared not leave for fear of not getting back in.

Wayne Ferreira Listen.. They were unprepared from the start. Before it hit 20k people. With the early entry….. They didn't have anything organized. The lines to check in with your tix was all messed up. The 20k people was a problem that was well after the fact. . The guests and the "volunteers" are not to be blamed for this.. Its the people in charge.. Yes they did not expect soo many.. But with an event like this.. They should have all had the plans for something like this!

Keri Forte No, they were not all being let in. It was a few ppl at a time and I had already stood in line for 2.5 hrs w my 3 kids who were freezing an begging me to leave. My 6 yr old autistic son who has been anticipating this day for the last month since we bought tickets left in tears an devastated. So disappointed.

Rhode Island Comic Con We deleted the old posts because it was misleading to cast blame on the fire marshal. The marshal has been nothing but wonderful in dealing with this issue and we didn't want people to become angry at anyone who wasn't responsible.

As for the comments, any deletions made were of those using curse words.

Fraser Ohlgren Hiccup? Stop being funny! It's not humorcon. You put on a terrible experience & should be ashamed. You were oversold from the minute the doors opened. Here's what my 8 year old daughter said after 40 min… "This sucks, can we leave?". I want my $50 back.

Er Ic NO, your post said you did not "over sell tickets". Yet you obviously turned people away for exceeding the capacity of the building. Its common sense and simple math DON'T SELL MORE TICKETS than the building can contain. its pure greed. You did over sell and your are trying to cover up your tracks. Just post a link for people to get a refund and accept responsibility for your mess up.

Naomi Cummings This was not a hiccup. People are getting angry at you because you seem unwilling to acknowledge how much of a screw up this was. People can roll their eyes and mumble "first world problems" all they want, but for a lot of people, this was something they saved for. My husband and I got the weekend pass as a treat. I got a new (and decent) job and this is how we decided to reward ourselves. We had a babysitter for some time on Saturday so we could hang out with each other, and then we would bring the kid on Sunday. We could not enter for the entire time we had the sitter. And that's just our story. I'm sure that the overwhelming majority of people who were denied entry have their own.

I remember the horror of The Station fire. I understand why they couldn't let us in. I don't quite understand why you could go online and still buy tickets for Saturday when people were not allowed through the doors. A friend stepped out to get food while his wife and daughter were inside waiting for an autograph session. He was not allowed back in. But you could still buy tickets. And, in a post that may have been deleated, RICC insisted that they did not over-sell the event. They just were working on the assumption that people would leave an all day event after an hour or two. Maybe if you would stop waiving your hands and yelling "pay no attention to that man behind the curtain!" you wouldn't have as many angry posts to delete. And let's be honest, we all know it isn't just the "blame the Fire Marshall and/or swearing" posts that are getting deleted.

Kara Macklin Wow, okay, just FYI….they truly are trying to silence people. Just as they just deleted their posts earlier, they just deleted one with a ton of comments including our own story. They then BLOCKED us from being allowed to post comments!! You can see below that we did not use vulgarities, etc. These people should know better by now…that is not how social media works. We had to create another FB account for this, and will continue to do so as they keep blocking us. Below is our earlier post which had replies, etc. We knew they would do this, as friends of ours had also already been blocked: This whole thing was atrocious. Came down from Maine, hit AWFUL traffic, then could not find parking anywhere. Even the event center lot was full. So, we all got there at just before 10am, but could not find parking for so long, it was nearly noon by the time we got there. Then we get told the entrance is not where you get tix, you have to go elsewhere. We go there, only to get told we have to go further….to a line that was apparently taking 2.5 hours to go through. There was absolutely NO organization, people had no idea what to do. In that huge maze of a line, there was not ONE official to keep things straight, keep us informed. Just a bunch of people asking each other in line what was going on. After 2.5 hours, we get tickets only to be told we cannot be allowed in!! Hundreds of other people were being turned away, people separated from their friends and families. We actually saw staff telling people the would be allowed back in, and we spoke up saying that was complete b.s., do not leave! 4 hours pass and of course this FB is blowing up. As others do, we have screen shots of the b.s. posts that RICC was posting up, blaming the Fire Marshall. Two posts later, no answers, and they say they opened the doors. Utter lying, as we were still there and the doors were not open. We saw children crying as they were turned away. We saw the police running out to the parking lot because another child had collapsed after waiting 4 hours in the driving wind, rain, and cold. No shelter was offered to the victims of this con. Noone came out to update us, give coffee/snacks, nothing. We went to ask to speak to one of the event organizers and were told they were not on premise. Still, FB was blowing up, and of course they then pulled down the posts, saying that they did not want people blaming the fire marshall….um, noone was! We were all blaming you, and in fact it was YOU guys who blamed the fire marshall! Taking the posts down to hide everything was weak and shows moreso how awful the situation was. Then saying that you were opening the doors…another lie! VIPs were put into the same lines as everyone else. People were collapsing. Spent hours and hours and hundreds of dollars to be there. Built schedules around this. And you did nothing but blow us all off. We did not even get in. You then later post with the audacity to call this a HICCUP?! We have already called the local news, WJAR, and WPRI. Some people have already posted the attorney general number, BBB is another option, but really it will be the news (we did talk with WPRI about how you lied, saying there was only a 'brief delay'. We will be getting the full story to them and out by other means, as are others. You quote turnover capacity….the building can handle 9500 people….you sold OVER 20,000 tickets by not controlling your outlets…you had the site, the Groupons, Living Socials, Amazon, and so on. Someone lost track. Having put on events in the past, you should know that Comic Con people tend to stay nearly all day….again, noting the effort people put in to be there, some flying in, the time put into costumes, families and friends coming together, etc….you did not sell your tickets by session. You sold by the day. Which means we get to be there all day, and come and go as we want. That is the entire point of comic con, to see the artists and vendors, mingle with them and with the stars, and of course with other fans/enthusiasts! You think posting up telling us not to linger makes sense? Vendors themselves have already complained about this! Speaking of vendors, you took down how even they and the artists were not allowed back in!! Seriously?? Or how about the fact that you guys actually RAN OUT OF HOT FOOD! People had no option but to leave to get something to eat, and then you do not them back in after you made them have to leave? We drove a total of 5 hours, then 2 hours for parking/leaving, waited in lines for nearly 5 hours, and did not get in. We have been to many cons and this was one of the worst I have ever seen. You should be ashamed, and should have been out there, in the front lines, talking to us. Getting us some shelter. Keeping us HONESTLY informed instead of the bs posts you put up (and later deleted). You do not even have a phone number on your contact page! Noone can get a hold of anyone! For those looking for someone, the organizer's chief's name is Steven Perry. He can also be reached at his main company, Altered Reality Entertainment… They do not have their phone number…of course. For those looking for refunds and not getting them, remember that you can file a dispute with your card company/bank. You will get the money back immediately, and then it will be on RICC to get back to THEIR bank to dispute it. It will always fall more toward your side, as they will need to really fight to get the money back.

LOL.. Let people in now with no issues eh?

AT FIVE O'CLOCK?!?!? What a joke. This isn't your first rodeo, there is no excuse for what occurred today.. Very disorganized and a lot of unhappy people. Not cool…

Rhode Island Comic Con This actually happens very often for many shows. Unfortunately, there is no way to predict what the turnover will be at a show like this. We are trying our best to accommodate everyone, but because we also need to maintain everyone's safety, we sometimes have to stop entry until the crowd thins a bit.

Gina Silvestri Coppolino If you only sell the number of tickets per fire code, you would not have an issue.

Rhode Island Comic Con We are working on a remedy for the situations involving anyone who was completely unable to attend. It will take a bit of time. Please have patience.

Lisa Berube I wish we were told that by just going down the escalator would make us NOT be able to get back in. We waited for a while but the Fire Marshall wouldn't let us back in. NOT COOL. Wish we would have known we could get back in later… But we live 2.5 hours away so we left after being stuck at the bottom of the escalator. A refund would be nice since we were only able to walk around for 1 hour. This was nuts.

Er Ic People who left for lunch or, went down an unmarked escalator, parted from family members forcing everyone to leave, went outside to have a smoke, or paid for a 2 day pass but got 2 hrs and maybe entry on Sunday, should be refunded as well not just " anyone who was completely unable to attend." My pre paid ticket says the event is from 10am-7pm. When i signed for it I agreed to the terms of operation hours of 10am-7pm and i was refused re entry after a fraction of that time inside missing out on several opportunities because I stepped out momentarily. I was also told by an employee I could re enter PRIOR to even leaving and was still not granted re entry not even 45 mins later. I dont want a substitution for a future event, or to wait 3-5 days for a resolution. If i had a bank and not a credit union I would be revoking payment in full right now. If this isn't resolved by 8am monday i'm going to my credit union and starting the process. After today and the ignorance of selling 20,000 tickets paired with rude city officials and comic con employees i have no patience to wait for you do decide how to still profit from this fiasco while handing out bread crumbs to keep people at bay.

Kara Macklin Totally agree with Er Ic….we even SAW people being told they could leave and come back even as we were seeing people being told they could NOT come back in over on the other side.

June Eastman We had a member of our party go down the unmarked escalator not long after we arrived trying to check out the children's com, and accidentally leave the com and not allowed back in. He had no coat in the cold and rain, and no way to get into our car (we had the keys), and spent the com browsing in the local mall. I bought four tickets for our party, and I'll be working on a refund for that one. This con was waaaayyyyyy oversold, poorly organized and even those inside the con spent most of their time waiting in lines. There were no signs, and no maps that identified where things were or the times, and staff had no idea either. I'll go to other Comic Cons, but not the Rhode Island one.

John Thibault Still want refund info. Calling Attorney General Monday morning. Ticket Master. RICC. And whoever else.

Linda Resnick Hiccup??? My daughter and her friends got stuck outside in your lobby all afternoon! They all paid for weekend pass, but were not allowed back in after leaving for lunch. They got trampled in a stampede. Hiccup? I think not! How about REFUNDS!!!

Joshua Lee Anzaldi Rhode Island Attorney General phone number (401) 274-4400 . Give them a ring and make the soon to be unemployed managers of this event pay for what they have done. Copy and paste this everywhere as the admin of this page has deleted any posts which instruct people how to get the management in trouble, fired or sued. Go for more than just a refund folks. Help make sure the bottom feeders that are responsible for this think twice before messing with comic book fans of all ages from Rhode Island

Angel Martinez Not sure why I am even bothering because I will most likely get a cut and paste response, if any at all. (or even deleted)

Your excuses of "hitting capacity" and "turnaround" simply mean you oversold the event. For you to assume that you would have a huge turnover or turnaround time, at a convention of your size, just proves the old adage "When you assume, you make an ASS out of U and ME".

Anyone who pre-purchased any type of VIP ticket should have been let it before anyone buying "at the door". Anyone who had pre-purchased any other type of tickets or tickets for for photo-ops should have been left in before people "buying at the door".

You screwed up. You have to simply admit it and stop making excuses or you will end up getting the same bad publicity that Epic Con Ohio is currently receiving. If that happens, your convention has no chance of surviving.

Please realize that the PAYING CUSTOMERS are the ones that keep you in business. It is those PAYING CUSTOMERS that you turned away today because of underestimations and over selling on YOUR PART.

Every fan turned away, who purchased in advance must be refunded, no excuses. Telling fans "the doors are now open", when the convention is more than 1/2 over, is just an insult to all of those you already have slapped in the face.

Jorge Rivera Here's a thought…..IF the VENUE can hold 18,000 people – you sell 18K tickets, people will come in and out and not cause this mess. YOU WERE GREEDY AND KEPT SELLING TICKETS WHEN YOU KNEW FULL WELL YOU WERE EXCEEDED AS PER CITY CODES!!!!!

Richard Sanchez Jr. I paid $214 for gold vip and it was pointless and worth less I had to wait for hours to get an autograph I couldn't leave or they wouldn't let me back in even with my gold vip not one staff knew what they was doing I'm at the after party right now and they don't know if any celebrity's are coming worst time ever they need more directions and more planning

Jonathon Lee Schermerhorn 3 words – small claims court. Gas money, mileage, time out of work, full refund, no lawyer required…Comicon – make with the refunds and the schwag.
Rhode Island Comic Con Fan wrote,
Crowd Management issues. After we parked in the garage, there was no one visible to help direct the crowds when leaving the parking lot. There were two lines that we could see — one going off to our immediate right, and the other heading left from across the street. We stumbled into the line right in front of us, and watched dozens of people crossing the street and lining up behind us, while others proceeded ahead across the road. We had no idea if we were in the right line, and there wasn't any indication of whether we were right or wrong. Finally one guy (who actually cut right in front of us) let us know we were in the line for those who had tickets. The other one was for people who needed to purchase tickets. Overall, it took us about 20 minutes to get inside but after hearing what others went through I can't complain.Ticket fraud? When we got inside, I didn't see anyone scanning tickets that people were turning in. Instead, they went right into a garbage bag after they counted the tickets and matched it up with our party size. So in theory, multiple tickets could be reprinted and used to get others in.
The show promised to avoid a repeat performance today.
Rhode Island Comic Con This should not happen tomorrow. We are trying our best to monitor the entrances of patrons and guests entering the building so that we can stem the flow, halt ticket sales or put holds on entry if necessary. Entry will not be an issue at 9AM/10AM
Well, the show is opening now. Here's hoping…