Angoulême Grand Prix is the most prestigious award in the comic book medium. But of late, with accusations of sexism and corruption rife no one seems to want to win it.
Two years the awards was criticised for issuing an all-male thirty-strong nominee list, and for twelve nominees of those nominees to withdraw from the list, making it impractical to continue. Initially six women's names were added to the list, before the whole nominee longlist system were withdrawn and those eligible asked to vote for whoever they liked, reflecting their life's work in comics.
In 2015, the three final nominees were Alan Moore, Katsuhiro Otomo and Hermann. Moore and Hermann declined to be nominated, so Otomo won.
In 2016, amidst all the fuss, and with Alan Moore and Claire Wendling declining to be honoured, Hermann relented after lobbying from friends, and won the prize.
In 2017, Chris Ware, Cosey and Larcenet, were nominated and Cosey won.
And now in 2018… they've gone straight to allowing any of the creators to vote for anyone they want, resulting in Richard Corben, Emmanuel Guibert and Chris Ware as the three nominees for the Grand Prix Prize for Angouleme 2018.
A first round of voting took place last week, with 1230 comic book creators participating, The second round will take place from tomorrow until Sunday. Anyone who has had comic book work published in France can participate. Which, by the way, includes most professional comic book creators in America…. just saying.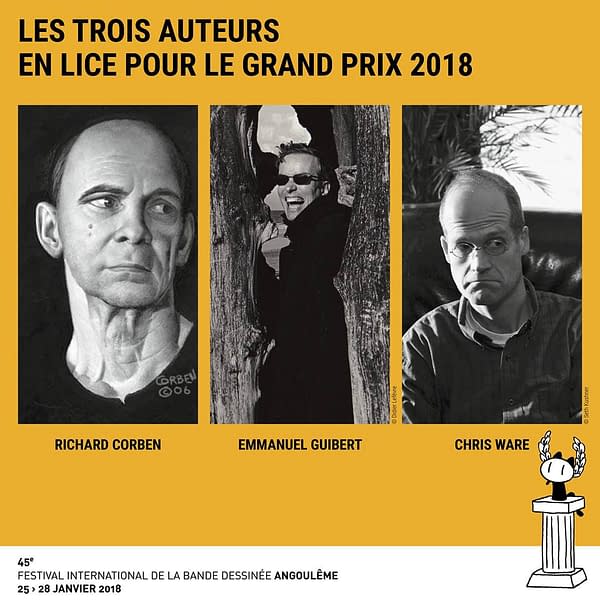 RICHARD CORBEN
Born in 1940 in Anderson, Missouri (USA), Richard Corben created several stories in underground magazines before being hired by Warren Publishing, where he became famous for his horror and sci-fi illustrations. Corben was a major contributor to the Creepy, Eerie and Vampirella magazines. His ultra-realistic style and his use of airbrush colour make him emblematic of the new generation of independent writers on the American scene – he is spotted in France by Metal Hurlant, who published his work and made it popular with the Francophone public. Den, Vic & Blood, Mutant Worlds and adaptations of the new Edgar Allan Poe made him an icon of counter-culture and science fiction. Corben collaborates today with the big publishing groups like DC/Vertigo, Marvel and Dark Horse, in comics such as Luke Cage, the Punisher, Hulk and Hellboy.
EMMANUEL GUIBERT
Born in 1964 in Paris (France), Emmanuel Guibert began his career with a demanding work on the rise of Nazism, Brune, which took seven years to complete. In contact with his comrades in the Vosges workshop, he decided to change his technique and published, between 2000 and 2008, a series of plates inspired by the memories of his friend Alan Ingram Cope, Alan's War. On the strength of critical and commercial success, he continued in this life-inspired vein with Le Photographe, based on interviews with Didier Lefèvre, who received a Prix Essentiels du Festival in 2007. A great technician, recognized by his peers as an innovative draftsman and precursor, Guibert is also a prolific screenwriter. With Joann Sfar, he created The Black Olives, The Daughter of the Professor and Sardine of Space, as well as Ariol, with Marc Boutavant. He is the 2017 winner of the Prix Goscinny.
CHRIS WARE
Born in 1967 in Omaha, Chris Ware was published very early in RAW, the avant-garde magazine of Art Spiegelman and Françoise Mouly. In the 1990s, he began a major work with the series of Acme Novelty, a fake magazine with a changing form and pagination that featured the author's famous characters: Quimby the Mouse, Rusty Brown and Jimmy Corrigan. All are distinguished by their timidity, their fragility and the empathy they aroused in the reader. For 25 years, it has been an original work, which oscillates between a sweet melancholy and a deep sadness, that shows Chris Ware, always trying to look through the microscope the daily life of his characters and their derisory gestures. Celebrated with each new release, Chris Ware has received numerous awards including 28 Harvey Awards and 22 Eisner Awards. In 2012, he published Building Stories, a book-object consisting of fifteen books of various formats that can be read in any order chosen by the reader, for which he received the Special Prize of the Jury at the Festival d Angoulême in 2013.
Enjoyed this article? Share it!