Bloodstrike Brutalists is a new comic book series coming from Rob Liefeld for Image Comics, announced at Image Expo 2018 just now.
Bloodstrike is a fictional team of action/adventure super agents, originally published by Rob Liefeld's Extreme Studios of Image Comics in the 1990s.
The team is a top-secret, super-powered assassination squad deployed covertly by the United States government. All of the members had already died before becoming members of the team, and were brought back to life by the government's Project: Born Again.
It's time for them to be born again again. But more… brutalist?
After an 18-year hiatus, Bloodstrike issue 26 was released in March 2012. It was written by Tim Seeley with art by Francesco Gaston. The series continued to follow Cabbot and his exploits with the company, but took on a more satirical tone as it examined the moral implications of bringing back the dead rather than focusing only on the action as it did in its previous run. It has been on hiatus since issue 33.
The title was intended to begin publication again in 2018, written by Copra's Michael Fiffe. And now it is!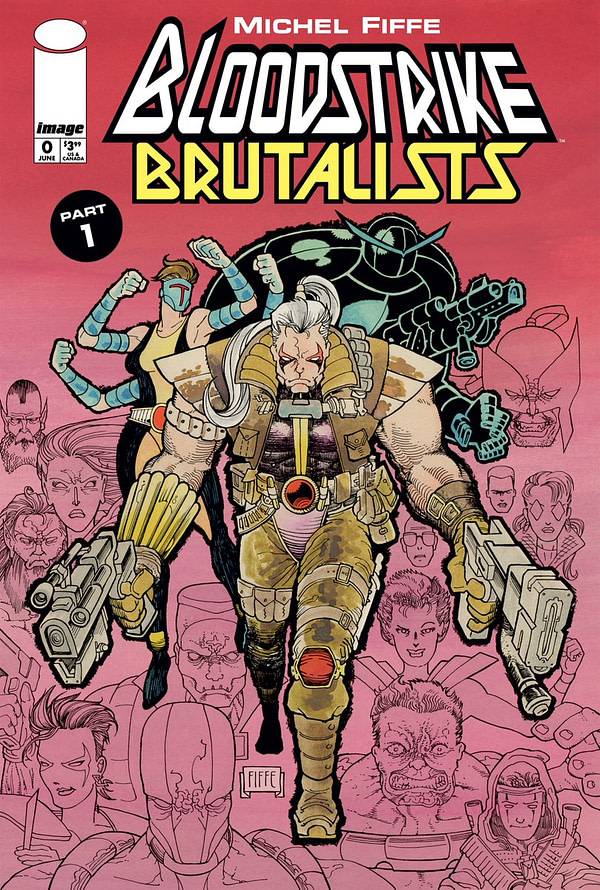 Rob Liefeld'S BLOODSTRIKE will feature story, art, and cover by Michel Fiffe
Michel Fiffe will write, draw, and color three exciting new issues of BLOODSTRIKE. The Fiffe issues will also feature two back-up stories by Chuck Forsman and Paul Maybury with pin-ups by Ed Piskor, Benjamin Marra, Andrew Maclean, and more!
In Michel Fiffe's BLOODSTRIKE: BRUTALISTS, the creator of the indie hit COPRA shines a light on Image's most extreme series and its groundbreaking carnage. Whether it's the origin of our favorite undead strikeforce or solving the trail of mysteries that plague them, this mini-series picks up where the original title left off while introducing the concept to a new audience. Celebrate Bloodstrike's take-no-prisoners legacy by looking forward as only the new wave of comic-auteurs can! Don't "rub the blood"…drown in it.