Bring On the Bunny Ears – Rob Liefeld Launches X-Command in Major X #0
When Rob Liefeld launched his Major X comic at Marvel, he used the same panel layouts as he did for the first appearances of Deadpool and Domino in the much-demanded New Mutants #98. It was a clever way to pay homage to one of his greatest successes, note how far he had come in that time and possibly, just possibly, save a bit of time. I rather liked it.
The series has concluded, establishing Major X and his merry men in the Marvel multiverse. But h';s continuing it with Major X #0, a one-off that takes an earlier comic – and rewrites that too.
19 years ago, Rob Liefeld drew a couple of Wolverine comic books, scripted by now Publisher of Image Comics, Eric Stephenson. They introduced a bunch of characters who were never seen again. Until Major X #3. And so Pigskin, Vance Rebus, Deadeye Dick, Mega Max, Reckless Eric and Mini Max, known as The Scourge and working for Deadpool…

…were reintroduced in Major X #3 alongside Dreadpool.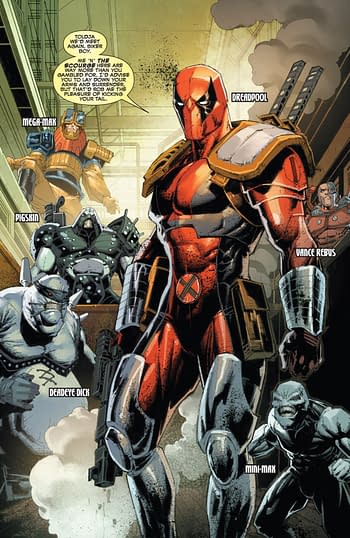 All aside from Wreckless Eric. Well, Stephenson didn't write this new issue, I guess. And now Rob Liefeld is going to recut those two Wolverine issues with new pages to create an additional Major X storyline and tie these two Wolverine issues in more closely with Major X.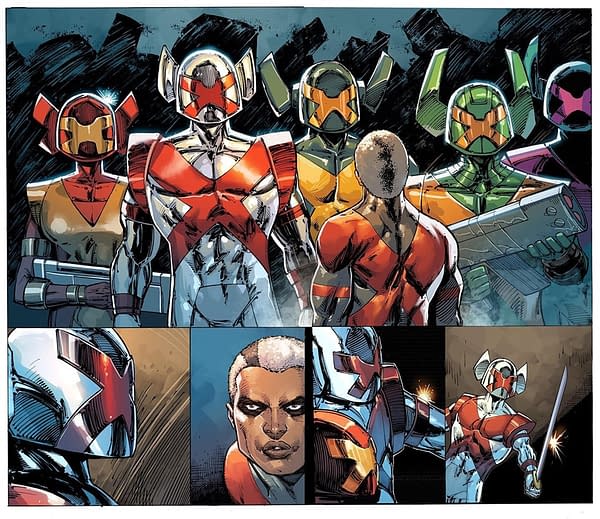 Liefeld writes,
The ranks of X-COMMAND are revealed in the pages of Major X #0! Do I actually take their helmet's off?? The world of Major X expands as the mythology and legacy is explored. Can't wait to share it with you all!
Out in August… it's always possible he may have sneak peeks the week before at London Film And Comic Con…
MAJOR X #0
(W) Rob Liefeld, Eric Stephenson (A) Rob Liefeld (CA) Ed Piskor
Representing the classic Wolverine (1988) #154-155 with an all-new Major X frame short story written & drawn by Rob Liefeld!
Deadpool accepts a hit from a mysterious group of overzealous techies called the Watchtower. His intended target? Wolverine! There's a bounty on Logan's head, and Deadpool plans to collect! But will the Watchtower prove too morally questionable for even the Merc? The beginnings of the hit Major X series can be found in these classic stories!
Rated T+In Shops: Aug 07, 2019