Russian Publisher Bubble Comics Causes Outrage at San Diego Comic-Con
Bubble Comics, founded in 2011, is the largest comic book publisher in Russia, the only publishing house in the country that produces original non-franchised comic books. It has published English language comic book series into the US direct market of comic shops, such as Demonslayer, Major Grom, Friar, Red Fury, Allies, Igor Grom, and Realmwalkers and was behind the Netflix live-action TV adaptation, Major Grom.
Bubble Comics is also a regular publisher at San Diego Comic-Con, was one of the organizers of Comic-Con Russia, and runs their own convention just for themselves, Bubble Fest, every year in Moscow.
But after the invasion of Ukraine by Russia, Bubble Comics had gone dark. In February, Russian President Vladimir Putin ordered Russian troops, including tanks, to enter the regions of DPR and LPR after formally recognising them as independent states. Putin then ordered an invasion of the rest of Ukraine. As the war has escalated, trade with Russian companies has been curtailed, sanctioned against, or boycotted. Bubble Comics stopped posting anything just before the invasion. It seems that it had decided to cut itself off rather than wait for anyone else to do it.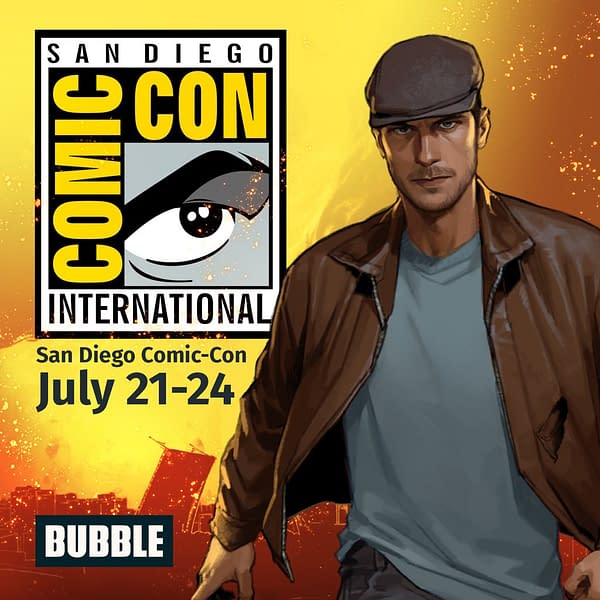 But now Bubble Comics is back, with a booth at San Diego Comic-Con and playing down their Russian ties. Setting up at Zone B2, booth 5528, their mention of this fact on social media has been met by people replying with scenes of Ukranian destruction, and quote tweeting criticism of both the publisher and the convention.
Some may question wonder why Bubble Comics gets singled out for such treatment. Well, Bubble Comics create titles that lionise Russian police and soldiers. But also the company was created by and funded by Artyom Gabrelyanov, who writes most of the titles. He is the son of Aram Gabrelyanov, creator of Life, chairman of the Izvestia newspaper and general director of News Media, all seen as major Russian propaganda outlets. Bubble Comics is literally a corporate part of News Media – and they have never addressed the Ukrainian situation directly at all.
Right now, San Diego Comic-Con's social media is being flooded by people objecting to Bubble Comics' presence at the show. Is this something they might have to address? San Diego Comic-Con continues until this Sunday.