Scarlet Witch Will End Peach Momoko's Demon Days At Marvel
Peach Momoko and Zack Davission will let their version of Scarlet Witch end the Demon Days series at Marvel Comics on May.
---
Yesterday, Peach Momoko and Zack Davisson debuted their version of the Scarlet Witch, at the end of the Demon Wars: Down In Flames reworking of the Marvel Universe in Momoko's image.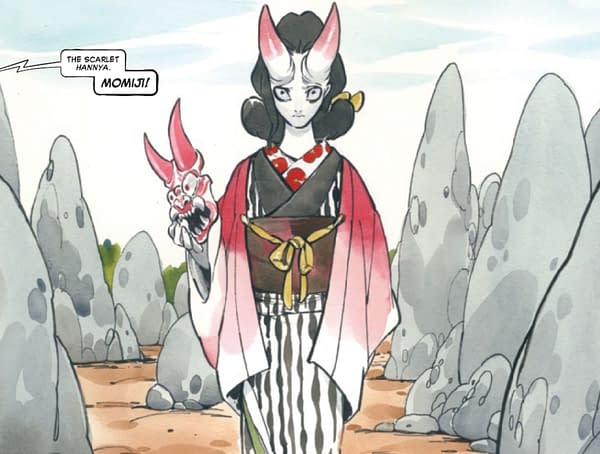 Now, Marvel has announced that this Scarlet Witch will get a new comic book of her own, Demon Days: Scarlet Sin, to be published by Marvel Comics in May. And that it will bring her Demon Days series of series to an end at Marvel.
DEMON WARS: SCARLET SIN #1
Written by PEACH MOMOKO
Art and Cover by PEACH MOMOKO
Co-scripted by ZACK DAVISSON
Variant Cover by PEACH MOMOKO
On Sale 5/3
The final chapter in the acclaimed DEMON WARS saga, SCARLET SIN will wrap up the latest era of Momoko's bold vision of the Marvel Universe that blends classic Marvel Comics storytelling with traditional Japanese folklore. Since the Momoko-verse was introduced in 2021's DEMON DAYS: X-MEN #1, these timeless tales have transported readers of all ages to a world of magic and adventure. Filled with wondrous versions of the Avengers, X-Men, and more, this unique and spellbinding experience is sure to captivate readers for generations to come!

The yokai are at war, and Mariko Yashida, descendent of the Oni King, has to choose a side. The fates of the spirit world and the human world hang in the balance. But things just got complicated thanks to the appearance of a mysterious yokai with incredible power. This yokai has a scheme of her own, and she wants to paint the world…scarlet.

"When designing Momiji, Demon Wars' version of Scarlet Witch, the first thought that came to mind to represent Scarlet Witch was her anger and betrayal," Momoko explained. "So with this in mind, I was inspired to create her around the Hannya idea. Hannya in Japan is used in Noh theater to represent a woman's anger and jealousy, and these vengeful spirits turn her into a demon."

"In Demon Days, most of my characters, even though many were yokai, were all yokai living in the human world, so they had to 'look human.' But in Demon Wars, the story takes place in the Ikai, the yokai world, so I had more freedom in designing the characters," Momoko continued. "They can be human, animal, or an out-of-this-world creature design. So I had lots of fun designing each character. Demon Wars is coming to an end, and I can't wait to see how readers will react. Thank you!"
DEMON WARS DOWN IN FLAMES #1
MARVEL COMICS
NOV220949
(W) Peach Momoko (A/CA) Peach Momoko
PHOENIX vs MAGIK!
Things are heating up in Momoko's Marvel Universe! The spirit world is divided. Its inhabitants, strange creatures called yokai, have chosen sides, and the two factions are on the brink of all-out war. A bird-like yokai who wields some serious firepower faces off against a club-wielding demon. Mariko Yashida finds herself right in the middle of it.No matter which side she chooses, there will be consequences not only for the spirit world, but for the human world too. Don't miss the next installment of Peach Momoko's epic DEMON WARS saga!
Rated T+In Shops: Feb 01, 2023 SRP: $4.99