Yesterday, Bleeding Cool looked at a number of comic book creator-and-adjacent commentaries on social media on the current protests in America right now. But the current situation has brought out voices that are not normally known for commentary for such issues. Here are three, well-known white Americans working in the comics industry looking at their America in a new way, and being spurred into doing different things in one way of another.
Scott Dunbier, is Senior Editor at IDW Publishing, behind all the Artists Editions and similar archival projects. He has the reputation of being a gentle, kind soul. He is a peacemaker, a go-between, a man who calms waters rather than disturbing them.  Which is why it was notable when he posted yesterday
I haven't been this mad in years. I've asked Alex not to go to a protest, a nervous dad. Well, there's one near us tonight at 6:30 in San Marcos. I'm going. This is just too insane to just watch from the sidelines.
He returned, saying,
Thanks for the overwhelming outpouring of concern and love. Went to the protest, about 250 people, peaceful. The crowd was a mixture of all different colors and ages, everyone well behaved, trying to get their voices heard. Cars driving by were constantly honking their horns and yelling (in a positive way) and waving. After watching peaceful protesters in Washington be attacked because the president wanted to show he wasn't afraid to go out in public (reminds me of another petty little man, hiding in his bunker as the end came for him), I just needed to do something, anything, to express the outrage I feel. everyone stay safe, strong and vigilant… love to all. #BLM #BlackLivesMatter #OrangeLiesMatter #TrumpResign
While Rob Liefeld, creator of Deadpool, X-Force, Youngblood and Prophet, another voice not usually associated with this sort of thing, took to the boards.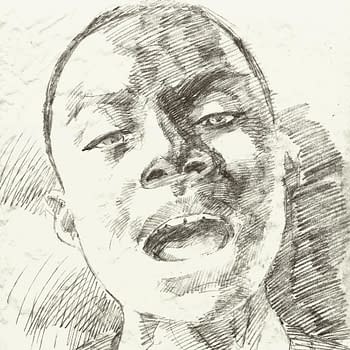 I was drawn to sketch this young boy. His song about being a Young Black Man continues to haunt and inspire me. I won't ever know what it feels like to walk in the skin of a black man and experience the prejudice and discrimination they receive. These past days have brought so much into focus and created important dialogue between family and friends. I don't have wisdom to share on this matter so I draw to cope and work out emotions. I hope there is healing on the other side of this tumultuous time.
This would be the song in question. While Jonah Weiland, founder of CBR, now Vice President of Marketing and Creative Services at DC Comics expressed his own wish to help, while also expressing his own ignorance. You know that Tiktok meme, 'step on the gas'? Well, he stepped on the gas.
How can I help? I've generally approached social media by not discussing politics and social issues, keeping that a more private part of my life. These past seven days have shown me that decision needs to change. I'm lost. I'm not sure I know the right words for anything but a broken heart and spirit is all we know right now. For many of us this is an irregular part of life. Our privilege allows us that comfort, while for many others it's their daily reality… The senseless murder of George Floyd. The tragic brutality of the police towards peaceful protesters. National "leadership" which knows only division. Heartbreak after heartbreak, coupled with now total disillusionment. While I have experienced despair and felt heavy burdens that come with life, my privilege of being born in to a white, middle-class family and the opportunities that come with it has shielded me from the worst life can throw at you. I'm aware of that privilege, but never have I felt the stark divide between my experiences and those of others as I have this weekend. How can I help? By listening and educating myself more on the topic of racism. Confronting all that makes me feel uncomfortable. I have a lot of reading and learning to do. By speaking more openly on the topics of racism, social justice and the need for police reform. I'll do that. One way I can immediately help is monetarily. This weekend I've made donations to the @NAACP, @BLMLA the George Floyd Family Fund, @PplsCityCounciland Campaign Zero. I'm not done. I'll continue to research social justice and Black Lives Matter organizations and will make more donations. I hope you'll consider donating to these groups or others like them. I have much more I need to do. I hope it helps. Black Lives Matter.
This Google doc of anti-racism resources, often recommended, was offered up again, as well as this list of calls to action, and a list of donor possibilities. All one has to do is ask.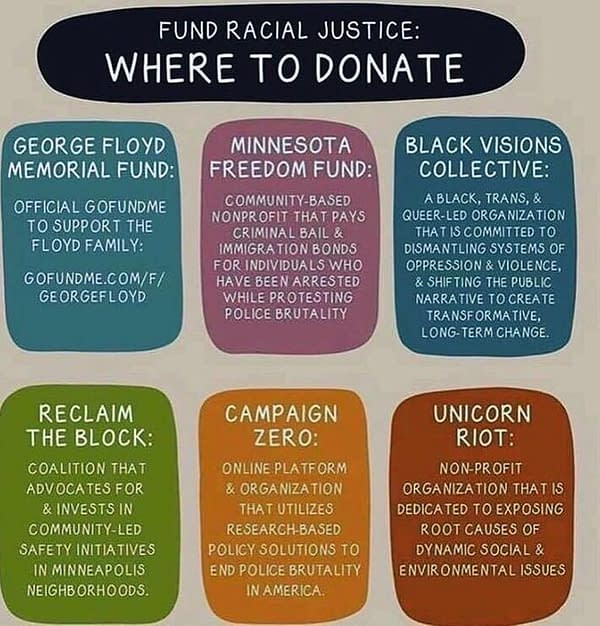 All three have significant professional channels under their influence. It may be interesting to see how these kinds of revelations may change the way they, and others, do business.
Enjoyed this article? Share it!