Scott Snyder Talked to the CIA About Their Real Plans For America to be an "Undiscovered Country"
Scott Snyder and Charles Soule swung into the Diamond Retailer Lunch in San Diego Comic-Con to talk about their just-announced comic for Image, Undiscovered Country with Giuseppe Camuncoli – which we are now, apparently, allowed to name. It will launch as an ongoing series in November.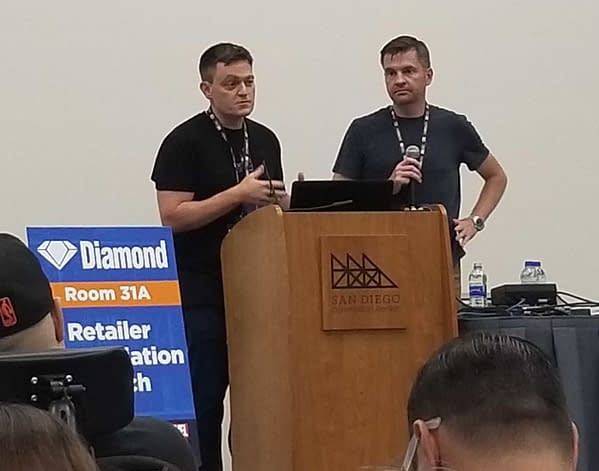 And they wanted the retailers on their side at the event, telling them "You guys are the lifeblood of this industry"
Undiscovered Country is apparently the result of the pair looking for ten years for a project to do together. And that "Once we found the time and a loophole to do it, it would have to be special." They came up with the idea two years ago and have been building a world mythology since.
Both Scott Snyder and Charles Soule had a waiver from their publisher exclusive contracts and tey both chose to do this one.
The comic tells the story of a United States now and of many years ago. An America that seals its borders akin to a black box, seals everything in, information, data, everything, until thirty years later a big epidemic hits and the doors open…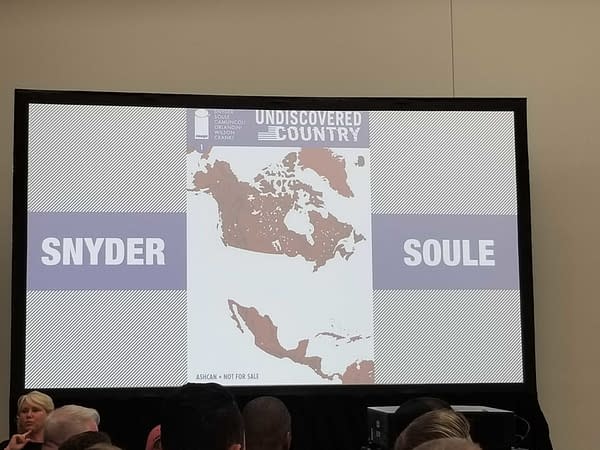 The comic is based around the team then send into the USA, with the main characters a brother and sister. The world is divided into two empires, divided into two camps. They were both sent out of US in the days before border closed, by their parents, but they don't know why. And once they crash into the country, they'll meet the big bad. And the country has a spiral road that leads all the way to its centre.
And the team will cross through all the small versions of America that all went in different directions.
Could it be a yellow brick road? Each zone along the spiral road has its own aesthetic and inhabutants. Such as terrestrial fish monsters, techno-zombies, mammoths and more.
And in news that will make the Bleeding Cool general manager Mark Seifert's ears twice, Scott Snyder talked with a CIA Agent at DARMA about the comic (presumably not just Tom King) as this concept is apparently something that America might end up doing for real – and who confirmed to him that they have a plan for just this sort of thing. As well as plans for virus-resistant fish – which scientists there Snyder not to tell anyone, so they put it into their comic. They were also told "if you take a picture on this building and post it on social media, the Chinese will follow you for the rest of your life". Maybe that will be in the comic too…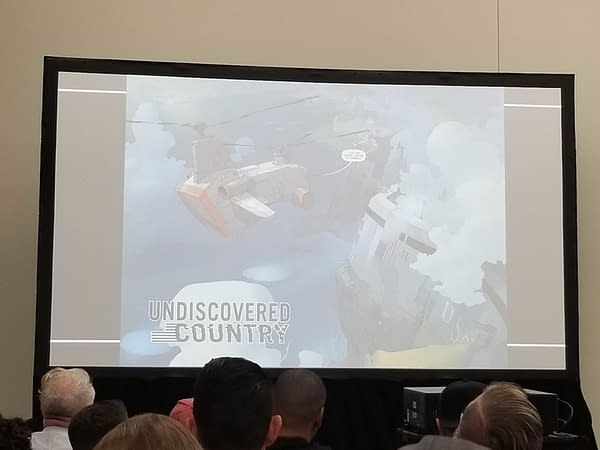 "If you take a picture on this building and post it on social media, the chineese will follow you for the rest of your life"
Retailers got a black-and-white ashcan of Undiscovered Country #1. How soon till someone flips it?
Keep an eye on more from the Diamond Retailer Lunch at San Diego Comic-Con with this handy Bleeding Cool tag…
Here's the PR…
"As soon as Charles and I came up with this idea I knew it was special—one of those ideas that turns into big, wild, world-building story. And this series is just that: a twist-filled trek across a landscape that's alien, mysterious, and full of adventure," said Syder. "It's like Land of the Lost meets Lewis and Clark, with a team of characters we've already come to love as family. Speaking of teams, I'm honored and thrilled to be working with this group of creative folks. Cammo not only brings the world of Undiscovered Country to life but elevates every element—whether we're talking the giant terrestrial fish monsters of the coast or lurking techno-zombies of the northwest…Bottom line, Undiscovered Country is a blast to work on and we're convinced it'll be a blast to read. Can't wait for you guys to see it in full!"
Soule added: "I can't believe this is my job. Working with Scott, Cammo and the rest of the team—all stars every one—is a dream on a creative level. We've got ourselves a hell of a high concept here, and fleshing it out together—filling our sealed-off US with beautiful, insane adventures—has been one of the great thrills of my career. It's been wonderful to make Undiscovered Country with my friends, and I think it'll be just as fun to read."
In Undiscovered Country, readers will journey into an unknown region that was once the United States of America—a land that's become shrouded in mystery and literally walled-off from the rest of the world for decades. A small expedition enters the former US in search of a cure to a humanity-ending pandemic. They travel inward and learn the secrets of what America has become; each member seeking their own form of truth in the undiscovered country.
Camuncoli said: "When two of your favorite writers, whom you've previously and brilliantly already worked with, ask you to team up for a new book, you get what I call a 'no brainer'. It took me a second to say yes, I didn't even really need to know what the story was about because I already knew it couldn't have been less than stellar. And of course it is stellar, and then some.
"From the concept to the cast, to the world-building—everything in this book is terrific, and so is the team we have assembled to make it happen. So, enter my Darth Vader partner in crime Daniele Orlandini, the maestro of nuances Matt Wilson and the super letterer Crank! and then you end up feeling like playing in a superband, like Temple Of The Dog, or Them Crooked Vultures. These guys really make me feel like it's easy to tell a story that is larger than life, and if it's like that it's also because, guiding us all from above, editor supreme Will Dennis never misses! Will hired me for my first Hellblazer story, back in 2001, and it feels fantastic to have him on my side again after all these years.
"So, long story short, we're all giving Undiscovered Country our all, and we hope it'll show. Please check it out and let us know how you like it, because we sure as hell do, and there's nothing better than doing the comics that you like!"