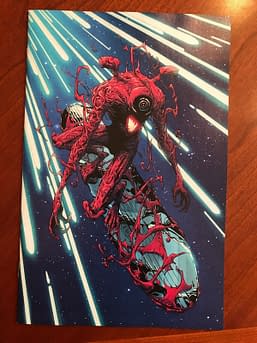 Here's a surprise from San Diego Comic-Con for Marvel Comics collectors. Because it's something that major comics collectors may not get a sniff of.
First of all, Marvel Comics was handing out very limited editions of Silver Surfer Black #2 at the show during panels, to the best cosplayers and questions asked on the Saturday.
Featuring a Giuseppe Camuncoli virgin cover of Carnage on the Surfer's board, copies have already been sold on eBay for up to $180.
But I have also heard from retailer discussion in the Bayfront bar during the show, that Marvel Comics were also giving out an extremely limited edition of Silver Surfer: Black #2, with a black-and-white cover, a certificate of authenticity and an even more limited print run. And just handed out at the Marvel booth to people they considered 'worthy'. Who may not realise that it is a very desired Marvel comics collectable. Dubbed the True Believers variant.
If true, no one has thought to put one of those on eBay. And collectors who are interested in finding a copy have no idea who to ask, where they may be or what condition they are in by now. And no one at Marvel confirming anything to any inquiring minds.
Keep an eye out…
Enjoyed this article? Share it!