So What is Sanctuary – and Who Will Die There?
DC Nation #3 tells us more about the Sanctuary at the heart of Heroes In Crisis.
Welcome to Sanctuary, the ultra-secret establishment designed to finally combat an insidious enemy that creeps through the DC Universe: post-traumatic stress disorder… Created five years ago by the DC Trinity of Superman, Batman and Wonder Woman, Sanctuary is a place for superheroes whose experiences combating cosmic and Earthbound criminals have left them with some pretty deep traumas. Sanctuary offers a safe place for those heroes to spend a few days or a few weeks as they navigate the accompanying mental and emotional journeys. Sanctuary appears to the outside world as an isolated ranch in rural Nebraska, but in reality it is a sophisticated compound built out of Kryptonian technology and populated only by robots, holograms and the heroes who seek therapy there. As King explains it, each member of the Trinity saw the initial need for Sanctuary, but approached the project from different perspectives: Batman viewed it as a necessity, Wonder Woman viewed it as a kindness, and Superman saw it as a good. But when many of the heroes who have attended Sanctuary turn up dead and Harley Quinn and Booster Gold emerge with blood on their hands, it's up to the trio who started it all to investigate how and why it all went wrong… Who is responsible for the deaths of all these heroes? And will Booster and Harley ever find redemption? It all begins in HEROES IN CRISIS #1, the heart-stopping opener to the most personal DC Universe crisis yet.
But who is dying? DC Nation #2 gave us this conundrum.
Which three will be accused of murder? Which two will be murdered? Which one will be revealed as a murderer?
Today, DC Nation #3 says that only two will be prime suspects, Harley Quinn and Booster Gold. If you were looking for a third, I'd point the finger to Wally West.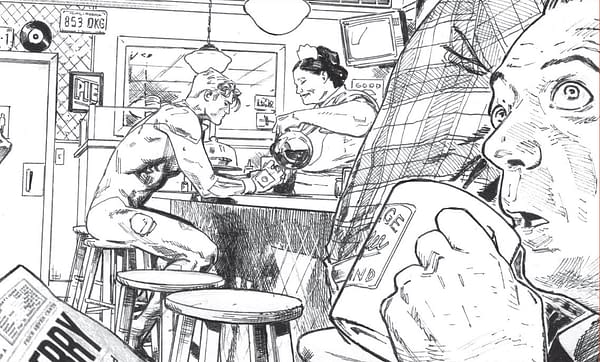 And that if he was revealed as a murderer, or at least believed to be, that might justify a place in Brian Azzarello's Suicide Squad.
We also got this cover to DC Nation #4.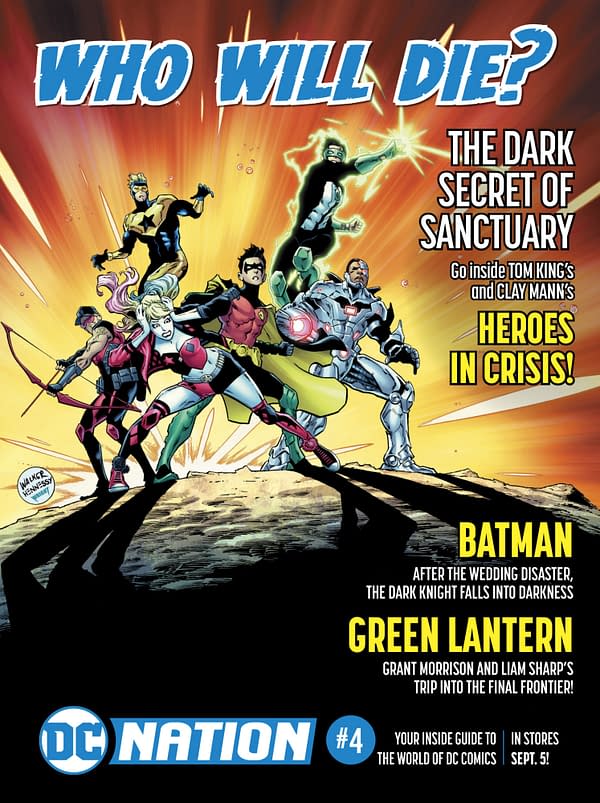 The only people on the cover and on the teaser are Cyborg, Roy Harper, Harley Quinn, Booster Gold and Kyle Rayner. Eliminating them down, and looking at other future DC solicits, Roy Harper might be a suspect marked for death.
As to the other? A number of people suspect Poison Ivy but I've been told from connected sources that this is not the case.