And it's retailers! Retailers are buying all the Something is Killing the Children #1s! Following Bleeding Cool's report earlier this week on the comic's massive 170% increase in FOC orders, explosive publisher BOOM! Studios has announced that Something is Killing the Children #1 by James Tynion IV and Werther Dell'Edera has sold out before its September 4th release date.
BOOM! Studios announced today that SOMETHING IS KILLING THE CHILDREN #1, the first issue of the highly anticipated new horror series from GLAAD Award-winning author James Tynion IV (The Woods, Justice League) and artist Werther Dell'Edera (Briggs Land), has sold out at the distributor level before its debut on September 4, 2019 at comics shops.

In order to meet the overwhelming demand from retailers and fans, BOOM! Studios is fast-tracking the release of SOMETHING IS KILLING THE CHILDREN #1 SECOND PRINTING VARIANT, featuring an all-new cover by rising star artist Dani Strips (Coffin Bound), so it can arrive in comic shops on September 11, 2019.

SOMETHING IS KILLING THE CHILDREN is about a close-knit community rocked by a series of murders and the sudden appearance of Erica Slaughter, a mysterious figure who rides into town claiming she can stop the brutal murders turning their lives upside down.

But the local police and authority figures don't know what to make of this dangerous outsider who claims to believe the local kids and their rumors of monsters in the woods. Can they trust this so-called "monster" hunter with their children's lives? Or is Erica Slaughter an unhinged killer who'll only bring more tragedy into their midst?
Speaking of the incredible support the series has received while rolling around in a giant pile of money, BOOM! editor Eric Harburn said:
The early support for SOMETHING IS KILLING THE CHILDREN has been incredible so we're very excited to be able to announce the second printing, with a beautiful variant cover by Dani Strips, for fans who can't wait to get their hands on the first issue. James, Werther, Miquel, and the team have created a unique horror series that readers won't be able to put down!
Just because retailers have bought all the copies of Something is Killing the Children #1 doesn't mean you can't get one… that is, as long as you get to the comic shop before they mark them up and put them on eBay. Look for it in stores September 4th.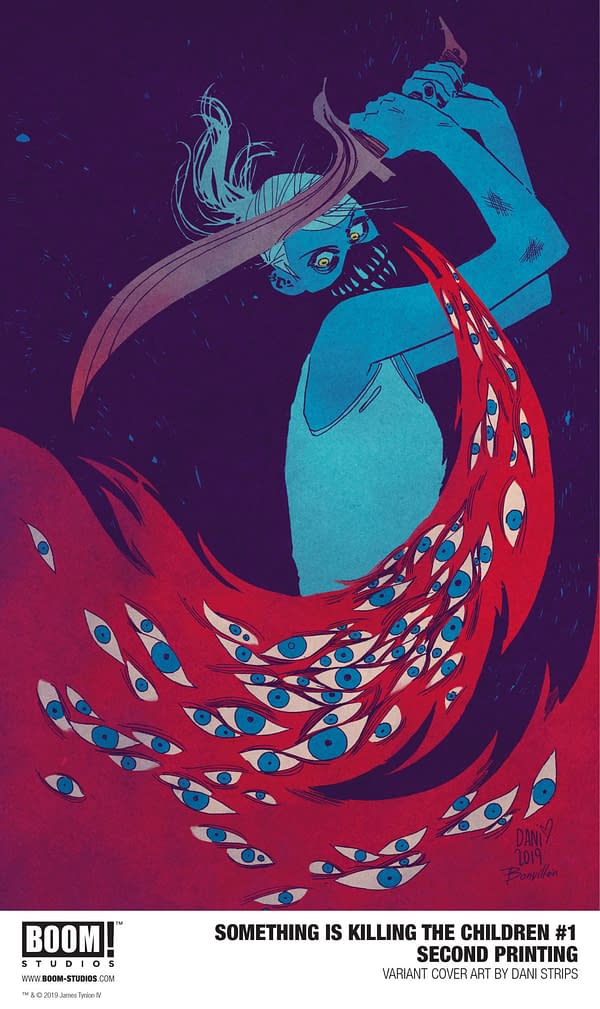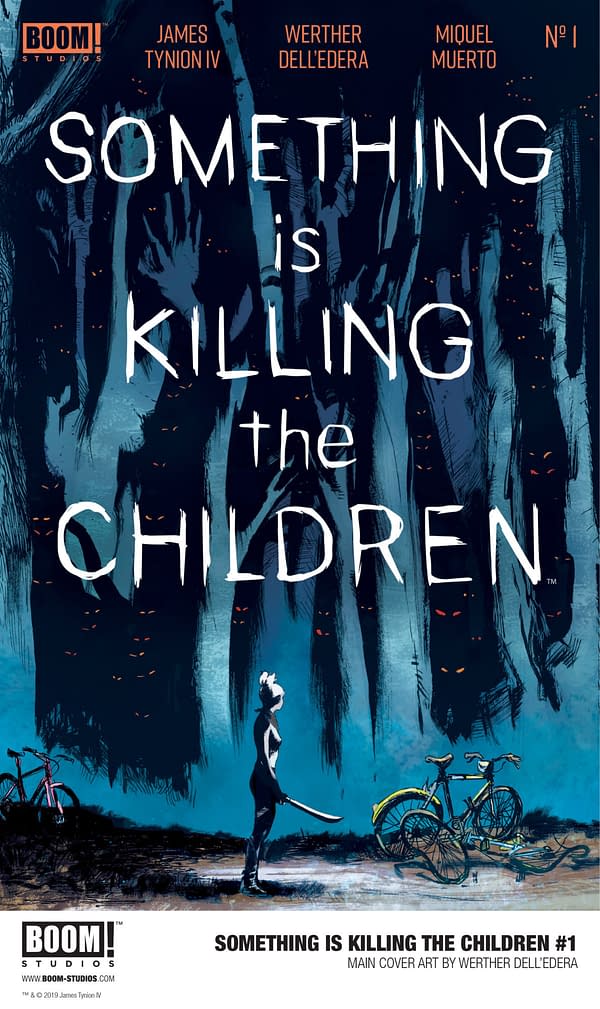 Enjoyed this article? Share it!