Marvel Comics #1000 was a big-selling title for Marvel – but not their biggest. The ten-dollar price tag saw to that. Still, there are lots of copies around and about. The D23 Mickey Mouse cover sells comfortably for $200 a pop, and some of the rarer covers get a slight premium, but the standard covers sell for, or below, cover price.
Now there are a few moments that may suggest it could be in collector and speculator demands. The setting up of The Masked Raider, the revived Enclave and new 3Xs, the return of Korvac and Adam Strange, all big enough moments to draw the Speculator Eye of Sauron.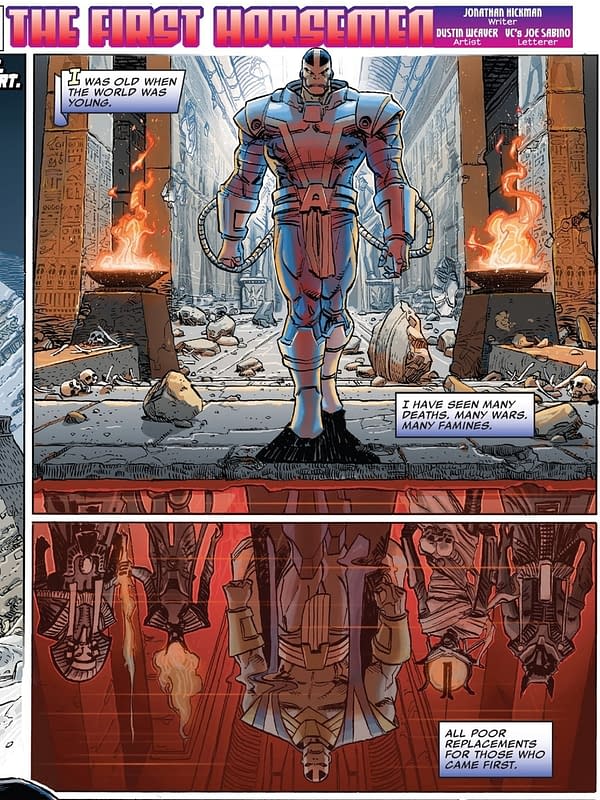 But also, Jonathan Hickman and Dustin Weaver's page gave us a look at the mutant world to come. Specifically the Horsemen Of The Apocalypse. The original ones.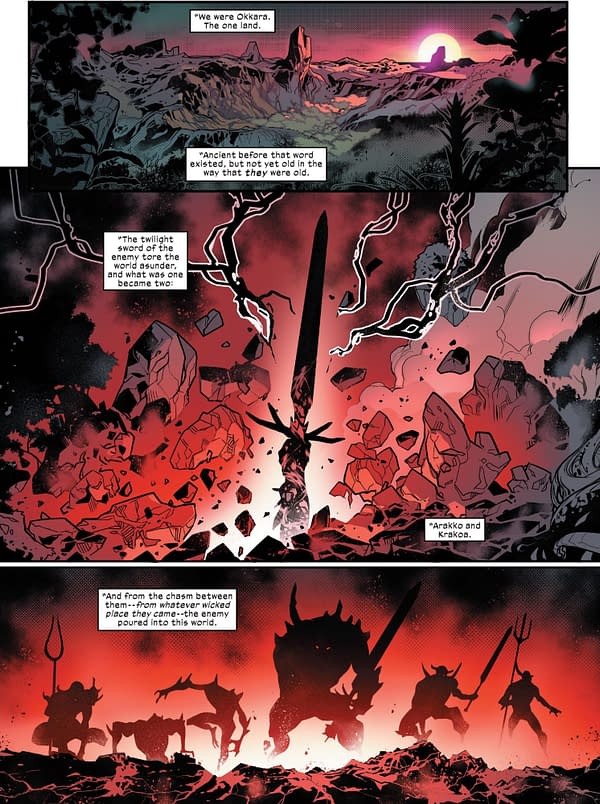 Who, as we have seen in Powers Of X #4, burst out of the Krakoan original mass, splitting it in two…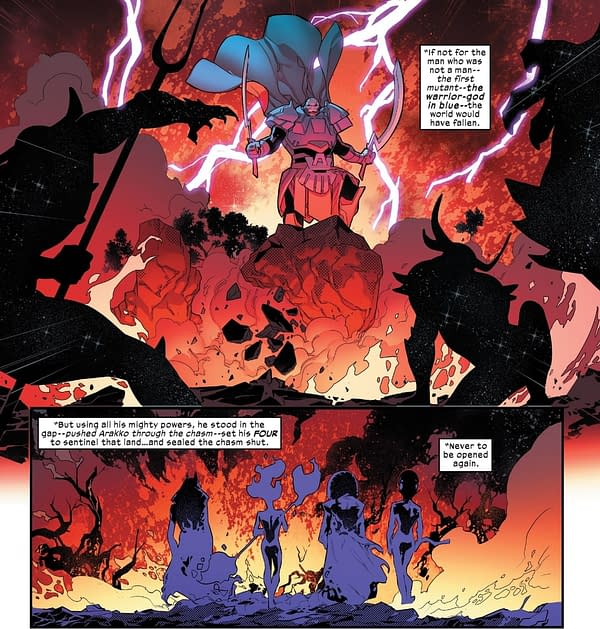 But the first time we saw them, and saw their faces too, was in Marvel Comics #1000. And that's going to count as a first appearance. First cameo at least. If you were interested in such things. Should be plenty of copies around (for now) if you are…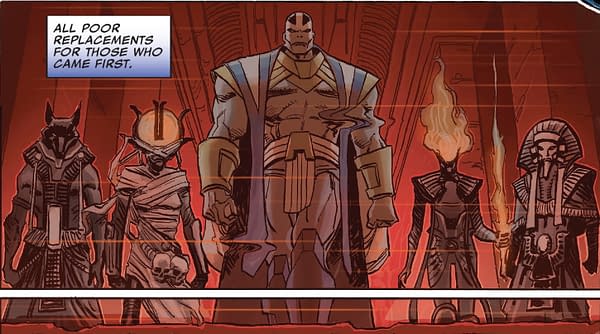 As Apocalypse comes to Krakoa again in the most recent House Of X #5.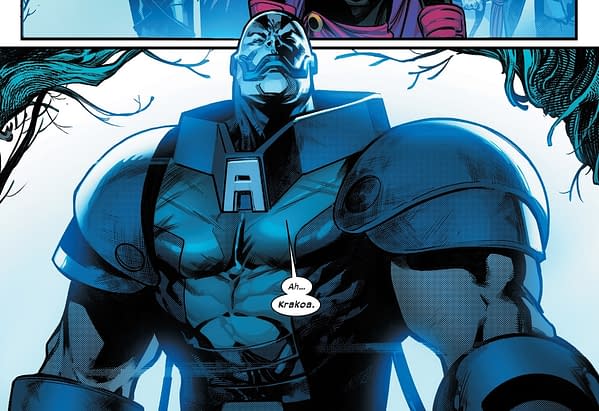 And makes himself at home…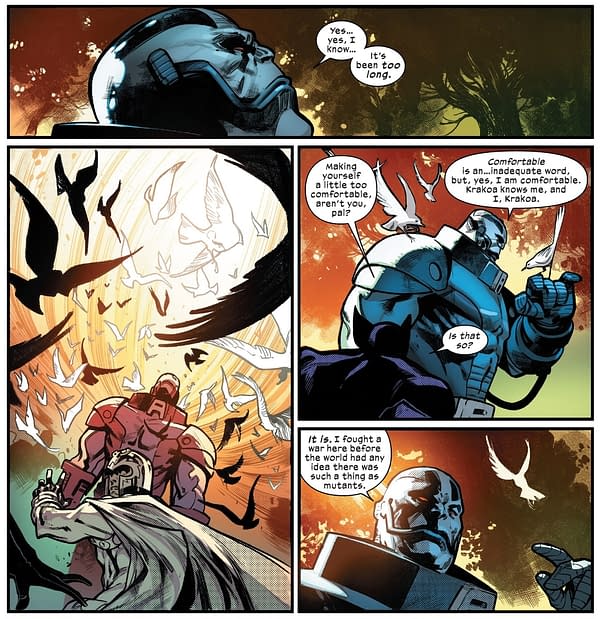 And, as part of Excalibur, will that see him bring back his original horsemen? They presumably have a part to play…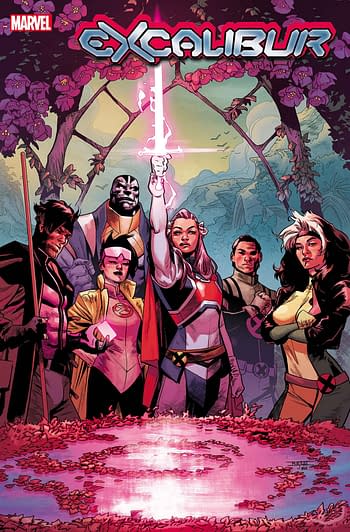 EXCALIBUR #1 DX
(W) Tini Howard (A) Marcus To (CA) Mahmud Asrar
A NEW DAWN IS FORGED!
The Otherworld is rocked by war! It is a new era for mutantkind as a new Captain Britain holds the amulet, fighting for the Kingdom of Avalon with her Excalibur at her side – Rogue, Gambit, Rictor, Jubilee…and Apocalypse.
Rated T+In Shops: Oct 30, 2019
Final Orders Due: Oct 07, 2019
SRP: $4.99

EXCALIBUR #2 DX
(W) Tini Howard (A) Marcus To (CA) Mahmud Asrar
Betsy Braddock is Captain Britain, but a citizen of Krakoa. With Rogue's condition a mystery, the team heads to the one place that has always been the seat of Excalibur's power – the Lighthouse.
Rated T+In Shops: Nov 20, 2019
SRP: $3.99

EXCALIBUR #3-4 DX
(W) Tini Howard (A) Marcus To (CA) Mahmud Asrar
THE GREEN EARTH TREMBLES!
THE HARD TRUTH OF THE CAPTAINS BRITAIN!
Captain Britain must face the truth about her brother and choose her path forward as MI-13 and the agents of the crown become aware of her ascension. As the lighthouse grows, Apocalypse and Rictor must master the earth beneath their feet.
Rated T+In Shops: Dec 04, 2019
Rated T+In Shops: Dec 18, 2019
SRP: $3.99

MARVEL COMICS #1000
(W) Various (A/CA) Various
THE GREATEST TALENT EVER ASSEMBLED FOR ONE STORY!
THIS IS THE BIG ONE! In celebration of Marvel's 80th Anniversary, we have gathered together the greatest array of talent ever to be assembled between the covers of a single comic book! Names from the past, from the present, and even the future! Every page is filled with all-new work from this cavalcade of comic book luminaries!
There is a mystery that threads throughout the Marvel Universe – one that has its origins in MARVEL COMICS #1 and which unites a disparate array of heroes and villains throughout the decades! What is the Eternity Mask, and who is responsible for the conspiracy to keep it hidden? And what new player will make their startling debut as these secrets are peeled away?
Featuring the entirety of the Marvel Universe of characters!
Rated T
PERFECTBOUND FORMAT!In Shops: Aug 28, 2019
SRP: $9.99

POWERS OF X #4 (OF 6)
(W) Jonathan Hickman (A/CA) R. B. Silva
As Cerebro does as it was intended to do, Sinister does what Sinister does best and the future comes to an end. Superstar writer Jonathan Hickman (FF, NEW AVENGERS, INFINITY) continues his reshaping of X-History alongside breakout artist R.B. Silva (UNCANNY X-MEN). The Future of the X-Men begins here!
Rated T+ In Shops: Sep 11, 2019
SRP: $4.99

HOUSE OF X #5 (OF 6)
(W) Jonathan Hickman (A/CA) Pepe Larraz
Xavier's dream turns deadly for some of his students as they fight back against the humans' plan to eliminate them. Superstar writer Jonathan Hickman (FANTASTIC FOUR, AVENGERS, SECRET WARS) continues his reshaping of the X-Universe alongside Young Gun artist Pepe Larraz (EXTERMINATION, AVENGERS). The Future of the X-Men begins here!
Rated T+In Shops: Sep 18, 2019
SRP: $4.99
Enjoyed this article? Share it!