Speculator Corner: There's Something About Captain Marvel #8…
Captain Marvel #8 is out this Wednesday. The start of a new chapter, Falling Star, which appears to feature a new Marvel Comics character, Star. And one who may be replacing Carol Danvers in the superheroic pantheon. Speculators are anticipating the first appearance of the character in this week's Captain Marvel #8 and have been hoovering up pre-orders as result. The comic is sold out at Diamond Comic Distributors. Cover price listings like this one don't last long, with some folk asking for $25.
Some have actually paid up to $6, with the Inhyuk Lee Carnage variant (which was not restricted) sold for $13, and the 1:25 cover sold for up to $99 – though cheaper copies are available.
And the virgin Inhyuk Lee cover from Unknown Comics, selling on their site for $20 still, has sold for $45 on eBay.
Whatever the truth is, it might be worth some stores instigating a one-per-customer policy – and for regular readers to make sure this issue is on your pull=-list with your comic store.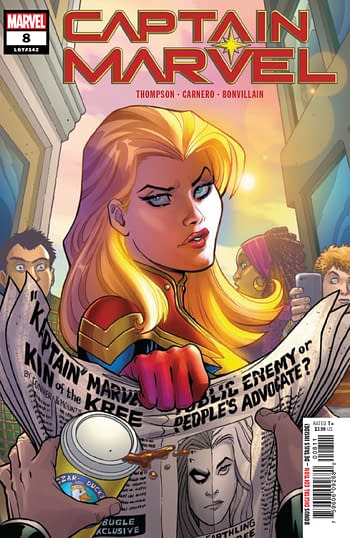 CAPTAIN MARVEL #8
(W) Kelly Thompson (A) Carmen Nunez Carnero (CA) Amanda Conner
CAPTAIN MARVEL: FALLING STAR! From the moment she returned to full-time Avengers duty in New York City, Captain Marvel's life has been nonstop…and slightly weird. But she's about to take on a brand-new threat – and a very old one! When her Kree heritage is exposed to the world in dramatic fashion, Carol goes from most beloved hero to public enemy number one overnight – and it's pushing her to the darkest edge. Can she save the day even while the world turns on her? Does she want to? Rated T+In Shops: Jul 17, 2019 SRP: $3.99
CAPTAIN MARVEL #9
(W) Kelly Thompson (A) Carmen Nunez Carnero (CA) Mark Brooks
A STAR RISES, ANOTHER FALLS!
Being Captain Marvel has been the greatest joy of Carol Danvers' life. But a new hero is rising to the limelight – just as Carol's own powers begin to fail her. With everyone now believing she's a Kree traitor, Carol can't help but wonder…does the world even need Captain Marvel?
Rated T+In Shops: Aug 14, 2019
Final Orders Due: Jul 22, 2019
SRP: $3.99
CAPTAIN MARVEL #10
(W) Kelly Thompson (A) Carmen Nunez Carnero (CA) Mark Brooks
FALL TO PIECES!
It's official: New hero STAR is in and CAPTAIN MARVEL is out! As Carol struggles to deal with her changing role and unravel the mystery of what is happening to her powers, a risky new alliance she's forged may turn out to be even more dangerous than she expected. Will Carol be willing to make the ultimate sacrifice to save a world that has turned on her?
Rated T+In Shops: Sep 11, 2019
SRP: $3.99