By Jason Karlson Ryan Browne comes up with more idea in an hour than most of us will in a lifetime. Don't believe me? Blast Furnace: Recreational Thief is the unfiltered and unedited product of an offkilter creator working at full tilt. One page an hour, five days a week with zero planning and definately no script has lead to the unhinged "stream o' consciousness lunacy" and contender for number one book you can never read in public that Browne is now kickstarting after reaching blasting past it's initial goal of $15,000 in under three days.
More familiar to most as the mind behind the wildly inventive insanity of God Hates Astronauts, which is just wrapping up a successful ten issue run over at Image, his improvisational dogme cinema style webcomic project MANAGES to somehow be more creative and frenzied. Loosely centered around the wild capers of handlebar mustachioed Ernest Furnace, a recreational thief who as the title implies will steal anything for the fun of it. Often derailed by bonkers flashbacks and tangents and filled with "hideously deformed men who look just like a horse, lil' Draculas, and electricity shooting handlebar mustaches". Brownes cast of colourful cast of creatures and animal people return ensuring an visually arresting read.
Along with the first volume of God Hates Astronauts, Browne has also previously Kickstarted Blast Furnace three years ago in a black and white edition. This time around the comic has been updated with six more issues of frenetic madcap action and has been glorious coloured for all of the expanded 208 pages. Appropriate for a comic about a thief, the rewards here as equally enticing with. Ranging from $10 for the PDF, $25 for the physical book up the higher tiers which include multiple copies of the book, t-shirts, action figures and signed pictures of Browne's already comic book famous cat.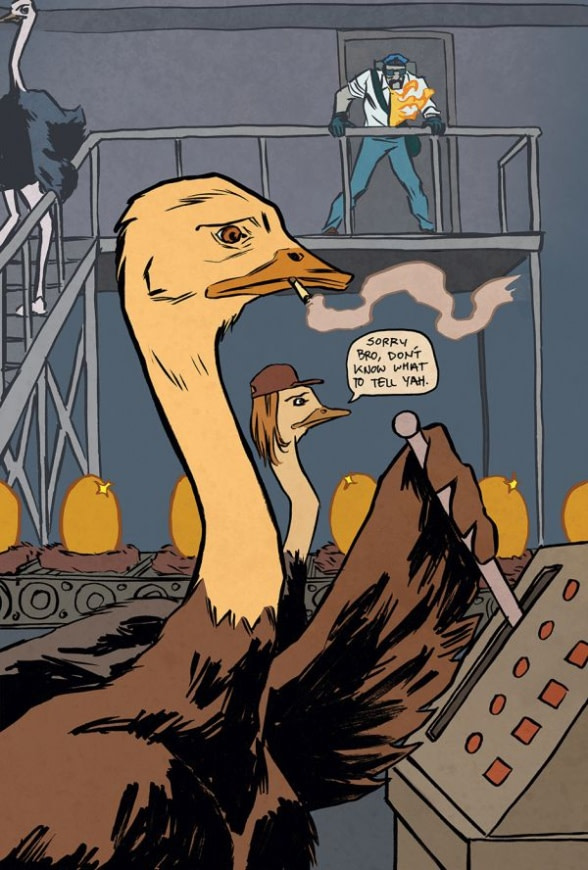 Jason Karlson: Crab Headed people! In both comics! What is it with crabs? Should we be worried?
Ryan Browne: Maybe? I think I'm a little worried myself! Crabs are just so fun to draw, but on Blast Furnace, I kind of regret incorporating them. Since I only have one hour to write and draw each page, it makes really hard to draw crabs without going over on time. Way too many legs!
JK: What's prompted you to carry on Furnace and kickstart a second expanded colour edition?
RB: Everything with God Hates Astronauts was extremely labor intensive. With Blast Furnace, the finish level in the drawings takes a back seat to the immediate storytelling. It's considerably more relaxing to just make stuff up and not have to worry about how cool it looks. After ten issues of writing, drawing, and designing GHA on a monthly schedule, I returned to Blast Furnace because it is mainly focused on the joy of making comics and telling stories.
JK: As an artists who has ran a fair few successful kickstarters now, does it get any easier or less worrying with each one? Surely being funded in three days must be a confidence booster?
RB: It's extremely scary. You never know if something is going to hit with your fans and what your expectations should be. With Kickstarters, there is soooo much that can go wrong in the process that it will never be a relaxing experience–but so far it's be extremely rewarding and flattering. I love being able to connect directly through my fans and that's something you just don't get through a big publisher.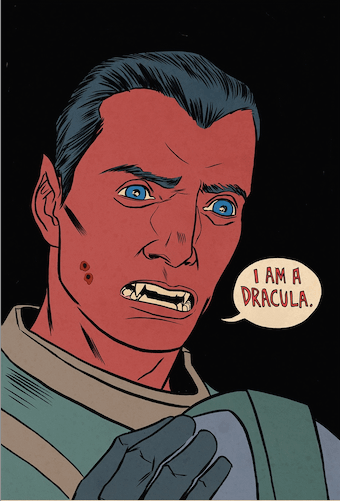 JK: Was there a point in the creation of Furnace that your self imposed strict rules started to grate on you at all? Are there any parts of Furnace you enjoyed drawing the most?
RB: No, the rules make it liberating and stress free. The one thing that bogs me down is the length of it. 262 story pages is intimidating as hell! I really like drawing Blast Furnace as a character. Flaming ties can be really dynamic and fun!
JK: God Hates Astronauts already feels pretty unfiltered, how does coming up with ideas, the writing and drawing process differ between the two?
RB: Well GHA has a lot of going back and forth and refining the story. Really working hard to make things line up and click into a fun narrative. With BF, the whole attitude is "let's try this and I'll figure out how it ties in later." At first that was scary, but now I have enough faith that I'll figure it out somehow.
Blast Furnace: Recreational Thief is still available to fund for another month at kickstarter and can be read for free on Tumblr.
We know only two things for certain of Jason Karlson; that he was born on the wagon of a traveling show to Latverian parents, and that tales of his origins are wholly fictional. His writing style is pithy and insightful, with hints of oak and red berry, finished with earthy tones and somber notes. If he were to describe himself in a single word it would likely be self-deprecating. He occasionally tweets over at @marfedfolf and rambles on at marfedblog.wordpress.com.