Target got an exclusive Batman 100-Page Giant recently, Batman: The Caped Crusader #1, selling instore for $9.99. It was not announced by any publicity, from Target or DC, and a comic store distribution solicitation has not been made either. As a result, copies are going for up to $22 on eBay.
Edited by Andrew Marino, Batman: The Caped Crusader 100-Page Giant #1, in Target stores now, has a new 20-page Batman & Robin story by Jeff Parker, Scott Kolins, Hi-Fi, and Troy Peteri, Harbor Invasion, in which Bruce Wayne attends the Gotham City Harbor Aquatic Center when King Shark strikes. It's up to Batman and Robin to protect them from its monstrous invader.
There's a new 20-page Batman & Nightwing story, Arkham Escape, by Jeff Parker, Scott Koblish, Wil Quintana and Troy Peteri in which Clayface mounts an attempt to escape from Arkham Asylum. But it's his unlucky day as Batman and Nightwing are here to make sure he stays locked up.
And there are reprint stories, Batman and Batgirl in Like A Bat Outta Gotham from Batman Gotham Adventures #18 by Scott Peterson, Craig Rousseau and Terry Beatty. And The Joker in Madness And Chaos from Batman Gotham Adventures #31 by Ty Templeton and Terry Beatty.
The comic book seems to tie into the Spinmaster Batman line of toys, featuring a number of the toy vehicles in use. And while copies sell for more on eBay, they are still available in Target. Though you may have to look hard. Here is how they are being stocked in one Target fraternised by Bleeding Cool reader, Michael O'Brien…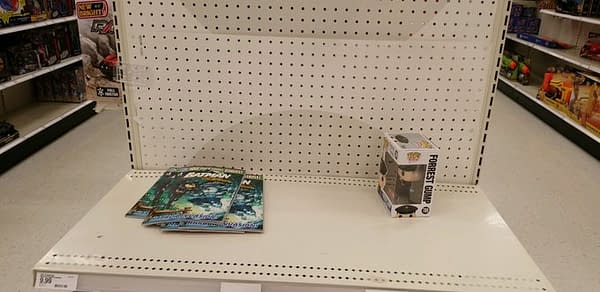 Good luck…
Enjoyed this article? Share it!