The Bleeding Cool Top 100 Power List 2018 Countdown: #95-91
Yup, it's rolling out now, no chance to stop this. You couldn't if you tried.
Every year, Bleeding Cool runs its Top 100 Power List of members of the comics industry. And every year we get told how wrong we are. Somehow, it's always for completely different reasons and from completely different directions. Why was X in when Y was not? Why is Z is high when W is so low? And neither U or T should be on this list after that incident involving V… and condemning us for being either infested with SJW virtue signalling or providing platforms for fascists – and sometimes simultaneously. Man, I don't know how Time Magazine manages.
But that's part of the process. This attempt to list the most powerful people working in the English-speaking comic book marketplace is, of course, flawed. It is judged by all manner of attributes, the ability to influence what comics exist and sell, but also the willingness to use that power in the industry to affect things, and the ability to retain said power if a job is taken away. Which is why you will see a number of people on a higher spot than their bosses.
The Power List rewards those who combine roles, creator, publisher, distributor, retailers, those who are double and triple threats, and also where power is concentrated in one person rather than being spread out among many. Some powerful organisations or groups, where power is diffused amongst several individuals, may drop down or drop out altogether.
It does not measure talent or likeability, respect or fairness, and it does not intend to represent diversity or balance. All it does is note power, used for betterment — or detriment — in the English speaking comic book world.
The list was created in consultation with a number of senior figures in the comics industry, and I thank them for their help. Although because they all disagree, they'll all think the final list is wrong, too.
If you really hate this list, then do the obvious thing. Write your own. Otherwise, watch for new batches every day…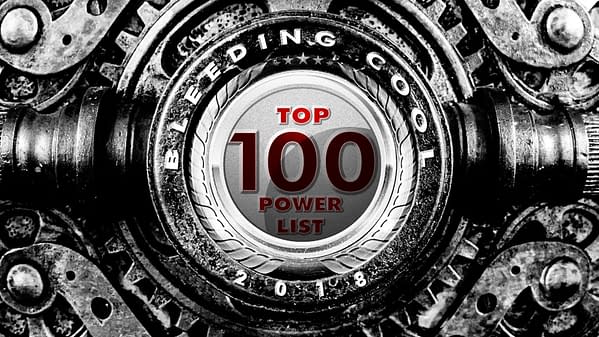 91. Camilla Zhang A comic book creator who has mostly written comic books for Top Cow, as well as working as an editor for DC Comics and selected to be in Marjorie Liu's Genre Fiction workshop at VONA, an organization for POC writers. Her appearance on this is a combination of all these and her appointment this year as Kickstarter's Comics Outreach Lead. Still the premium crowdsourcing portal for comic book projects, all manner of comic book projects go through her, and she can help – if hinder – creative projects from finding their funding. She is the gatekeeper of the future.
92. J Scott Campbell A major draw for comic book covers, he has led the way in artists monetising their own exclusive covers, signed and sold from their websites. By picking select opportunities and rousing up his fanbase, he can guarantee sellouts of thousands of comics in minutes at an eye-watering profit markup. Some comic artists discovered they could make more on drawing covers, then commissions, than drawing the comic. Campbell was the one to turn exclusive covers into the main business revenue stream. Looks like we won't be getting his Spider-Man comic with Jeph Loeb any time soon.
93. Mike Armstrong The man who runs NYCC for ReedPOP, with special attention to the comic book side. As well as owning C2E2 and many other shows, Reed also bought the UK side of the MCM Comic Cons this year, increasing their global footprint. His recent promotion to VP has shifted his focus away from the ground-level interaction that has driven his reputation amongst publishers, vendors and comic creators but for he is the human face for one of the biggest English speaking comic conventions around – and the biggest Artists Alley.
94. Stanley Cheung The chairman of Chinese investment firm Visionary VanGuard Media, he has just been added to the board of Dark Horse Comics as part of their majority share purchase of the publisher earlier in the year. He's the man who will be guiding Dark Horse's expansion into China as well as providing a conduit for Chinese properties to be published in English in USA.
95. Jeph Jacques Creator of the Questionable Content webcomic, Jacques is the comic creator with most patrons on the Patreon crowdfunding website, almost seven thousand of them, funding him every month, twice as many as the second most popular comic creator on Patreon, Zach Weinersmith and half as many as Patreon rock superstar Amanda Palmer.
More tomorrow… and keep up with this handy-dandy Top 100 Power List tag.