How aporopriate to run on Good Friday.
The comic book that DC Comics cancelled rather that publish with huge amounts of amends, in the wake of pressure from a) Batman Damned and b) conservative Christian pressure groups, is out from Ahoy Comics in July. And her's the new solicitation, along with whatever else Ahoy Comics are publishing in July…
SECOND COMING #1 CVR A CONNER (MR)
(W) Mark Russell (A) Richard Pace (CA) Amanda Connor
AHOY is proud to present-for the first time anywhere-the series everyone's talking about, by award-winning writer Mark Russell (Snagglepuss, The Flintstones) and artist Richard Pace (Pitt, New Warriors)! God commands Earth's mightiest super-hero, Sunstar, to accept Jesus as his roommate and teach him how to use power in a… more powerful way. Jesus, shocked at the way humans have twisted his message over two millennia, vows to straighten them out. This deluxe first issue features 30 pages of story!In Shops: Jul 10, 2019
Final Orders Due: May 31, 2019
SRP: $3.99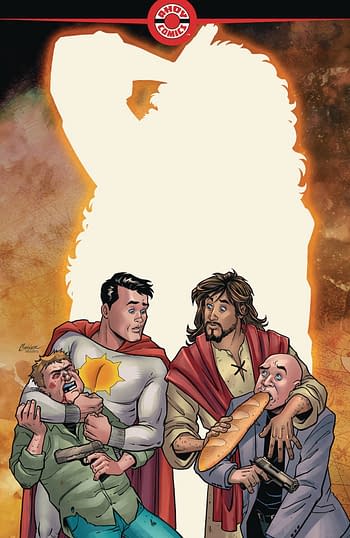 SECOND COMING #1 CVR B PACE (MR)
(W) Mark Russell (A/CA) Richard Pace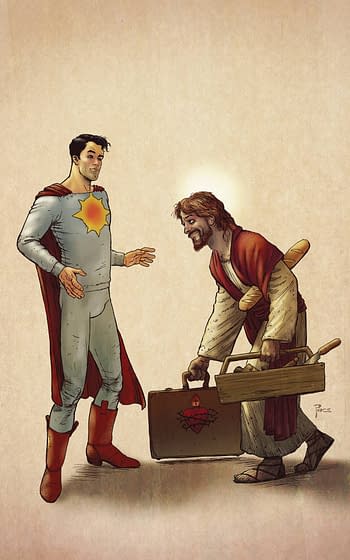 BRONZE AGE BOOGIE #4
(W) Stuart Moore, Tyrone Finch (A) Alain Mauricet (A/CA) Alberto Ponticelli
It's genre-mashup madness as martial artist Jackson Li learns the dark secret of the Martians, while teen barbarian Brita hurtles toward a strange cosmic destiny in "You Are A Magnet, I Am Steel!" Also: The final (?) fate of Major Ursa, the first bear in space, and a selection of AHOY text features!In Shops: Jul 17, 2019
Final Orders Due: May 31, 2019
SRP: $3.99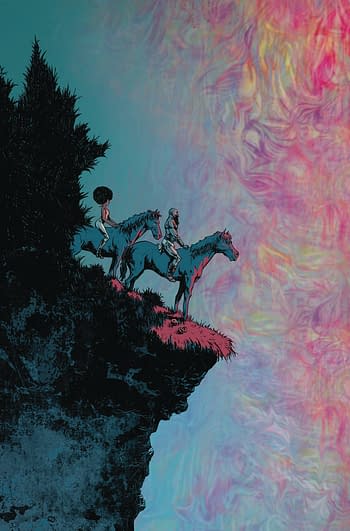 HASHTAG DANGER #3 (MR)
(W) Tom Peyer, Paul Constant (A) Fred Harper, Chris Giarrusso (CA) Richard Williams
Hashtag: Danger's quest to be noticed by a super-villain attracts the malicious attention of "The Ape in the Iron Mask!" PLUS: Snelson encounters a fellow comedian who's found a disturbing way back from obscurity. EXTRA! AHOY's traditional assortment of text & illustration.
Painted cover by Richard Williams (MAD, Edgar Allan Poe's Snifter of Terror).In Shops: Jul 03, 2019
Final Orders Due: May 31, 2019
SRP: $3.99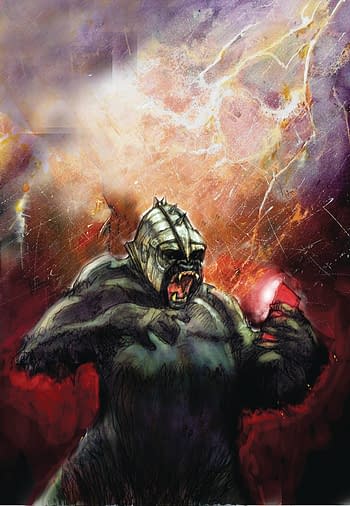 PLANET OF THE NERDS #4 (MR)
(W) Paul Constant (A) Randy Elliott (A/CA) Alan Robinson
Feeling like misfits in 2019, the thawed-out jocks from the '80s hatch a plan for revenge on the rich and powerful nerd who froze them. PLUS! As the 21st century dawns, Jenny considers moving to the big city to write for one of those new-fangled "blogs." Will her mom approve? EXTRA! AHOY's familiar assortment of text and illustrations.In Shops: Jul 24, 2019
Final Orders Due: May 31, 2019
SRP: $3.99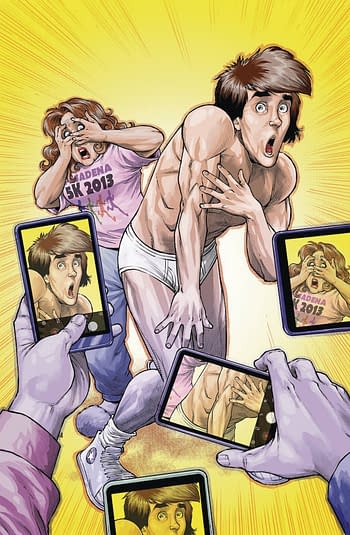 Enjoyed this article? Share it!