The Impact Of The Data Bullet – Annihilator #6 Condenses The Series
The Eisner Award-nominated series Annhilator by Grant Morrison and Frazer Irving has come to a close this week with issue #6, "Womanoid". A trade edition will be forthcoming from Legendary, too, with the hardback listed as being released on July 29th. There was a substantial delay between the 5th and 6th issue being released, which did drive me into a bit of a frenzy waiting for the conclusion since the entire series has felt like a cliffhanger, which is far more of a compliment than a criticism. As I've reviewed the single issues for this series, different ideas have come to the fore, and many possible approaches to the idea of an anti-hero or bad-boy character have been seemingly picked up by the creative team, taken for a spin, and then, in this issue, placed somewhat neatly back in the box again. The better for us to consider and use them in the future, I think.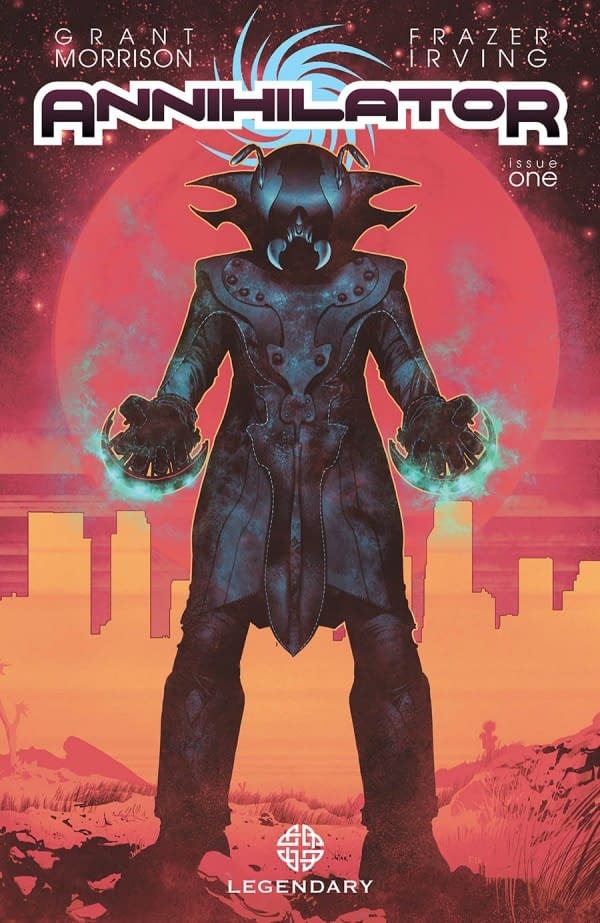 That's what Annihilator has been. Instructional. Thoughtful. Visually, entirely memorable. Conceptually challenging. Unusually funny. And whether Morrison wins an Eisner or not for the writing, if this book goes unread and doesn't become a series that affects how we view heroes and villains in comic stories (or perhaps all stories), then it's on us. It would be entirely our fault not to take notice since it's been handed to us in such a carefully crafted way. I've been studying hero stories since my teens, and have always been particularly interested in the role of villains and anti-heroes in relationship to less nuanced characters. Annihilator has addressed just about every area of thought that's ever raised questions in my mind from the matter of perspective (Who makes a hero or villain believe they are one thing or another? What role does the reader or listener play in deciding this?), to personal qualities (At what degree does a quality "flip" from beneficial to sinister and how is that situational?), to even bigger anthropological questions like "Where did this all start for us? This idea of the opponent or contender against a higher power?" It's hard when reviewing a final issue not to take stock of the entire series like I just attempted to do, but now I'm going to zoom in on Issue #6 a little. It's another beautiful issue, for one thing, and while each issue seems to have created its own visual statement, Irving here continues to find new subject matter to dive into, even stranger facial expressions and postures for Ray Spass and Max Nomax, particularly, to engage in (Nomax playing the organ with Phantom of the Opera intensity or Hunchback of Notre Dame gothicism is one of my favorites). We also get to watch Irving pace and lay out massive revelations with what I'll struggle to term something like a "rising beat". It's as if a kind of grandeur in his visuals precedes the revelations being delivered by about half a beat, so that at the instant the reader understands something (or translate that as when the text is actually present to be read), the visual and language elements are not competing for your eyes. And then the visual accompanying the revelation seems to be kind of pausing, allowing you to process what you just learned. That's my best attempt at explaining the solid decision-making about layouts in Issue 6. There's also the stellar spread where Ray Spass is totally tearing Max Nomax a new one, with a different floating-head expression depicted by Irving for each line that Ray delivers—a hugely effective choice, though it would never work in the hands of an artist less accomplished at facial expressions. Since I'm having an Irving fan-fest here I'll also note that I love his very restrained sense of humor, actually much more restrained than Morrison's own, which in this issue feels like it's just let loose to roam. Irving himself seems to fully camp up a few panels with the Byronic pseudo-glory of all melodramas. There's an amazing panel where Nomax is holding Olympia's limp form and just shouting her name that reminds you of Irving's unique ability to convince you he's making fun of something and taking it entirely seriously at the same time. But what can I say about the writing in this issue and the ending of this series? The books that stay with me the most are the ones that manage to surprise me by somehow convincing me that their end was contained in their beginning. That it was there, full of perfectly air-tight logic and trajectory and somehow knowing what would happen was not the same as experiencing it happening. Like the neatly folded data bullet referred to a few times in the series, Annihilator does that—it's certainly a well-built machine. But it's also a convincingly living story with definite room to breathe at certain points. I feel like this entire story took place on the edge of a sink hole with bullets in mid-flight toward intended goals, with rage and futility in play at all times. And weirdly, it felt so very human that all the sci-fi elements only made it more so like a tight spotlight closing in on those human elements. What could be more human than a dying guy and his shitty past behavior (both Spass and Nomax fit this description actually), and a whole universe depending on this abstract idea of judgment of when to pull the plug on a f*ck up who still has the potential to flaunt expectations (planet Earth). I like that this book is entirely cynical and entirely romantic at the same time right to the bitter or ridiculous end. That's the anti-hero tradition isn't it? So, it's not dead, by the way. Nor has it lost variety or potential of its own. Morrison and Irving just proved that. To go back to the intellectual speak for a moment: We always knew Nomax was what could be called a "demiurge", a sub-creator who was at odds with a creator. I may have even suspected that his narrative crossed vast swaths of time given that it occurred on the edge of a black hole and that he had some connection to Earth. But when I read this issue and Morrison and Irving had managed to bring that very old dynamic to life again in modern dress in such a reflexive, relatable way, I was ready to applaud them. It helped me understand those myths in ways I hadn't before. It was the lynchpin that made the story more than entertaining, but meaningful as well. This is distilled, significant storytelling of a very high proof concentration, and it's comics, thereby elevating the medium.
Some of my previous reviews of the series:
Hannah Means-Shannon is EIC of Bleeding Cool and @hannahmenzies on Twitter