The Most Expensive Comic That Sold On eBay In 2016 – And Financial Advice Of Comics As Commodity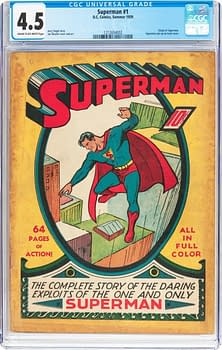 Superman #1 graded by CGC at VG+ 4.5 was the most expensive comic book sold on eBay in 2016, hitting a cool $300,000 sold in a live auction in November by Heritage Auctions. It was part of a sale that saw a 9.6 Amazing Spider-Man #1 sell for $220,000, a 5,6 Batman #1 sell for $200,000, a 6.5 Flash Comics #1 sell for $90,000 and more.
Admittedly that pales in comparison to a pristine copy of Action Comics #1, the first comic to ever show Superman, sold at auction on eBay for $3.2 million back in 2014. But it does prove that despite the ups and downs of the world economy, there's still money in them there comic books.
One major comic store manager tells me that they can judge the economy by the sudden emergence of wealthy people wishing to sell high end golden age titles – or to buy them – with very little discrimination as to what the comics were, only dealing with, say $100,000 worth of them. Seemingly advised by their financial advisors to put their money in high end slabbed comic books.
Anyway, of late, they have been buying. And Brits who bought copies before the Brexit price crash on sterling have done very, very well indeed. For Brits, for comics that haven't even changed their dollar worth, represent a 20% increase on investment in the last year.