The New Thanos Will Be One Of These People – Guardians Of The Galaxy #1 SPOILERS
Guardians Of The Galaxy #1 by Donny Cates and Geoff Shaw is published tomorrow. It has been much anticipated and much teased, as the Will of Thanos is read out, following his decapitation at the hands of his daughter Gamora. And all sorts of cosmic folk pop by to its reading – which gives the new team quite a lot of people to pick from. And we are told that Thanos has downloaded his consciousness – elsewhere. But where?
Donny Cates also gets the chance to go over his runs on Thanos and Cosmic Ghost Rider as well – remember when the future Frank Castle-turned-spirit-of-cosmic-vengeance saved Thanos as a child, turned him into a cosmic Punisher? Well, no one else does. Aside from Frank.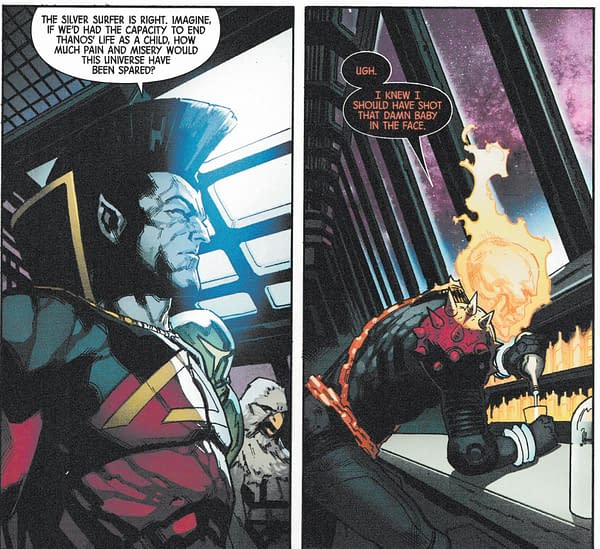 And the Guardians Of The Galaxy don't quite seem themselves anymore. Drax is dead, sacrificing both sides of his soul in Infinity Wars. Gamora is gone. Angela and Nebula are War Of The Realming.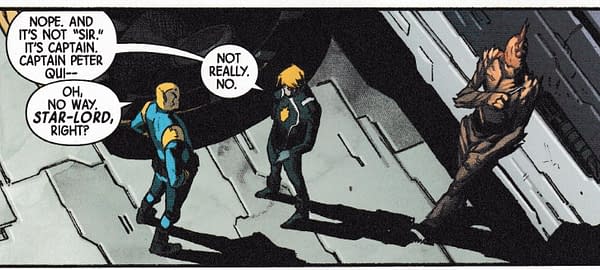 Star-Lord is very unsure of himself.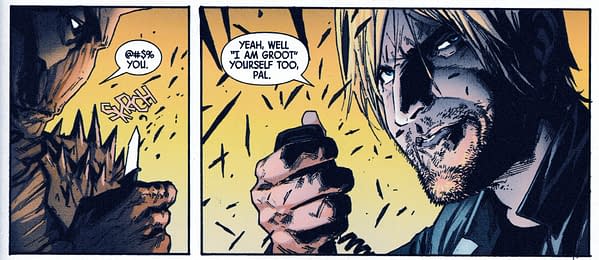 We can understand Groot – though it's uncertain who else does. And he has quite the Vol 2 mouth on him. And as for Rocket Raccoon?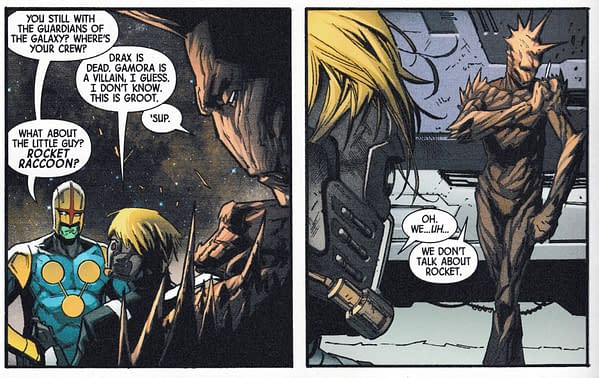 Don't worry, he's on Earth, getting into mischief. But he and Groot are no longer the buddies they once were. And amid all of this, the big question. Where is Thanos – or rather Who is Thanos?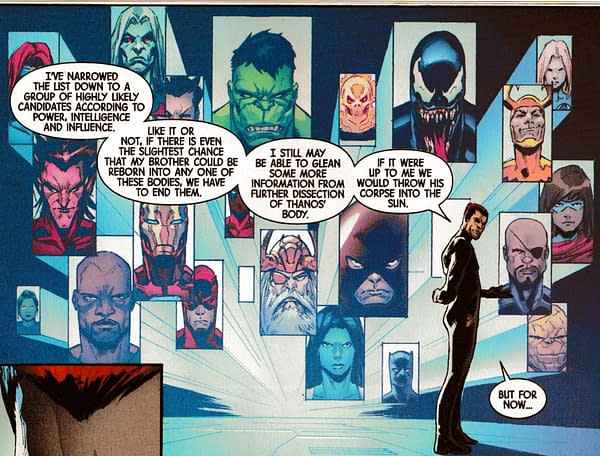 You know, Donny Cates is also writing Venom right now… and also the Marvel Knights series. I wonder…
GUARDIANS OF THE GALAXY #1
(W) Donny Cates (A) Geoff Shaw (CA) David Marquez
WHO WILL STAND
The universe is on fire. Hundreds of worlds are at war. Never has there been such hatred and division across the cosmos. And in spite of all this, Thanos of Titan is still dead…or is he? Now, more than ever, the cosmos need the Guardians of the Galaxy…but in the aftermath of the Infinity Wars, who is left to answer the call? Featuring every cosmic super hero in the known universe by the THANOS WINS creative team of Donny Cates and Geoff Shaw!
Rated T+In Shops: Jan 23, 2019
SRP: $4.99