Third Printing For Coffin Bound #1, Second Printings for HOXPOX, Absolute Carnage, Dark Age and More
We mentioned that House Of X #2 had gone to a third printing, with a new cover by Declan Shalvey presenting one of the moments within the issue in a new light, as he will for all the HOXPOX third printings – if they get them. (they'll get them).
It has been joined by Powers Of X #3 getting a second printing – look for the standard cover to be reprinted but all blued out.
And there are also second printings for the following, also on the 18th of September.
Absolute Carnage Scream #1 (of 3)
Absolute Carnage Separation Anxiety #1
Black Cat #3
Amazing Spider-Man #27
Conan The Barbarian: Exodus #1
Punisher Kill Krew #1 (of 5)
Savage Avengers #4
Aero #2
Fantastic Four #13
Gwenpool Strikes Back #1 (of 5)
Captain Marvel #9
Loki #2
Silver Surfer: Black #3 (of 5)
No covers to any of them yet… nor yet to Coffin Bound #1 by Dan Watters and Dani from Image Comics, getting a third printing on 11th September.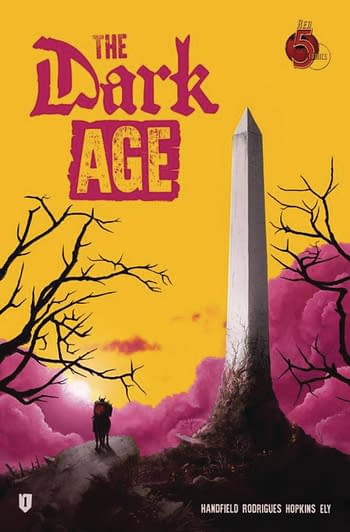 But we do have one to Dark Age #1 from Red 5 Comics, getting its second printing on September 18th.
DARK AGE #1 2ND PTG
(W) Don Handfield (A) Leonardo Rodrigues
Featured on Free Comic Book Day, from the creator of The Rift! In the near future all metal on earth suddenly turns to worthless piles of rust and dust. With no technology, no guns, no computers, humanity reverts to a violent feudal system. Each pocket of civilization is ruled by knights of wood & glass & concrete. This is the new Dark Age.In Shops: Sep 18, 2019 Final Orders Due: Aug 19, 2019 SRP: $3.99