Superstar comic book writer and Australia's favorite son Tom Taylor is a busy man, writing books like Friendly Neighborhood Spider-Man and Suicide Squad while fighting off killer attack spiders and scorpions from across the globe. But that hasn't stopped him from working on a new creator-owned project set to debut sometime in 2020, with artist Jon Sommariva.
Taylor tweeted:
Crazy-exciting chats with @JonSommariva about our creator-owned tonight!
Who wants to see a tease?#LO

— Tom Taylor (@TomTaylorMade) October 6, 2019
And when the answer, naturally, was yes, he followed up with the tease in question:
I… possibly shouldn't be sharing this.
BUT here's a first tease from @JonSommariva and my upcoming creator-owned series.
I absolutely love this book. #GetLost2020 pic.twitter.com/3mE3FeOdQP

— Tom Taylor (@TomTaylorMade) October 6, 2019
So what is this about? Are Taylor and Sommariva reviving Ross Andru and Mike Esposito's 1954 humor magazine Get Lost? We're guessing not, since the art looks decidedly action-oriented.
Hopefully we'll learn more soon.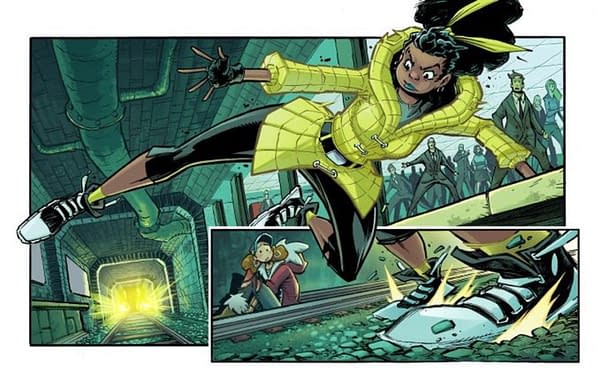 Enjoyed this article? Share it!