Tony Stark: Iron Man #5 Replaces Scientific Curiosity With Body Horror
Tony Stark: Iron Man #5 was the least likely candidate for a Hallowe'en Special from this weeks lineup of comic books, or so I thought until I was told otherwise.
And here's why. We have a comic starring Arno Stark looking at projects around the world that interest him. Including a transplant of a new arm onto a violinist he has a strong appreciation of.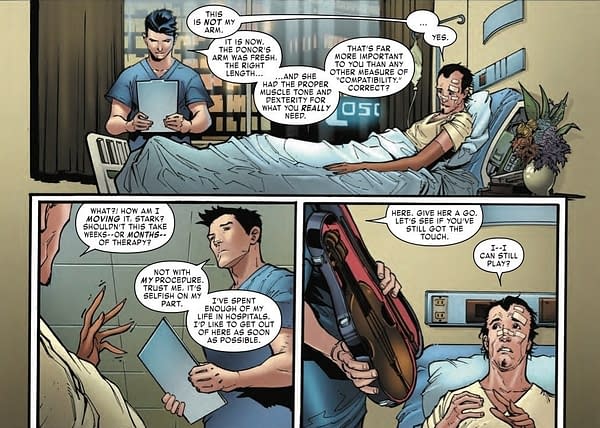 Creating new strains of wheat that grow in the desert. And looking at a newly developed genetic strain of cattle that are causing issues.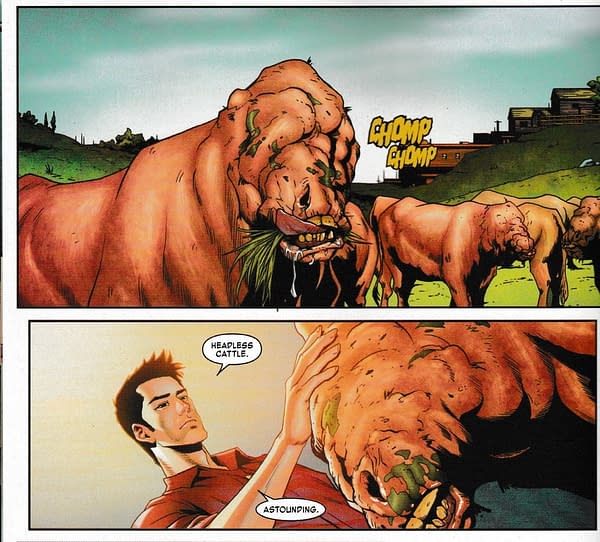 Cattles without brains – and without ethical issues to raising meat. Or are there? It is 200 years that Mary Shelley created science-fiction with Frankenstein: A Modern Prometheus, and birthed the genre from the well-established horror genre and specifically the ghost story.
Since then, science fiction has become so much more, but its links to horror are often strong. With what Isaac Asimov tubbed the 'Stomp, Stomp, Aaargh, There are some things that mankind is not meant to know' trope.
And with Arno Stark that trope rears its ugly, stitched together and neck bolted-on head. When a look at how the cattle are created is something closer to the work of David Cronenberg.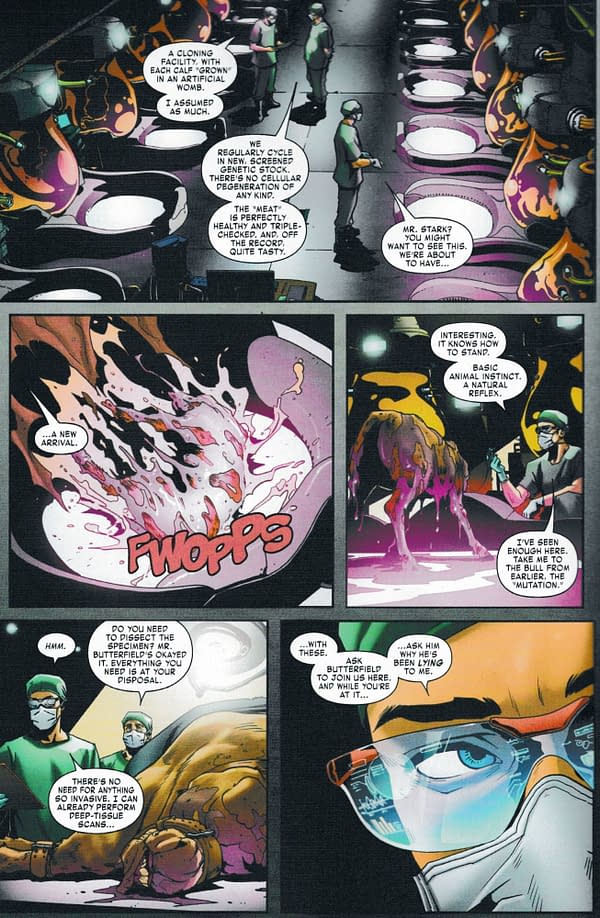 And we see what is actually going on.
And continue to go down the clunk, clunk, aargh route. But it is not alone, remember that violinist? So does Arno Stark…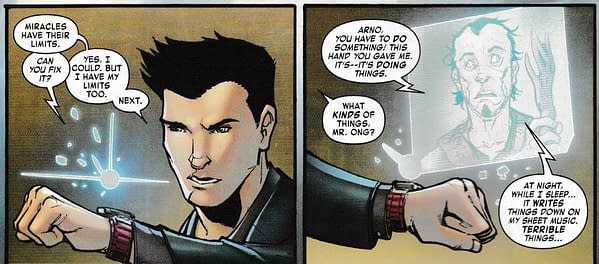 It's a familiar-ish trope, The 1935 Peter Lorre film Mad Lovein saw a famous pianist Orlock given the hands of a recently executed serial killer is the better known of three films, The Hands of Orlac in 1924 starring Conrad Veidt and remade in 1960 with Christopher Lee. And the idea has been revived many times, including in Angel and Doctor Who.
And anyone remember the Oliver Stone movie, The Hand from 1981 starring Michael Caine as a comic book artist who loses his hand in a car crash, which comes back to haunt him? To be fair, I'm not sure even Michael Caine does… but it seems that Dan Slott might.
Iron Man 2020 is coming…
TONY STARK IRON MAN #5
(W) Dan Slott (A) Lim, Gang Hyuk (CA) Alexander Lozano
20/20 VISION!
• The future has arrived!
• The return of Tony Stark's smarter brother, Arno.
• A classic Iron Man villain reappears.
• And a new alliance is forged that will plague Shell-Head for years to come.
Rated T+In Shops: Oct 31, 2018 SRP: $3.99