As Trump Inauguration Looms, One Publisher Offers A Graphic Novel About His Ascent To Power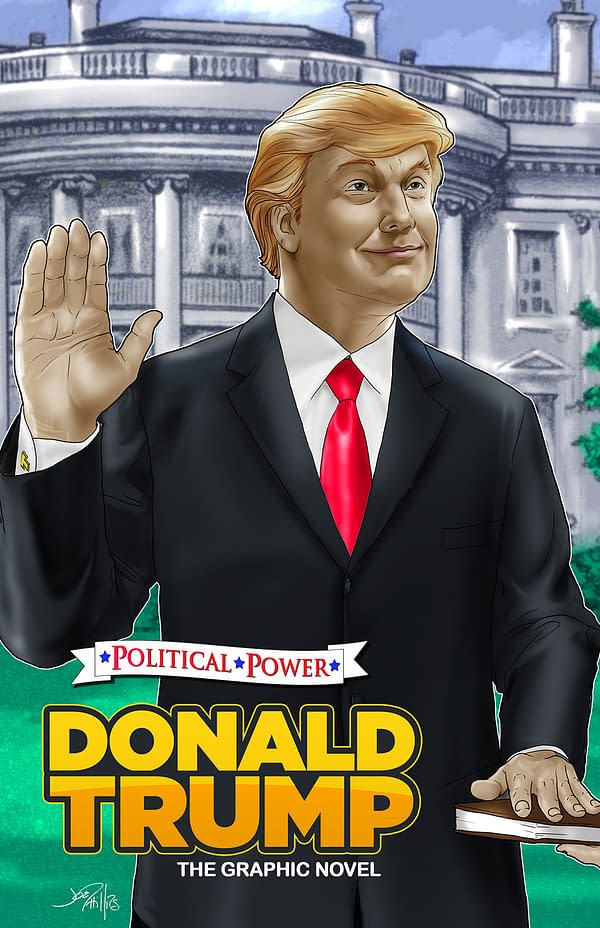 On January 20, Donald Trump will be sworn in as President of the United States of America.
But before that, on January 11th (or, um, earlier – see below), one enterprising comic book publisher will release a graphic novel about his rise to power on iTunes. Can you guess which publisher it is?
Of course you can! It's TidalWave Comics, the publisher formerly known as StormFront Comics (for serious), formerly known as BlueWater Comics before that. And this isn't the first Donald Trump comic they've published. In fact, they released one back in early November, before Trump's shocking victory in the election. Storm– er, Blue– er, TidalWave has been churning out these bio-comics f0r years. The writer credited with this particular one on iTunes, Michael Frizell, has apparently worked on ones about Marco Rubio, Miley Cyrus, Nancy Reagan, Prince, and Elizabeth Warren, as a matter of fact. In addition to Frizell, writer Jerome Maida and artists Amer Moghrabi and Nathan Webb also worked on Donald Trump: The Graphic Novel, but they probably don't mind that iTunes is giving Frizell all the credit…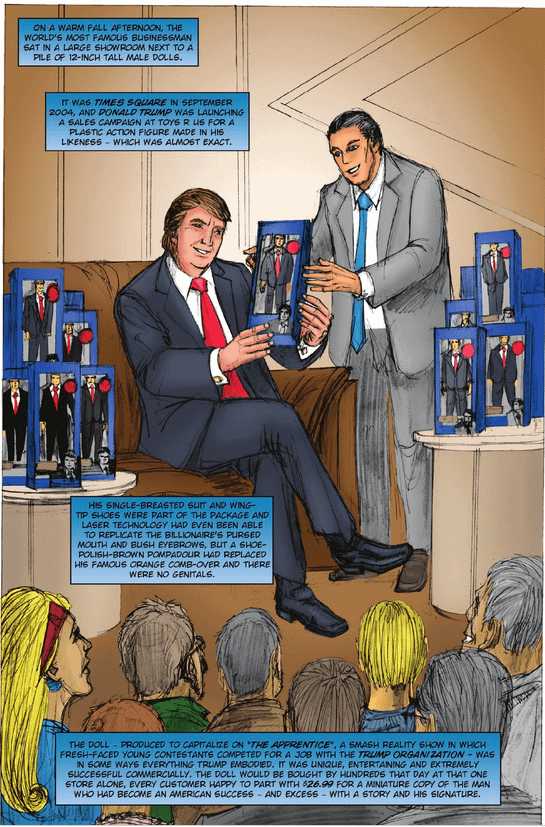 Yeah.
In any case, here's the synopsis:
Billionaire. Hotelier. Part-Owner of the Miss USA pageant. Author. Philanthropist. Reality television star. Consumer brand.

President of the United States.

Amidst the chaos of 2016's crowded field of hopeful Republicans, American businessman Donald J. Trump declared his candidacy for the presidency of the United States. One by one, his opponents fell to the will of voters who see Trump as the savior of a country where the American dream seems broken and unattainable. On the heels of one of the most divisive elections in modern history, will his vaunted ego cause one of the most influential men in America to save a country, or destroy it? This 60-page volume features pin-ups from TidalWave artists and chronicles the ascension of Trump from his youth, when his family instilled in him ambition and energy and how he combined that with skill and drive to earn build a real estate and media empire.
According to Blue– we mean TidalWave, you can finally pre-order this comic… if you didn't outright buy it on November 29th, when it was released on numerous platforms including Kindle. Or, if you don't just buy it right now, as you still can, from Amazon and others. It's not 100% clear how much new material will be in Political Power: Donald Trump: The Graphic Novel, or whether it is just a reprint of the previous Political Power: Donald Trump: Road to the White House comics, or whether there is any difference between the version of it released a month ago and the one to be released next week. And we're certainly not buying them to find out. But if it's your inclination to do so, you can follow Storm– er, TidalWave's tweet below:
Finally, if a Donald Trump comic "chronicling his ascension" gives you the heebie jeebies – and we get it, we really do – we will just remind you that it's not nearly the most haunting thing TidalWave has done. Not even close. They once published a Paula Deen biocomic that, for reasons we've never been able to determine, featured Paula Deen's severed head floating in a tub of butter on its cover: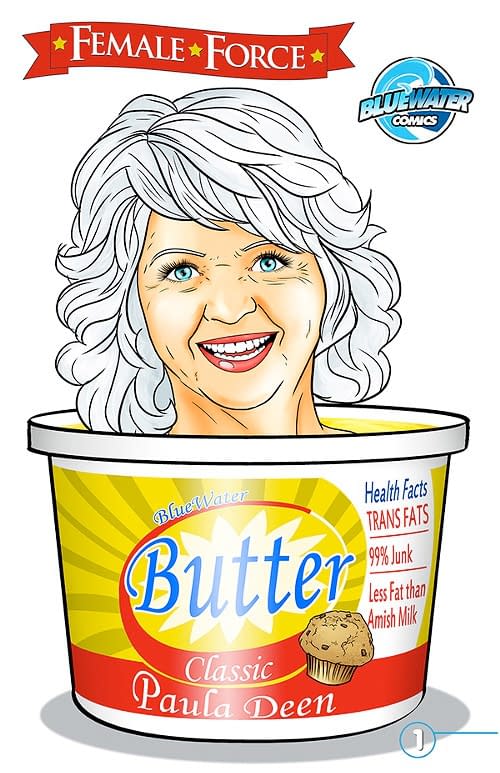 So yeah, good luck sleeping tonight.