Dynamite Comics is touting the success of their upcoming Vampirella relaunch, written by Christopher Priest with art by Ergun Gunduz. The first issue doesn't hit stores until July, but in a press release at PreviewsWorld, Dynamite says that current orders are already putting the print run at 60,000 copies, making it the most successful Vampirella comic of the modern era.
According to Dynamite CEO and Publisher Nick Barrucci, the success of Vampirella could drive the publisher for the rest of the year and beyond.
July is a huge month for us this year and lays the foundation for a strong rest of the year and going into 2020. For the anniversary, we went all out with Vampirella offerings to spoil fans of the character both new and old. To have Christopher Priest helming the new ongoing series as the centerpiece is a dream come true. He's more than welcome to stay on the title as long as he'd like.
Priest, for his part, added:
As cliched as it sounds, I really am thrilled and excited to be reunited with my old Ka-Zar editor, Matt Idelson, otherwise known as the Father of Everett K. Ross (Black Panther). Matt's keen and often twisted sense of humor reassures me that he'll understand mine as we take a respectful yet progressively unorthodox swing at a beloved and time-honored character. I'm hoping to bring the same sense of newness within the framework of legacy I brought to Panther, along with a similar introspection into modern culture and a dash of humor as Vampi takes a bite out of crime. Shake briskly and serve chilled.
So will Dynamite use this success to reinvest in the property? Perhaps they will produce scratch-and-sniff covers so that fans can smell the intoxicating scent of a woman Priest was raving about in a Newsarama interview last week?
Nrama: So Priest – Vampirella's here on Earth. What would you do if you found yourself, I don't know, sharing a cab with Vampi?

Priest: I'd ask the driver to pull over and let me out. I'm a Christian, so I have these issues with all of that "fornicating in your mind" stuff. I don't live a perfect life but I try to avoid cluttering up my conscience. Among the things the printed page cannot convey is the amazing, intoxicating glow and, yes, smell of a woman.

All women are beautiful, from 8 to 80, regardless of weight, height, or nationality. I wouldn't share a cab with a woman as under-dressed as Vampi, which sounds hypocritical because I'm writing her. But I write Deathstroke, too, and wouldn't share a cab with him, either.
The sky's the limit is all we're saying. Vampirella #1 hits stores on July 17th.
Vampirella #1
MAY190996
(W) Christopher Preist (A) Ergun Gunduz (CA) Frank Cho
In July 1969, the world was first introduced to Vampirella. 50 years later, she doesn't look a day older!!!! Now, to celebrate her gold anniversary, Dynamite is launching a brand-new, ongoing series featuring the talents of Christopher Priest (Black Panther, Deathstroke, Quantum & Woody, Justice League) and European star/American star-in-the-making, Ergün Gündüz (Tales of the Great War, Taxi Tales)! You'll experience the first, mysterious taste of things to come in Vampirella Free Comic Book Day #0, and the story continues here!!!
In Shops: Jul 17, 2019
Final Orders Due: Jun 24, 2019
SRP: $3.99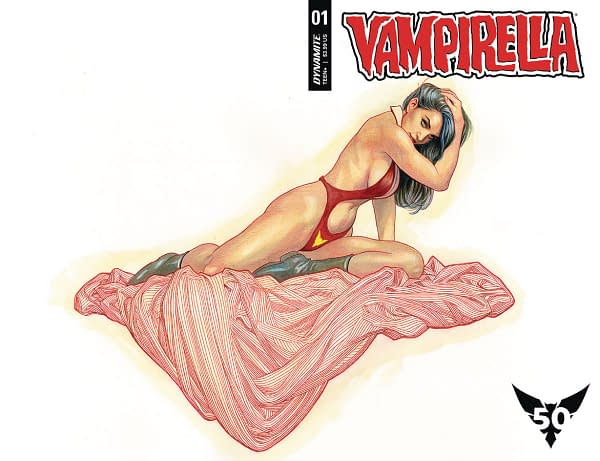 Enjoyed this article? Share it!