The Voyage Of Voyager – Avengers #675 Spoilers
Once upon a time, Paul Jenkins, Rick Veitch and Jae Lee created The Sentry, a Superman-like character for the Marvel Universe, who everyone had forgotten. However he had strong relationships with all the major Marvel players. He taught Angel how to conquer his fear of falling. Peter Parker's photograph of the Sentry earned him a Pulitzer Prize and fame. The Hulk called him "Golden Man" he was in a sexual relationship with Rogue, the Thing envied him for his unquestionable morality and he was best friends with Reed Richards. But the memory of him had to be destroyed.
Once upon another time, Jessica Jones was Jewel, an Avenger that managed not to appear in any of the comics. And was now working as a private invetigator, but still maintaining previously unknown relationships with the superhero community.
Once upon another time, Cable appeared from the future to lead X-Force and plenty of Marvel characters already, somehow, knew him.
Retconning, inserting a character into past Marvel continuity has been done before. But like this?
The Avengers has already seen the introduction and retcon a past Avenger-turned-villain, Avenger X, and her grave moved inside Peter Parker Industries mansion due to time-meddling.
And since Marvel Legacy came along, there has also been the teasing of the character Voyager. Or Valerie Vector.
First asking "Who is Voyager"…
We have been given a number of images of the original Avengers statue amended to include Voyager amongst its members… With this cover images from #1 and from issue #2 as well.. Well, today Avengers #675 has come, the world has been taken and many superheroes and out of action by unknown forces. So it is time for the return of someone special…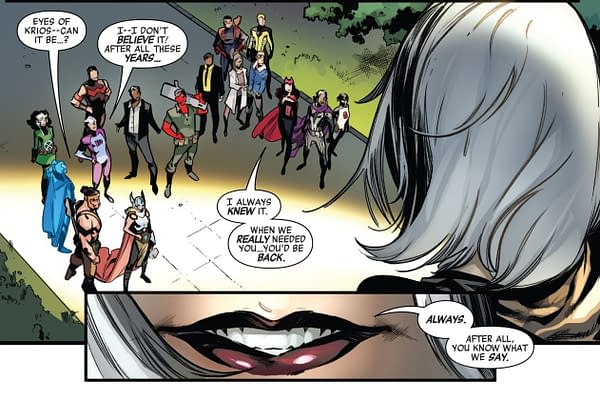 That's Hercules and Quicksilver on the welcoming committee.
I always liked Bleeding Cool forum poster ddevlin's idea that Sentry was a manifested avatar of Franklin Richards and it has gained some popularity of later. Is Voyager the same for Valerie Richards?
AVENGERS LH #675 LEG
(W) Mark Waid, Al Ewing, Jim Zub (A) Pepe Larraz (CA) Mark Brooks
NO SURRENDER Part 1
AVENGERS goes WEEKLY for the stunning sixteen-part saga that will write the end of an era!
The Earth has been STOLEN! The sky burns while mysterious cosmic objects crash down from above, wreaking havoc across the world! The Avengers are the last line of defense between Earth and the mysterious forces threatening to tear it apart. It's time to ASSEMBLE! The teams you know and love from AVENGERS, UNCANNY AVENGERS, U.S.AVENGERS and OCCUPY AVENGERS come together to face a threat beyond any they've faced before in a weekly epic adventure that will define the future of Earth's Mightiest Heroes!
Rated T+In Shops: Jan 10, 2018
SRP: $4.99