April sees the launch of a new Marvel Zombies mini-series, Marvel Zombies Resurrection, not to be confused with Marvel Zombies Resurrection, the one-shot that came out last year. Try to follow along here. But that's not the only Marvel Zombies comic hitting stores in April. Yes, the upcoming super-mega-crossover event Empyre with a Y may be getting all the attention, but Marvel Zombies can get some love too. There's a line of Marvel Zombies variant covers running throughout several unconnected books in April. And also, Marvel is also celebrating Marvel Zombies with an issue of Marvel Tales.
Marvel Tales: The Original Marvel Zombies #1 will reprint the story by Mark Millar and Greg Land from Ultimate Fantastic Four #21-23 as well as Marvel Zombies #1 (2005) by Robert Kirkman and Sean Phillips. That's right, once upon a time, Scottish streaming mogul Mark Millar and Kentucky TV baron Robert Kirkman were lowly Marvel Comics writers, churning out work-for-hire like a couple of chumps. And now we can relive those glorious days for the low price of eight bucks!
Check out the solicit below, and Marvel's full April solicitations here.
MARVEL TALES: THE ORIGINAL MARVEL ZOMBIES #1
MARK MILLAR & ROBERT KIRKMAN (W) • GREG LAND & SEAN PHILLIPS (A)
Cover by INHYUK LEE
VIRGIN VARIANT COVER BY INHYUK LEE
The relentless Marvel Zombies rise from the dead as we celebrate the legacy of the House of Ideas with the era-spanning MARVEL TALES! This anthology series shines a spotlight on fan-favorite characters, features timeless stories and highlights some of our most impressive talent from the past eight decades. When the Reed Richards of the Ultimate Universe makes contact with his counterpart from another Earth, it looks like a marvelous crossover – until the terrifying truth is revealed! The Ultimate FF face a truly frightful foursome in ULTIMATE FANTASTIC FOUR #21-23 by Mark Millar and Greg Land! Then the full horror is unleashed in MARVEL ZOMBIES (2005) #1 by Robert Kirkman – the superstar writer of The Walking Dead – and artist Sean Phillips! Can even the mutant master of magnetism, Magneto, survive in a devastated world against a horde of undead super heroes?
104 PGS./One–Shot/Rated T+ …$7.99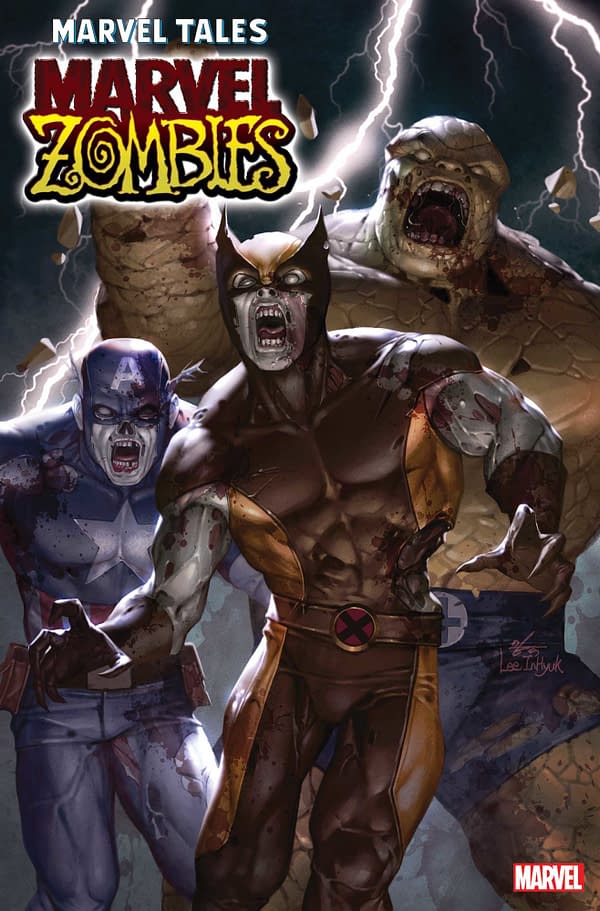 Enjoyed this article? Share it!