Matthew Snyder, author of the weekly ComiXology Bestseller Lists on Bleeding cool has a penchant for speculative fiction. Here is his latest suggestion…. are the Marvel/Disney bigwigs listening? He writes: It's happening. A brand new Marvel land at Disney's California Adventure in Anaheim. Disney already filed the permits and have torn down a Bug's Land. And while the idea of swinging with Spidey and flying with Iron Man has me excited, there's just one problem:
It's not enough.
No, it's not enough for Marvel to have its own land. I say Disney finally builds that 3rd theme park in Southern California, with one theme only: The Marvel Universe.
So for this article, let's say Disney abandoned their Marvel Land plans and asking me to design an entire park based on Marvel.
This is Marvel World.
A couple of things first:
I am not a technical person. I'm a big idea guy, but as for the actual mechanics of how to make it work, that's somebody else's job.
There are no strict rules of when events in this park take place. I took elements from multiple segments of MCU and comic continuity and blended them together. I needed creative freedom.
There will be six lands at the park, one very large land at the bottom (New York) and five smaller lands on top (Asgard, Wakanda, Deadpool's Very Own Theme Park, Fishing Village and Space Station Alpha)
New York
The Big Apple has always been the center of the Marvel universe, so it only makes sense the land based on it will be the center of Marvel World. It is by far the biggest land in the park, acting as the hub connecting you to the smaller lands. Towering buildings greet you when enter the park, filled with yellow taxi cabs, hot dog stands, pizzerias and subway signage.
Now Disney is already planning an interactive web-slinging ride for Spider-Man at DCA, so we'll just move that where it belongs: in the center of Manhattan. The ride entrance will be The Daily Bugle and throughout the queue you'll see photos and news stories showcasing Spider-Man's fights against his greatest villains.
And as a fun activity for the kiddies, Spider-Man will show up all over New York. If you take his picture on any device, you can return to J. Jonah Jameson at the Daily Bugle for an exclusive ace reporter pin.
But that's not the only Spider-Man ride on this street, as there's a motion simulator attraction based on the hit animated film, Spider-Man: Into the Spider-Verse. Using the unique animation from the film, it's a high flying adventure throughout numerous Spider-verses, with appearances from every Spider-Man known in the film and comic universe.
Nearby the Bugle is The Baxter Building, home of the Fantastic Four. Now Disney has not yet revealed its MCU plans for the F4, but that's okay. The Fantastic Four are on vacation, so Disney can add the MCU actors likenesses to the attraction at a later date. But even though the tenants are gone, the building is still open for tours, hosted by H.E.R.B.I.E. You'll get on an omnimover, with an overall presentation reminiscent of the classic Epcot rides from the 80s. However, Doombots get past building security, quickly triggering a lockdown. Many of Mr. Fantastic's experiments will go haywire, leading to a fun, zany ride filled with practical effects. Kids will be sure to get a laugh as H.E.R.B.I.E. tries to control the pandemonium.
The next ride is the first big thrill ride guests will encounter: World War Hulk. Based on the 2007 event by Greg Pak, the pre ride show will explain an angry Hulk is returning to earth, seeking revenge for the death of his beloved Betty. All citizens are ordered evacuate Manhattan, using one of Stark Industries' new high speed railcars. What follows is an intense roller coaster that travels through a wrecked Manhattan, with slowdowns in between battle scenes featuring Hulk & various Marvel heroes. The finale of the ride will have you speeding towards a gigantic Hulk animatronic indoors before pivoting to safety.
Further up is 177A Blecker Street, better known as The Sanctum Sanctorum, home of Doctor Strange. If you want an idea what this dark ride will be like, check out some videos of Mystic Manor in Hong Kong Disneyland. That ride has some of the best special effects of any Disney attraction in the world. I don't want to spoil anything, as seeing it for the first time is incredible. I'm just going to say that if Disney wants to bring Mystic Manor to the States, giving it a Doctor Strange re-theme would be a perfect fit.
The tallest building in the park will be the Avengers Tower, and it's the place to be if you want a superhero meet and greet. Most of the Avengers will be there, not only to take photos, but as part of an experience called the Superhero Academy. Similar to the Jedi Academy at various parks, The Avengers will host a show training kids (referred to as the Avengers of tomorrow) on using their powers for good. Also at the Avengers Tower is an extensive museum of the Marvel Universe, with life size displays of heroes and villains, along with props from Marvel movies and tv shows. Nearby the museum is a 4D film based on Marvel Rising, Disney's new animated series focusing on super-heroines.
We now head over to the Hell's Kitchen section of New York, featuring a new creative ride based on Daredevil. You will enter a small vehicle capable of 360 degree turns. The story follows Daredevil during a rainy night of crime fighting. The ride itself is very dark, with various sound effects. But you will have a button on your vehicle, and when you press it, the ride will light up with echolocation, and you will see the world as Daredevil does: a detailed 3D image of the scene taking place. Pressing the button again will bring you back into near darkness, so there two very neat ways to experience this ride.
Right on the edge of the city near the water sits the maximum security prison holding super-powered criminals: The Raft. Now when most people hear Raft, they think it's a water ride, so why disappoint them? The story behind this ride is you are part of a survey team working for S.H.I.E.L.D. moving through the tunnels under the prison looking for any potential weaknesses. You'll then get on a raft (See? Everything comes together!) and despite assurances over the radio from Black Widow and Hawkeye that everything is secure, the villains have decided now is the perfect time for a prison break. Nick Fury radios in to keep your head down while S.H.I.E.L.D. agents attempt to retake the facility, but unfortunately the tunnel you're in is part of the villains' escape plans. You'll encounter various battle scenes between agents and Vulture, Carnage, Whiplash, Juggernaut, The Purple Man, and Sandman. Finally, Nick Fury radios in and lets you know he found an escape: an 80-foot splash drop to safety.
Once you've dried off, we head to Brooklyn, but there's a huge catch. Scientists have discovered a massive time rift here, with warning signs scattered all over. When you turn the corner, a giant optical illusion will transition you into the Brooklyn of the 1940s, filled with classic cars, newsies shouting on the corner, and a small scale recreation of the front of Ebbets Field. And the main attraction is an amphitheater show based on Captain America. For the first five minutes, it will take the form of the cheesy War Bond show from the first Captain America movie. However, Red Skull soon hijacks the production and sends in his HYDRA henchmen. What follows is a thrilling stunt show featuring Captain America fighting the forces of HYDRA. But just when it seems Captain America is outnumbered, Agent Carter flys in with a Union Jack parachute and the Howling Commandos zipline in, leading to an epic finale.
Now we head back to present day, and travel to Flushing Meadows Park in Queens, home to a brand new World's Fair. Along with beer and ice cream flavors from all over the world, this World's Fair has expos from two of the biggest tech companies in the Marvel universe: Stark Industries and Pym Technologies.
For Stark Industries, I don't even need to create a ride, because the perfect ride already exists: once again from Hong Kong Disneyland. Since Marvel is much more popular than Star Wars in China, Disney used the Star Tours technology to build a 3D motion simulator featuring Iron Man. Disneyland Paris is building an Iron Man roller coaster, but I think a motion simulator works better for Iron Man.
At Pym Technologies, Ant-Man and the Wasp will be your tour guides in this dark ride. You'll be shrunk down to the size of an ant and head through city streets (giant footsteps will come crashing down), and down an anthill. After leaving the anthill, you'll get caught in a spider's web, and the only way to escape is to enter a portal into the Quantum Realm, leading to absolutely beautiful scenery. Things will be become increasingly distorted the longer you stay in there, so you must make your escape back to our world as quickly as possible.
Nearby is an Ant-Man and the Wasp playground, where you slide down giant blades of grass and encounter large ants. It's very similar to the Honey, I Shrunk the Kids playground that used to be at Disney's Hollywood Studios in Florida. Sorry HISTK, but Ant-Man and the Wasp is the more relevant IP these days.
The entertainment booked for the World's Fair are the death-defying stunts of Johnny Blaze. This leads to the major thrill ride of the World's Fair: a Ghost Rider roller coaster. You'll board a coaster with cars shaped like motorcycles and blaze down (Get It?) a highway before descending into Hell, all accompanied with a heavy metal soundtrack. And if you think that's too much for Disney, just remember Mr. Toad's Wild Ride in Fantasyland ends with Mr. Toad in Hell. I'm not kidding, look it up.
Further to the north in the New York section sits the X-Mansion. Now Disney might want to save this area for expansion after the MCU X-Men plans have been revealed. But let's go forward with it anyway: Charles Xavier has opened his school to the public to show humans that mutants are no threat to mankind. As part of this exhibition, you'll get on a ride vehicle that goes from room to room, with each area showcasing a mutant ability with Charles narrating how mutants can benefit the world. Soon however Charles will announce Magneto and his Brotherhood of Mutants have attacked the mansion in an effort to sabotage human-mutant relations. Each room you go in will now feature the X-Men's powers in battle: (Iceman's room will be very cold and covered in ice, Storm's room will have a massive thunderstorm, Jean Grey's room will be a psychedelic trip, etc.) The big finale will feature a fight between Xavier and Magneto, with hundreds of metal objects orbiting Magneto in a stunning special effects display.
As for food options, New York has no shortage. Along with hot dog and falafel vendors on nearly every corner (including a nut stand run by Squirrel Girl), there's plenty of places to get New York pizza, pastrami sandwiches, coffee, bagels and of course, shawarma. Beyond the typical known New York fare, the World's Fair section will feature dishes from around the world, and the X-Mansion cafeteria will feature each of the X-Men's favorite meals (a Russian dish for Colossus, a Cajun dish for Rogue, a Moroccan dish for Storm, beer for Wolverine…)
As for more upscale eateries, Luke Cage has brought some dining options from his home state to Harlem's Paradise, so you can enjoy some great Georgia soul food while watching live musical acts. Meanwhile, Kingpin has opened a 5-star French restaurant named Vanessa's, open only during the evening with reservations recommended. If you're lucky enough to get a balcony seat, you'll have a gorgeous view of New York right by the water.
Asgard
Walking along a giant rainbow bridge will bring you to Asgard, the seat of power in all Nine Realms. And it will be glorious, looking very similar to its depiction in the Thor films. There is only one ride in this land, but it's an epic one: Battle for Asgard. With the queue starting in Odin's throne room and heading down into the keeps, eight people will board a giant vehicle based on a Viking ship. The ship will fly into the air and you will become a soldier in one of the biggest battles in Asgard's history. Trolls and frost giants have invaded the realm, with chaos unfolding on screens all around you. There are six stations to with arrows (to shoot ground forces), and two stations with large, long range artillery (to shoot frost giants and dragons). Don't worry Disney: there's no blood or gore. If you successfully land a hit, the enemy will simply go poof and you'll see a score display. You'll try to get the best score together as a team, and the score you get will determine which one of three endings you will see. Thor, Odin, Loki and Valkyrie will all make appearances.
Asgardians also know how to feast, so wherever you choose to eat in the land, you'll receive generous helpings of ale and barbecue meat.
Wakanda
2018's Black Panther first showed movie audiences the beautiful and technologically advanced nation of Wakanda, making the fictional country a household. Therefore it's a no brainer Disney should create a land based on the world of Black Panther. It will look just like its MCU counterpart.
The major thrill ride will be a coaster the through the vibranium mines shown in Black Panther. The coaster will go through show scenes featuring Black Panther fighting off mercenaries trying to steal the vibranium. The other ride in the land will be a gentle boat cruise that takes you through the Astral Plane and the history of Wakanda, with a mixture of animatronics and multiple styles of African art. Done correctly, it could be one of the most visually unique rides Disney has ever created.
And for the wee ones, Shuri's Workshop is an interactive play area filled with games and puzzles. There will also be daily educational science shows, hosted by Shuri herself.
As for food, Disney should bring in the best chefs in the world specializing in African cuisine to create a unique Wakandan menu.
Deadpool's Very Own Theme Park
The story behind this land is Deadpool wasn't invited to Marvel World because the Disney suits didn't think he could be family friendly. In an attempt to prove them wrong, Deadpool secretly built his own theme park within Marvel World, with hastily made signs directing you to the entrance. Unfortunately, Deadpool made this park on a budget, so all the rides look cheap and incredibly unsafe. (Don't worry, they meet all safety standards).
The rides include your standard boardwalk fare: A merry-go-round, pirate ship, Ferris wheel and Wild Mouse coaster, along with carnival games. But the main attraction is a parody of "It's a Small World" )and other famous Disney rides) called "Deadpool Saves the World". With thousands of puppets, Deadpool tells you the story of how he saved the world in just one 12-minute boat ride. It's as annoying and charming as it sounds.
And of course, there will be a Chimichanga truck.
Fishing Village
In deep contrast to the hustle and bustle of the big city, we enter a calm, peaceful fishing village in Southeast Asia. And while in this village looks sleepy and uneventful, it was home to two exciting stories in Marvel's history.
The first attraction is an Iron Fist stunt show set in a large outdoor theater. 800 years ago, a young girl trained at K'un Lun to become the Immortal Iron Fist. Returning home, she defends her village against an invading Mongol force. It's spectacular stunt show filled with high flying acrobatics, martial arts and sword fights.
The second attraction is a dark ride based on the many adventures of Wolverine. Thirty years ago, Wolverine was being chased by The Hand, and was corned in a forest nearby the village. In this ride, you are Wolverine, and must use your extraordinary animal senses to escape. You'll enter a dark forest with a small searchlight attached to your ride vehicle. Using sounds, smells and vibrations in the vehicle, you must anticipate when ninjas will attack you and shine your spotlight upon them to score points. The final fight will be against Sabretooth, who is quite the challenge. The movements of the enemies are randomized, so the experience is different each time.
Space Station Alpha
We need a land to represent the space segment of the Marvel Universe, but since Disney already built a far away planet in Disneyland, I went a different route and built a space station. Space Station Alpha is an entirely indoors land, and upon entering you will a see a view of Earth on a colossal screen to give you the sensation you really are orbiting your home planet. The Guardians of the Galaxy and Captain Marvel often hang out here for photo ops.
The first ride is an easy choice: There's already an immersive, indoor Guardians of the Galaxy coaster under construction in Epcot, so I'll simply transplant it here. Yes, I know I'm copying and pasting again but Disney already has good Marvel rides, and it would be foolish not to take advantage. And yes, there's already a Guardians of the Galaxy ride in Disney's California Adventure, but I prefer an original coaster built from scratch than a Twilight Zone Tower or Terror re-skin.
The other thrill ride is based on Captain Marvel. With flight simulator technology similar to Soarin' at DCA and Epcot and Flight of Passage at Animal Kingdom, you'll join a new Earth Defense Force program headed up by Carol herself. But with a surprise alien invasion (Species by whomever Disney wants to be the baddies in Captain Marvel 2), you are flung into a giant space battle for Earth.
The food options are exotic meals from all over the galaxy, favorites of Carol and the Guardians who want to share them with us Earthlings. This is a fun chance for Disney chefs to get imaginative.
————————
Well, that's it. My crazy concept for a Marvel theme park. If I had anything more to add, it would be a Blade haunted house if Disney ever wanted get into Halloween Horror Nights, but I'm already pushing it with a Deadpool land.
I wanted to pay tribute to every corner of the Marvel Universe, and to have this theoretical park be the culmination of 80 years of creativity and imagination. I hope you enjoyed reading it.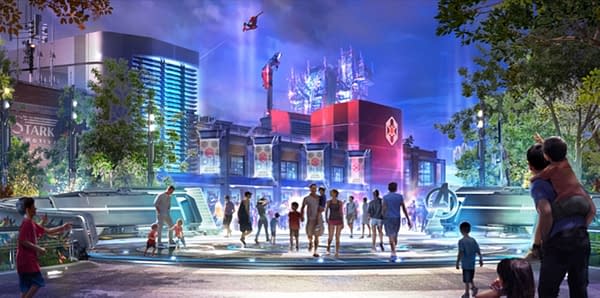 Enjoyed this article? Share it!