Remember this scene from Civil War II #0? In Civil War II #0. James Rhodes, War Machine, was offered the position of Secretary Of Defense by the President of the United States with the eventual aim of Rhodes becoming President himself. Silhouetted in black, the shape of the head and the ears did seem to indicate that this was Obama making the offer. But at the conclusion of the final issue of Civil War II #8 by Brian Bendis, David Marquez and friends, we have a new President, it seems. Either that or he's put on some weight and is wearing a wig… With some possible Presidential overreach. And which President does this sound more like? Pick a side – Obama or Trump?v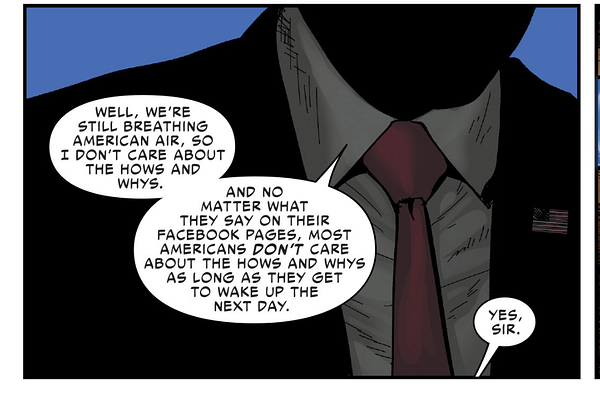 But whoever it is, the offer is still up in the air? Is Marvel foreshadowing President Carol Danvers? Well she's certainly enough of a fascist to take the role, right kids? President Dredd next?
Anyway, it's not like she's as divisive a figure as Hillary Clinton, is she?
The cover to the upcoming Mighty Captain Marvel #1 there….
Might we have had a 2020 vision here?
Enjoyed this article? Share it!