Read Witchblade/Red Sonja #1 by Wagner and Rezak, Part of Dynamite's Latest Digital Bundle
Dynamite Entertainment's parent company, Dynamic Forces, is turning 25, and they've hooked up with Humble Bundle to create the Dynamic Forces 25th Anniversary bundle featuring a wide variety of comics from their long history. This new digital bundle features over 150 issues and three art books. Fans can pay what they want via the different thresholds and is available for a limited time here.
To help promote that bundle, they've sent us some free comics to run over the next few days. Here we have Witchblade/Red Sonja #1. This issues has Dynamite's She Devil with a Sword meet with Top Cow's current bearer of the Witchblade, written by Doug Wagner with art by Cezar Razek.
Red Sonja, the She-Devil with a Sword, pursues a cannibalistic monstrosity into the heart of a dead, black mountain. Meanwhile, Sara Pezzini, modern day bearer of the Witchblade and NYPD Detective, investigates the ghastly death of a Catholic Priest. Join Dynamite Entertainment and Top Cow Productions as they bring two of comics most celebrated heroines together in one terrifying tale of loss and redemption.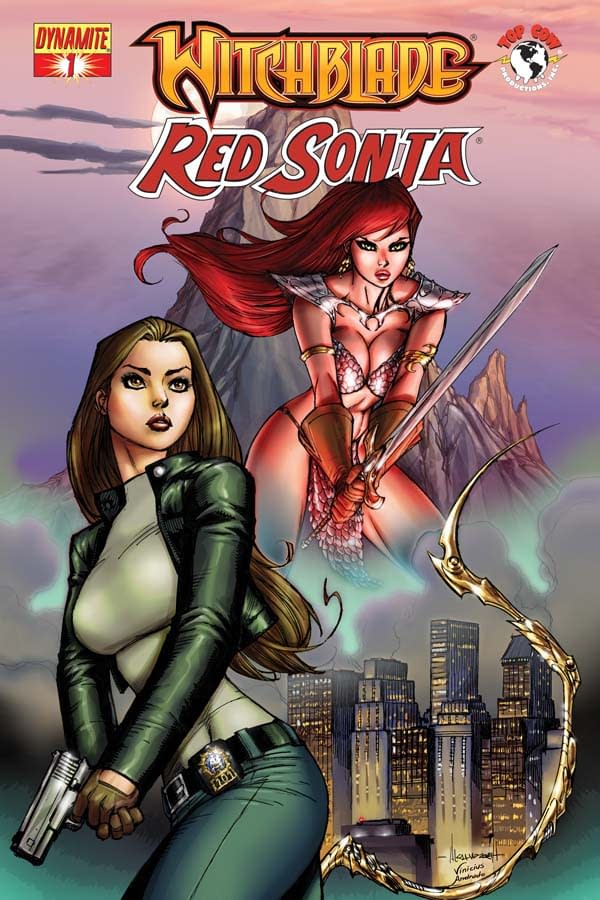 The cover above is by Ale Garza. All five issues of Witchblade/Red Sonja are available as part of the bundle for a limited time here.