Wolverine Finally Takes Responsibility in Next Week's Old Man Logan #49
Wolverine is the best he is at what he does, and what he does encompasses a wide range of actions: murdering his own children, sanctimoniously lecturing Cyclops about putting children in danger, betraying his species by siding with The Avengers in Avengers vs. X-Men, saying "bub," stabbing people, having claws that get hot, and making guest appearances in other comics to spike sales. One thing Wolverine is not the best at, however, is taking responsibility for his own actions.
But in his old age, it seems Logan is finally recognizing when things are his fault, such as the murder of his family in the original Old Man Logan timeline. Old Man Logan is about to meet his doom in the upcoming Dead Man Logan maxi-series, but before that he's got to wrap things up in his regular ongoing. In a preview of the penultimate issue of Old Man Logan, Logan takes a trip down memory lane and recognizes that his family's death was his fault.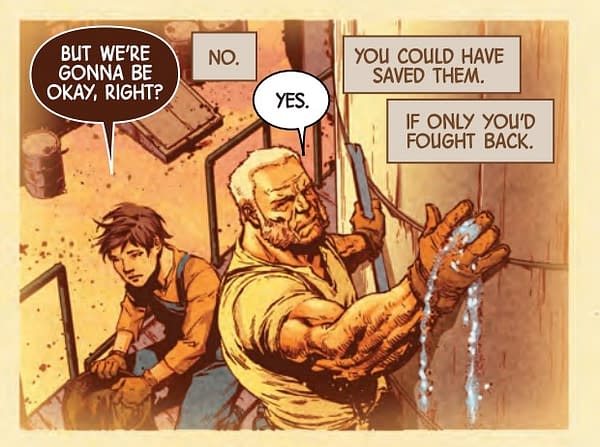 Wolverine still has a lot to make up for, but it's a start.
Old Man Logan #49 hits stores on Wednesday.
Old Man Logan #49
(W) Ed Brisson (A) Ibraim Roberson (CA) Andrea Sorrentino
RAGE INTO DARKNESS!
• The Maestro made a terrible enemy…
• …one who can take all the punishment he can dish out…
• …one just as stubborn as he is…
• …the man named Logan!
Parental Advisory
In Shops: Oct 17, 2018
SRP: $3.99